Within the Family
The Quest for Heroes
Where have you gone, Joe DiMaggio? A nation turns its lonely eyes to you.
When he first heard those lyrics, baseball icon Joe DiMaggio was upset. He thought Paul Simon was being derogatory about DiMaggio having faded from baseball and the public eye; never mind that DiMaggio, always a private person, was the face of Mr. Coffee and a spokesman for a bank at the time. DiMaggio didn't complain for very long, however, as he realized that Simon's words were bringing him to the attention of a new generation, one that had never seen him patrol center field at Yankee Stadium. The two cleared the air when they crossed paths at an Italian restaurant not long thereafter.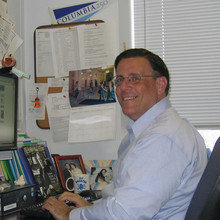 Three decades later, in an op-ed in The New York Times shortly after DiMaggio's death in 1999, Simon explained that he "didn't mean the lines literally, that I thought of him as an American hero and that genuine heroes were in short supply." He elaborated:
"In the '50s and '60s, it was fashionable to refer to baseball as a metaphor for America, and DiMaggio represented the values of that America: excellence and fulfillment of duty (he often played in pain), combined with a grace that implied a purity of spirit, an off-the-field dignity and a jealously guarded private life. It was said that he still grieved for his former wife, Marilyn Monroe, and sent fresh flowers to her grave every week. Yet as a man who married one of America's most famous and famously neurotic women, he never spoke of her in public or in print. He understood the power of silence …
"In these days of Presidential transgressions and apologies and prime-time interviews about private sexual matters, we grieve for Joe DiMaggio and mourn the loss of his grace and dignity, his fierce sense of privacy, his fidelity to the memory of his wife and the power of his silence," Simon concluded in the Times.
I never saw DiMaggio play; my father took me to my first major league game in 1954, and my earliest baseball heroes were Mickey Mantle, Yogi Berra and Bill "Moose" Skowron (like Moose, I was a first baseman) of the Yankees teams that dominated the late '50s and early '60s. Do today's kids look at star athletes with the same hero-worship that I did when I was growing up? With all the headlines about athletes' substance abuse and the way sports has become big business, somehow I doubt it.
About a decade ago, former NBA star Charles Barkley caused a stir when he proclaimed that he was not a role model. This is the same Charles Barkley who once complained about having been misquoted — in his own autobiography. Although then, as now, Sir Charles' mouth frequently runs two steps ahead of his brain, he was trying to make a very valid point: Why should the ability to throw a sphere through a hoop, pass an oblong pigskin or hit a ball with a bat, a club or a racket qualify a person for the status of role model or hero?
I thought about this shortly after Captain Chesley Sullenberger glided U.S. Airways flight 1549 to a safe landing in the Hudson River on January 15. Like so many, I was mesmerized by the sight of the crippled airliner floating in the river, people standing on its wings waiting to be taken ashore by the flotilla of ferries and rescue craft that arrived on the scene within minutes. The soft-spoken, 57-year-old Sullenberger quickly was anointed a hero for bringing the plane down smoothly and, along with first officer Jeffrey Skiles and flight attendants Donna Dent, Doreen Welsh and Sheila Dail, saving all 155 on board. And surely, showing such poise under pressure was a remarkable thing.
The fact that they became instant heroes, with keys to the city, trips to the Super Bowl, TV appearances and more, underscores what Simon wrote 10 years ago: genuine heroes are in short supply. We live in a society that yearns for heroes, we look for them at every turn and we quickly heap praise upon them when we find them.
I suggest that in looking for heroes, we should not wait for floating jetliners and instead try looking closer to home. Is the nursery school teacher who creates a nourishing, stimulating environment for a class of 5-year-olds not a hero? Is the fireman who races into a burning building to rescue strangers not a hero? Is the bus driver who makes a point of stopping near the curb and lowering the doorway to make it easier for a man with a cane to board the bus not performing his own small act of heroism? What about the father who works two jobs to put food on the table for his family, or the single mother who juggles the responsibilities of parenting and homemaking with a job of her own in order to pay the bills?
Perhaps Joltin' Joe indeed has left and gone away, but if we look with open eyes, I submit we all can find heroes around us every day.