Alumni Corner
Columbia Blue and the Four-Minute Mile
By Liam Boylan-Pett '08
Kyle Merber '12 and I never ran together at Columbia. He arrived at 116th and Broadway just as I was leaving for grad school at Georgetown.
We had met when he was in high school, and he seemed like a good enough guy. He knew about me as a runner and wanted to know everything there was to know about why I was pretty good. I tried to give him tips about succeeding as a runner at Columbia, and via Facebook we became friends.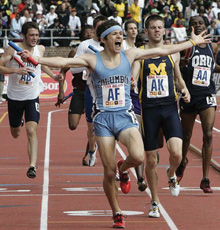 Liam Boylan-Pett '08 crosses the finish line at the Penn Relays. My first year out of Columbia went extremely well in terms of running. While I couldn't complain about my four years in Manhattan, I really started to mature as an athlete in the District of Columbia. On January 31, 2009, I ran a mile in 3 minutes 59.40 seconds, becoming the 315th American to break the four-minute barrier.
Joy, shock, relief and pride were among the emotions I felt as I crossed the finish line and realized I had done what I had dreamed about as a seventh-grader, when I first learned what running under four minutes meant. It took me 10 years to drop 80 seconds off my time, but the mission was accomplished.
Even though I was no longer in the light blue and instead wore a plain black singlet, I was the first Columbia runner to break the four-minute barrier.
Kyle wanted to be the next. I had no problem helping as much as I could.
Boylan-Pett and Kyle Merber '12 after Merber's sub–four-minute mile. I keep in touch with the Columbia coaching staff, especially since my brother, Will '05, is an assistant, and they asked me to pace the mile at Columbia's Last Chance Track Meet (an open race, although most runners were collegians) on March 5. So I hopped on the Amtrak to New York, grabbed a 1 train to 116th, walked along College Walk to Amsterdam Avenue and boarded a bus that took me to the Armory on West 168th Street.
I was there to pace the first 1,200 meters of the 1,609-meter race. The point of a pacer, commonly known in the running world as a rabbit, is to do the work at the beginning of a race to make sure the tempo is fast enough. It is easier to run behind someone than in the lead, so my goal was to be in front of Kyle and the other racers to make sure that they saw 2 minutes and 58 seconds when they had 400 meters to go. At that point, I would step off the track and hope that Kyle could maintain the pace in the final quarter-mile. It felt odd for me to enter a race knowing that I wasn't going to finish it, but I had already broken four and I thought it was time for a guy in Columbia blue to do it.
On an outdoor track, there are four laps to a mile. At the indoor Armory, you have to make your way around the banked, 200-meter oval a hair over eight laps. I was in charge of leading six of those laps, and I made sure to do exactly that.
The excitement grew every time I ran around the first turn, and the noise got louder with each lap. Those in the Columbia cheering section were screaming wildly and pounding their fists on the track, their intensity picking up to match the intensity of the race.
"Two fifty-six, fifty-seven" — I stepped off the track as a race official screamed the time — "fifty-eight, fifty nine … ." His voice trailed off as I set up to watch the end of the race unfold. By now the Columbia cheering section was in a frenzy as Kyle went by in a blur, his long hair barely contained by his white headband. I stood up on the banked curve and found myself wringing my hands and getting wrapped up in the screaming and stomping.
A group of five runners came up the homestretch, and I frantically watched as Kyle took the lead from a Syracuse runner as the bell that signals the last lap rang out loudly.
"Go! Go! GO!" I yelled at him and spun my pendulum-like arm in a circle emphasizing how fast I wanted him to run.
He floated down the backstretch and began pulling away from the other runners. Around the turn they started catching up to him, but with only a straightaway to go, he mustered his strength and powered through the last 50 meters.
There often is an eerie silence right after a mile race that is run around four minutes. Everyone watches a runner cross the finish line, then quickly turns to the clock in hopes that a "3" will be the first digit in the final time posted.
That didn't happen this time. Kyle crossed the line with his arms spread wide, certain that he had broken four minutes. He did: 3 minutes, 58.52 seconds of running led to him being the 343rd American under four. He kept on running, too — right into his eagerly waiting cheering section. There he hugged and high-fived anyone who would have him.
I stood by the finish line and took it all in. Everyone I looked at, Columbia students and alumni alike, was smiling.
For me, it was different now, but still much the same. There was still a love for anyone who donned the light blue and ran wildly around the oval. I once was the one with the "C" on my chest celebrating on the track; it was just as much fun to witness Kyle dancing like a child on the track, his joy contagious.
He eventually found his way over to me and gripped me in a bear hug. "Thank you, man," he said. "I love this." We pushed away from our hug and he went back to his interviews over the loudspeaker and celebrations with his teammates and family.
Only twice has a Columbia Lion laced up his track spikes, toed the starting line and proceeded to run a mile in under four minutes.
I did it once. I was extremely proud to witness, and contribute to, the other.
Kyle Merber '12's sub four-minute mile 
Liam Boylan-Pett '08, a journalism graduate student in Washington, D.C., still is chasing his running dreams.