Alumni Profiles
Nick Cain '06 Helps Students in the Developing World
By Joshua Robinson '08
Nick Cain '06 was doing everything he was supposed to do on his way to law school. An American Studies major, he had taken the constitutional law classes and gotten the grades, he had earned himself a job as a Manhattan paralegal and he had slogged through the repetitive grind.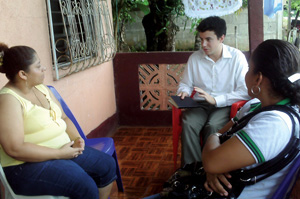 Nick Cain '06, shown here in Nueva Guinea, Nicaragua, in October 2009 with one of Vittana's first borrowers, works with Vittana to provide student loans. photo: marcela solis/afodenicAll he had left to do was send out the applications.
The only problem was that, by then, he didn't feel like going to law school so soon.
"I wanted to do something drastically different," Cain remembers.
So the San Diego native set out on a path he never imagined himself taking — one that would wind through Rwanda and Paraguay only to drop him in Seattle, where he is devoting himself to helping students access higher education across the developing world with the microloan company Vittana.
Cain's journey began when a law firm colleague mentioned his work with Orphans of Rwanda, a nonprofit dedicated to helping young people who were affected by the 1994 Rwandan genocide attend college. Remembering a particularly inspirational class on the treatment of minorities taught by Liz Ouyang his senior year, Cain was intrigued. Within a few months, he had accepted a six-month job with the organization.
In March 2008, Cain packed his bags for Kigali, Rwanda's capital city. It was a long way from his desk in Manhattan, and not just in air miles.
"You can't prepare somebody for that," Orphans of Rwanda executive director Michael Brotchner says. "What I was looking for was somebody who would not get flustered. Somebody who could see a situation that was completely unusual to them, and not panic."
In Cain, Brotchner said he found someone who fit that description.
Asked to describe his duties in Kigali, Cain hardly knows where to begin. He says he worked on everything from sifting through applications for the scholarships to teaching English to tracking down carpenters to build desks for his classroom.
"All the things that you'd hop on the Internet for or look in the phone book to get done in the United States take ages in a place like Rwanda," he says.
And still, the six months Cain spent there seemed to fly by. He came back stateside in September 2008 just in time to work on the home stretch of the Obama campaign in North Carolina.
But Cain felt the need to go back to the developing world.
In early 2009, he began looking for another opportunity to help ambitious people track down the funds they needed. This time he set off for Paraguay with a small company named Kiva, whose goal is to help small entrepreneurs secure "microloans" — tiny loans from local banks, which go a long way in places like Paraguay. With his notebook and video camera, Cain's job was to interview loan applicants.
It was there that Cain learned the nuts and bolts of microfinance, which served him well when he returned to the United States last summer. Almost immediately, he got in on the ground floor of Vittana (www.vittana.org), which perfectly combined his experiences of the previous two years. Based on the increasingly popular system of microfinance, Vittana helps young people in the developing world access funding for higher education.
"These are students who certainly didn't have anywhere to go for a student loan," Cain says.
Vittana, which is active in Peru, Paraguay, Nicaragua, Vietnam, Cambodia and Mon­golia, helps local financial institutions package student loans and provides the capital, which comes from online contributions. Students can take out loans of up to $1,500. But, Cain notes, the online contributions aren't donations — every cent is repaid by the student through Vittana within three years.
More than 1,300 people have made donations online, for a total of $155,000, and more than 230 students have received loans.
Cain's job is to work closely with the microfinance institutions and teach them how to structure the loans. These days, Vittana is primarily involved with students in Nicaragua, and Cain is in charge of laying the groundwork there. To him, it's a job that goes far beyond numbers, countless hours on the phone and a lot of frequent flyer miles.
"I knew that financial aid and loans were the only way I would have ever gotten my education," he explains. "And having the Columbia name on my degree has been opening doors for me the whole way through. So, as someone who's had that, it just made sense to work on it for others."
Joshua Robinson '08 is a freelance writer based in Manhattan.