Around the Quads
Reunion June 3–6 Features New Events; Dean's Day To Be Held on June 5
By Lisa Palladino
Alumni Reunion Weekend for class years ending in 0 and 5 will take place Thursday, June 3–Sunday, June 6. Dean's Day, which is open to all alumni and parents, will be held during the same weekend, on Saturday, June 5.
Reunion events include class-specific lunches, dinners, cocktail parties/receptions, discussion panels and tours. All-class events include the always-popular wine tasting and Starlight Reception on Saturday evening as well as learning opportunities, campus tours, and dance and Broadway performances.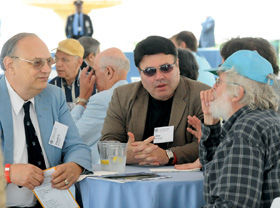 Reunion is the time to catch up with old friends and make new ones. Dean's Day, one of the College's most popular events, features lectures by some of Columbia's most prominent faculty on a variety of topics.
The Class of 1960 starts Alumni Reunion Weekend early with a special reception on Wednesday, June 2. The weekend officially kicks off on Thursday, June 3, with class-specific events such as cocktail parties/ receptions and tours, as well as a choice of the American Ballet Theater, New York Philharmonic or Broadway shows. These performances are open to all reunion attendees, but tickets must be purchased in advance, as seating is limited.
Friday morning and afternoon feature campus tours, "Back on Campus" learning opportunities and an "Essentials of Estate Planning" breakfast that is open to all. That evening, join classmates at class-specific cocktail parties/receptions and dinners. Those who observe the Sabbath may participate in a Tri-College (College, SEAS, Barnard) Shabbat Service and Dinner.
New this year for young alumni (Classes 2000–2010) is a party on Friday night aboard the recently restored Intrepid. Join SEAS, Barnard and GS friends and classmates, and revive those Intrepid parties of old! There will be dancing, flight simulation, food and limited open bar. Tickets will be available for $25 at the door.
There are plenty of family-friendly activities throughout the weekend. Starting at 9:30 a.m. on Saturday, attendees with children ages 3–12 may sign them up for Saturday's all-day supervised Camp Columbia for Kids. Also on Saturday morning, all alumni, including Dean's Day participants, may sign up for the Dean's Continental Breakfast in Alfred Lerner Hall. Dean Michele Moody-Adams will give an update on the College.
After breakfast, events continue for all alumni with Public Intellectual Lectures, and class-specific lunches or group class barbecues. After lunch, choose from more learning opportunities, attend the annual Admissions Presentation/Alumni Representative Committee reception for members and those who wish to join ARC or attend a Center for Career Education presentation.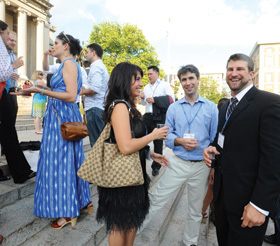 Alumni enjoy the Saturday wine tasting on Low Steps. PHOTOS: EILEEN BARROSOAlso new this year is a Glee Club alumni gathering, which will include two rehearsals (Friday and Saturday) and a performance on Saturday. Building on the success of last year's affinity group gatherings, alumni from WKCR, Spectator, Marching Band and the Glee Club and other singing groups also will gather. All alumni, not just those celebrating reunion, are welcome at these Saturday afternoon receptions. Also on Saturday afternoon, all alumni are invited to a tour of cartoonist Edward Koren '57's exhibit "The Capricious Line" in the Miriam and Ira D. Wallach Art Gallery.
Reunion classes will continue the celebration on Saturday evening with the all-class wine tasting, elegant class-specific dinners and the all-class Starlight Reception. The weekend wraps up on Sunday morning with a bagel, cream cheese and lox brunch.
To register for reunion and learn more, go to http://reunion.college.columbia.edu. To register for Dean's Day and select lectures, go to www.college.columbia.edu/deansday.
For more information or assistance with either event, please contact the Alumni Office: 212-851-7488 or 866-CCALUMNI.