Cover Story
Gareth Williams' Core Principles
By Ethan Rouen '04J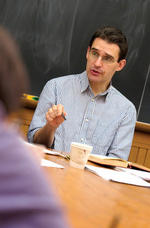 Gareth Williams breathes life into ancient texts, whether teaching Literature Humanities to first-years or classics to upperclass students.On an icy February morning, 15 first-years stumbled into a mezzanine room in Fayerweather Hall for Literature Humanities. It was shortly before 11 a.m., and most of them looked like they had just rolled out of bed. Some pulled out their laptops and swapped YouTube videos, gradually increasing the volume on the speakers to drown out one another.
As Gareth Williams, the Violin Family Professor of Classics and chair of Literature Humanities, walked into the room, the noise ceased. Williams went over some administrative issues — the students requested no midterm but were overruled — before jumping into his lecture. The morning's topic was Saint Augustine's Confessions, originally published more than 1,600 years ago, but within 10 minutes the class discussion had covered Tony Blair's comments about the war in Iraq, Tiger Woods' infidelity and John Edwards' political career.
Williams' Ph.D. from Cambridge isn't the only thing that makes him a doctor. For more than 16 years, Williams has been resuscitating the dead, breathing life into ancient languages and texts for hundreds of students. Whether it is Greek, Latin or the books of Lit Hum, Williams provides a relevance and sense of immediacy that infuse in his young students powerful messages they can take with them to academia, law, finance or on any career path.
"As a classicist, I'm committed to relating ancient experience and knowledge to modern affairs," he says. "You can't just insist on the worthwhileness of learning. You have to grip students with an enthusiasm for ancient culture or with a sense of learning a language in a particular way. What I try to do is give students a sense of ownership."
---
At a young age, Williams was gripped by the same subjects he still teaches. The son of a Welsh pharmacist, he attended school during a time when Latin still was a compulsory subject.
"I was taught by a very energetic teacher. Corporal punishment was all the rage, and he had many techniques that worked," Williams jokes. "I just found the language fascinating as a form of verbal mathematics. I found the grammar system very enticing. I learned Latin, and I came to understand the English language a whole lot better."
Williams threw himself into reading Latin and Greek, starting with The Iliad and going from there to whatever he could get his hands on. Although bookish, he also was an avid hiker and squash player, activities he still keeps up.
By the time he got to college, Williams was confident in both languages, although he refuses to call himself fluent.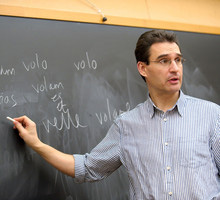 Relating ancient experience and knowledge to modern events, such as the earthquake in Haiti, is one way Williams engages his Lit Hum students."Latin and Greek are languages that need work constantly," he says. "They are extremely humbling subjects. I really want to resist the idea that I'm fluent. When you think that, you get tripped up and complacent. I read some Latin and Greek every day. It's like a car that needs constant maintenance."
Williams received his bachelor's and doctorate from Cambridge, completing all of his coursework in less than seven years. Entering into a dismal job market in the early 1990s, he was offered a job in Columbia's Classics Department.
At the time, New York was a vastly different place. The city's crime rate had just started its dramatic downward spiral. And the Yankees — Williams' adopted team — were heading toward the end of their longest World Series drought, having not won the championship in 14 years.
The Core Curriculum, though, had remained largely unchanged for more than half a century, influencing the lives of world leaders, business moguls and leading academics.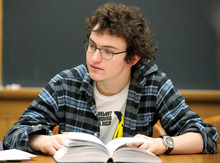 Williams fit well into New York — he lives on Riverside Drive with his wife and 9-year-old daughter — and the pedagogy of the Core. As a classicist, he saw the Core as a way to recruit students to his field. More importantly, it serves as a tool to shape his teaching and the learning of young adults just becoming aware of what their minds are capable of.
"To teach in the Core, at least as I see it, is not to come in determined to insist that there are these great books that must be worshiped as great by the students," he says. "I come to the Core interested in the problems raised by these texts and by world outlooks conveyed by the texts and by introspection probed by these texts.
"The texts, for me, interrogate aspects of human experience and aspects of human psychology. I find that students become very interested in thinking about the way lives are written about and about how the written experience within those texts relates to their own lives. In that respect, it is an experiment in immersion in the writing of experience across the ages."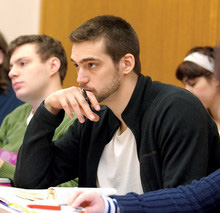 The universality of the syllabus shows up in almost every lecture Williams gives. Current events blur with ancient writings to instill in his students the shared experiences that reach across time and culture.
The earthquake in Haiti in January served as a chance to examine how ancient cultures wrote about and experienced the same traumas we suffer today, to prove that the value of the books that are taught over and over is not in the recording of history but in the emotions and realities those writings evoke.
"To see how the ancients use therapeutic techniques to think about the trauma of earthquakes and to try to recover gives a very moving take on modern reaction to the horrific images of the Haiti earthquake," he says.
It's not just the great events of our times that play a role in Williams' teaching. During class, he makes a point of calling on every student, offering softball questions to encourage participation, then drawing out the students with engaging follow-ups.
During a class this semester, one student said of Confessions, "It was boring. I know why he did it. I just don't really care."
PHOTOS: DAVID WENTWORTHWilliams saw this statement not as a rebuke but as a challenge, using the moment as a chance to proselytize without sounding preachy. With only a few words of encouragement from the professor, the students used Augustine's intimate memoir to discuss this current time of so many public and humiliating confessions, and before they realized it, they were extracting valuable material from the text while avoiding the main character with whom some said they could not connect.
Although Williams refuses to claim any credit for influencing the Core, his colleagues tell a different story. He has been a tireless servant to Lit Hum and the Core, giving his teaching style reach beyond the students who sit in his class.
"Gareth has had a major role in the Core," says Kathryn Yatrakis, dean of academic affairs. "We ask him to deliver the first Lit Hum lecture to the first-year class during orientation. It enthralls all the students. I couldn't think of a better person for them to hear from."
Williams organizes trips to museums, staged readings and lectures that provide students with a deeper understanding and another way to commune with what they are learning. He introduced the annual course-wide Core lecture, which has proven wildly successful.
"He's a wonderful chair to work for," says Deborah Martinsen, associate dean of alumni education. "He is a model of grace and gratitude. He makes sure that people receive recognition for their services, which is wonderful. And the students think he's a rock star."
His dedication also shows is in his work behind the scenes. Williams teaches the preceptor seminar for all graduate students teaching Lit Hum and organizes a weekly lecture for faculty. During the semester, he sits in on at least one class of each of his preceptors, about 30 classes a year.
"He's extraordinarily supportive outside of class," says Karen Emmerich, a second-year preceptor and a graduate student in English and comparative literature. "He's willing to meet with you any time. He shapes the way preceptors design their classroom experience. People tend to model how they interact in the classroom and how they interact with students on how he interacts with you."
Williams is rooted in a past that he is fighting to preserve while embracing new ways of learning that can add value. He is open to bringing new books into the Core Curriculum, but wants the debate to be positive and productive.
"Be it a contemporary writer, be it writers from different cultural backgrounds, we can always argue about exclusion and inclusion in the syllabus," he says. "We will never produce a satisfactory syllabus upon which everyone can agree. I feel that the challenge there is to turn debate about the syllabus into a productive conversation and not a form of conversation that is attritional."
Williams still uses a paper organizer to write assignments and plans. He admits that new technologies that provide vast amounts of research material at the click of a mouse have been a boon for academia, but he laments the pace at which these advancements force people to move.
The Core, he believes, is a chance to capture what is lost in these new ways of communicating. Reading these texts forces students to slow down for a moment, to stop bouncing from one Web page to another and focus on the thousands of words that have been preserved through the ages for reasons that can only be realized with time and dedication.
The syllabus also offers a communal experience, a chance to meet face to face during a time when so much is accomplished face to screen. Analyzing these texts is a subjective process, and the tone of a response, the sigh of exasperation when trudging through The Iliad, cannot be preserved in an e-mail.
"We're so automated, we're so fast-paced, it's a very good thing to slow our students down a bit so that they have to pick up the book, read page by page and reflect page by page," Williams says. "We're moving in ways that are so privatized in life, that the communal atmosphere of the Core Curriculum, the fact that we talk to each other, we debate, we hone skills and articulation and we actually take time to reflect upon the book and upon life in this high-paced age, that's really important."
Two hours of Augustine were winding down. Even the students who had been dodging Williams' glance had been forced to participate. While some did not connect with the text, they had at least realized its relevance in modern times.
Laptops remained opened, and some students had wandered away from lecture notes to Facebook pages. Suddenly, attention was again focused on the front of the classroom as Williams made his final point.
"Augustine envelops the Bible," he said. "He is in love, lost in something."
Williams offered his own example of watching passion uninhibited — a Picasso at the Metropolitan Museum of Art: "Do you see a picture, or do you get a sense that this is a man lost in his art, that this is him?"
It was as if the coffee had just kicked in. Hands shot up, everyone vying for a chance to share the witnessing of true love. Peppered with the "likes" and "ums" of nascent minds developing the confidence to explain their own thoughts was the eloquence of inspirati  on.
"It blew my mind," one shy student said of watching the Philadelphia Orchestra. "I saw emotion in every move they made. The true emotion of music came out."
Class came to an end, and it seemed a shame to let these students go at such a crescendo, but they'd be back in a couple days. Meanwhile, Williams sent them away with some parting advice: "Do something you get lost in," he said. "If you could find something to get lost in in your life, you will be incredibly lucky people."
Watch an excerpt from an interview with Professor Gareth Williams
Ethan Rouen '04J is Columbia College Today's associate editor.