Features
2010 John Jay Awards Presented to Five Alumni
By Lisa Palladino; photos by Eileen Barroso
Five accomplished College alumni were honored on March 3 at Cipriani 42nd Street in New York City with 2010 John Jay Awards for distinguished professional achievement.
Brian C. Krisberg '81, '84L, an attorney; Frank Lopez-Balboa '82 and Tracy V. Maitland '82, both from the finance sector; David Rosand '59, '65 GSAS, the Meyer Schapiro Professor of Art History; and Julia Stiles '05, a stage and film actress, were joined by alumni, faculty, students, family and friends at the black-tie event, which drew more than 600 attendees and raised more than $1 million for the John Jay Scholars Program.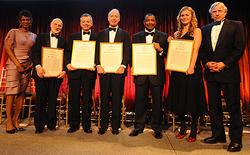 The Scholars Program provides outstanding first-year College students the opportunity to participate in special programs such as panels, discussions and outings, all designed to promote intellectual growth, leadership development and global awareness.
Board of Trustees Chair William V. Campbell '62, '64 TC welcomed the guests and introduced Columbia College Alumni Association President Geoffrey J. Colvin '74, '77L, '78 Business, who introduced and thanked the dinner's co-chairs. One of the co-chairs, Louis De Chiara '82, introduced the keynote speaker, Marit Perlman Shapiro '10, a John Jay Scholar, who spoke on behalf of all John Jay Scholars.
Shapiro, a Los Angeles native, said how thankful she was that Columbia "took a chance" on her and spoke of how the Scholars Program has impacted her career choice. After working in a hospital in Madagascar "finding [herself] in a delivery room," she decided she wanted to be an obstetrician and plans to focus her work either in developing countries or inner cities in the United States. Columbia and the Scholars Program, Shapiro said, "taught me flexibility, taught me the value of continued learning, taught me the importance of service to my community and taught me to have enthusiasm."
Each of the honorees was introduced by a John Jay Scholar: Elizabeth Lamoste '10, Krisberg; Salman Somjee '10, Lopez-Balboa; Atanas Atanasov '10, Maitland; Shalom Sokolow '10, Rosand; and Aaron Krieger '10, Stiles.
Dean Michele Moody-Adams, attending her first John Jay Awards Dinner, addressed the attendees and thanked the honorees for "setting such stellar examples of all a Columbia College education will allow one to achieve." She quoted from a letter written in 1785 by John Jay [Class of 1764] about the importance of making a "proper degree of education" available to all and described the honorees as "people who have done extraordinary things with that 'proper degree of education' provided by this great institution."
The evening concluded with the Clefhangers singing Sans Souci and Roar, Lion, Roar.