Features
Watching the Watchdogs
Journalists may be society's watchdogs, but public editor Clark Hoyt '64 is the man who watches over the watchdogs at The New York Times
By David McKay Wilson
Clark Hoyt '64, who won a Pulitzer Prize in the 1970s and was for many years Washington bureau chief for the Knight Ridder chain, now finds himself on the front lines of journalism ethics, assessing the work of writers, editors and photographers at The New York Times.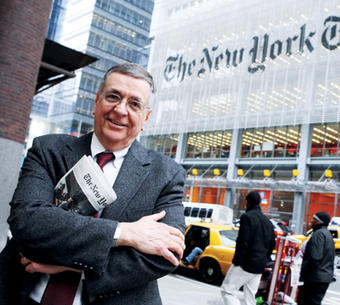 For the past three years, Clark Hoyt '64 has worked to maintain the highest level of journalistic standards at The New York Times. Photo: Daniella Zalcman '09As the Times' public editor, Hoyt fields complaints from Times readers, investigates those inquiries and then writes a Sunday column in The Week in Review section that illuminates issues that touch many corners of journalism ethics. One recent subject was the use of anonymous sources in stories, another the conflict of interest that arises when freelance writers accept gifts from sources, another the paper's response to rumors about a forthcoming Times investigation that had surfaced in other media and angered public officials.
"It's a strange job," says Hoyt, 67, one day in January during an interview in his office at the Times headquarters in midtown Manhattan. "You are called upon to pass judgment in a very public way. It's not an easy job. But I find it fascinating. I'm allowed to think about issues I've dealt with for my entire career. And I hope it has been useful to the Times and the Times' readers."
Hoyt was hired in 2007 as the paper's third public editor, a position known as ombudsman at many other dailies around the world. The position was established in 2003 after Times reporter Jayson Blair was caught fabricating quotes in several stories. An independent contractor, Hoyt works outside the normal reporting and editing structure at the Times.
Hoyt shares his stories before they are printed with those he has interviewed, to make sure his columns accurately reflect his subjects' positions. But top editors who aren't in the column see it first when it appears on Sunday.
Hoyt has served in the position longer than his predecessors; he completed his two-year contract in 2009, and agreed to a third year that ends in June. Times executives have yet to announce a successor, or even whether they will keep the job in existence. Since 2008, 13 U.S. dailies have dropped that position, notes Jeffrey Dworkin, executive director of the Organization of News Ombudsmen.
"I think Clark has set the standard," says Dworkin, who was ombudsman at National Public Radio from 2000–06. "He is fearless. He has taken on big issues, such as bias and fairness in coverage of the presidential campaign and the use of visuals from Haiti. He has cast a very clear eye on how they have done it — at times doing a great job, and at times, less than perfect. Through Clark, the Times has taken a hard look at itself to make sure its journalism is always at the highest level."
On that visit in January, Hoyt was addressing reader concerns over provocative front-page pictures published from Haiti. Photographers had captured the deadly January 12 earthquake with powerful images, including a picture by Damon Winter '97 of a dead man, covered in gray dust, who lay stiffly on a makeshift stretcher.
Some readers complained that the images were exploitative and disrespected the dead, and questioned whether the Times would publish photos of Americans who had died in a natural disaster. Others lauded the Times photographers for their courageous portrayal of one of the Western Hemisphere's most destructive natural disasters.
Hoyt's research was arrayed on his desk — full-color reproductions of front pages from the Times' coverage of Hurricane Katrina in 2005 and the tsunami that struck Indonesia with such devastation in 2004. Both included pictures of dead victims. Hoyt had his own news judgment as well, developed from more than four decades in the daily newspaper business. It boiled down to six words: "You get it, you show it."
To reach his conclusion, however, Hoyt had to report on the story. He interviewed photo editors about why they chose those images. He e-mailed Winter, who was still in Haiti. Winter told Hoyt how people had begged him to take pictures of their departed family members, so the world would truly understand their country's plight. He interviewed Times Editor Bill Keller, who said that Winter's picture of the solitary man, dead on the stretcher, helped humanize the tragedy. The next day, Hoyt wrote a dispassionate column, saying that the photos of disaster victims were in keeping with Times practice in the previous natural disasters of epic proportions.
"Where do you draw the line?" says Hoyt, who commutes to New York weekly from northern Virginia, where he lives with his wife, Linda Kauss, deputy managing editor at USA Today. "You need to respect the dead, but you also need to tell the world what has happened."
Veteran Times reporter Joe Berger '67J says Hoyt's solid research and reporting has provided a strong foundation for his findings in various investigations.
"I haven't agreed with him every time, but for the most part, the columns are good," says Berger. "He has taken on some tough issues, articulated his reasoning clearly and backed it up with evidence."
Taking on the public editor's post has brought Hoyt back into the world of reporting, more than 30 years after he left writing about the Washington political scene for Knight Ridder to become one of the chain's editors.
Some columns address issues of questionable reporting and editing, such as a story that appraised the career of CBS newsman Walter Cronkite following his death. That piece had seven errors that were subsequently corrected in a note to readers.
"It was horrifying," recalls Hoyt. "Five editors had eyes on it. The appraisal was written before Cronkite's death, and everyone thought someone else had edited it."
Hoyt hopes that his columns provide a wake-up call for Times journalists who may have taken a short cut or failed to live up to the newspaper's standards for fairness and accuracy.
"I want to talk about how something happened so we could learn from it, instead of wagging a finger and taking a holier-than-thou approach," he says. "You also have to make sure you talk about the work, not the person. The New York Times is a great newspaper and it produces great journalism every day, under very trying circumstances. In certain cases, it doesn't live up to those standards."
On particularly thorny issues, Hoyt will consult with Kelly McBride, ethics group leader at the Poynter Institute for Media Studies in St. Petersburg, Fla., who says those conversations can go on for an hour or two. For example, McBride recalls speaking to Hoyt at length about the question of whether it was proper for reporters to contact underage sources through the social-media site Facebook.
During the 2008 election, a reporter working on a profile of presidential candidate John McCain's wife, Cindy, had reached out to high school students at private schools that McCain's daughter, Bridget, had attended, asking for leads to adults who knew Mrs. McCain.
"Everything needs to be supported and infused with facts."
Hoyt suggested that reporters find other ways to find such information, urging them to be wary of contacting minors without knowledge of their parents. In that same column, however, he approved of the use of information from a 12-year-old concerning an assault by police. Hoyt argued that while the boy's father had not given permission for the interview, he did not object after learning that a reporter had spoken to his son. The reporter had also confirmed what the boy had told law enforcement investigators.
"What I admire most about Clark is that he takes issues that aren't black-and-white, and he explores them with a fair amount of nuance," says McBride. "He treats the individuals involved with an incredible amount of dignity and respect, without being patronizing."
Daniel Okrent, the Times' first public editor, says Hoyt has benefitted from the fact that the Times staff has grown to expect the public criticism, after he and Byron "Barney" Calame, a former Wall Street Journal editor, had the job. Hoyt also came to the job with less to prove, Okrent adds.
"I think I had too much fun, Barney didn't have enough fun, and Clark has it just about right," says Okrent. "I showed off more, and I came in with a chip on my shoulder, so the reporters were gunning for me. Clark has a well-nuanced approach. He seems temperamentally suited for it."
Calame agrees. "Clark knows how to deal with issues in a less obstreperous fashion than I did," he says. "That doesn't mean Clark doesn't deliver strong medicine, because he does. He just has a better bedside manner than I did."
Even with his journalistic even-handedness, Hoyt acknowledges that his columns can sting. While his interactions have in large part been collegial, with Times editors and reporters responding to his questions with professionalism and candor, he says there have been occasional brush-ups with those he has called to task.
"No one likes to be called on these things," says Hoyt. "Many journalists have very thin skins. They are able to be tough when it comes to reporting and holding an unblinking eye to others, but can be unenthusiastic to be held accountable themselves."
Hoyt's love affair with journalism dates back to his childhood in Hawaii, where his family lived in 1949 during one of his father's postings as a Navy dentist. When Hoyt was 8, he and his brother, Charles, published a neighborhood newspaper, The Maloelap Snoop. It kept the Navy families updated on the latest coming and goings in the neighborhood not far from Pearl Harbor, where dogs roamed free and Hoyt occasionally brought home an unexploded hand grenade.
It was then that Hoyt discovered he had what it took to be a journalist — an instinct for finding things out, and a desire to tell people about what he had found.
"We'd report on whose dog left their calling card on a lawn," recalls Hoyt. "People loved it, they really did."
At Columbia, Hoyt was an English major, studying with professors such as Lionel Trilling '25 and Jeffrey Hart. He considered entering the foreign service, having developed an interest in Latin American affairs, in part from his father's stay at the Navy base at Guantanamo Bay, Cuba. Hoyt worked exactly one day on Spectator — he was assigned to read page proofs at the shop that printed the paper, which was a considerable subway ride downtown. It wasn't for him.
"I just wasn't motivated," Hoyt says.
After graduating from Columbia, he landed a job in the office of Sen. George Smathers of Florida, writing speeches and researching policy issues. By 1966, however, Hoyt plunged into reporting, taking an entry-level job at The Ledger in Lakeland, Fla. His first assignment was covering a turkey shoot sponsored by the local Ku Klux Klan.
By 1968, Hoyt was in Detroit, reporting for the Detroit Free Press, one of the Knight chain's top papers. Two years later, he'd moved to the Miami Herald as Washington correspondent, covering national politics at a time when journalists had extraordinary access to political candidates. When Henry "Scoop" Jackson was running for president in 1972, Hoyt was one of only two reporters traveling with Jackson in an old DC 3 prop plane, which Hoyt recalls had an engine with a tendency to leak oil.
"It's different today," says Hoyt. "Now it's so heavily managed and scripted. There's so little spontaneity, so little chance to lift the curtain and see the candidates."
The early 1970s was the heyday of Washington journalism. Hoyt was in the trenches during the Watergate era and reported from federal district court, sitting through the famous 18-minute gap in the recording President Nixon made in his White House office. He also was in Washington, D.C., Superior Court when Watergate burglar James McCord was arraigned and told the judge that he worked for the Central Intelligence Agency. Hoyt was in the back of courtroom and didn't hear the revelation. Washington Post reporter Bob Woodward had a better seat.
"The acoustics were terrible; Woodward heard it and I didn't," says Hoyt. "We walked back from the hearing, chatting about the hearing, and Bob never mentioned to me what he had heard." In 1972, Hoyt and his Knight Newspapers colleague Robert Boyd received a tip about Democratic vice presidential candidate Thomas Eagleton, regarding his history of treatment for mental illness, including electroshock therapy. They investigated, and it turned out to be true. But before publishing what they'd discovered, they had to confront Eagleton and his running mate, George McGovern, with what they had found.
Shortly thereafter, Eagleton held a press conference, disclosed his medical history and dropped out of the race. Hoyt and Boyd then wrote the story, which won a Pulitzer Prize in 1973.
"We went to them with what we had, asking for comment," says Hoyt. "They chose to announce it before we had published it."
Hoyt went on to numerous posts within the chain, which became Knight Ridder in a 1974 merger. He was news editor for the Washington bureau, business editor in Detroit and managing editor of the Eagle-Beacon in Wichita, Kan. He returned to Washington in 1985, and was the chain's bureau chief from 1987–93, when he moved to Knight Ridder's corporate offices as v.p. for news.
Six years later, Hoyt was back in the nation's capital as Washington editor with responsibility for the Knight Ridder Washington bureau and editorial operations of Knight Ridder Tribune News Services. He held that post until 2006, when Knight Ridder was purchased by The McClatchey Co. He was on a one-year consulting assignment with McClatchey when he received a call, asking if he was interested in the Times assignment.
Hoyt was about to spend a semester as the James K. Batten visiting professor of public policy at Davidson College but instead decided to take on the challenge at the Times. So for the past three years, he has spent three days at week in New York and worked two days from his home office in Virginia. That will end in June, but Hoyt looks forward to staying involved in the field, either through writing or teaching.
No matter which direction he takes, Hoyt will remain dedicated to a profession that he believes will continue to play a crucial role in how people view the world — either through print or digital media. He'll do so by relying on what he considers the bedrock principles of good journalism.
"Everything needs to be supported and infused with facts," he says. "You need fairness. A newspaper needs to tell the public whatever it needs to know, in stories that are told with honesty and truthfulness."