Within the Family
Hoops Hopes: Coaching at Columbia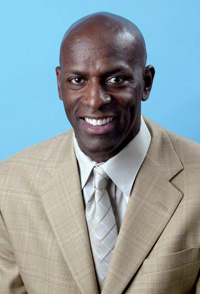 Joe Jones led Columbia to the top half of the Ivy League in three of the last four years. PHOTO: GENE BOYARSJoe Jones' decision to resign as men's head basketball coach at Columbia to become an assistant under Steve Donahue at Boston College provides a chance to reflect on the nature of coaching and the Columbia program.
Jones has been there, done that when it comes to being an assistant to an on-the-rise young head coach in a major conference. Prior to coming to Columbia, he was Jay Wright's top assistant at Villanova of the Big East Conference. So why, after running his own show for seven years, would Jones choose to go back to being an assistant, this time to Donahue, the former Cornell coach, in the Atlantic Coast Conference? And what, if anything, does it say about the Columbia program?
Keep two things in mind. First, coaches tend to be vagabonds, moving from job to job. Of the remaining Ivy head coaches following Donahue's departure, only one had been in the position longer than Jones — his brother James, who just completed his 11th season at Yale. Second, sports programs are never static. A program that is not moving forward, however that is measured by the powers that be, is considered to be sliding backward.
Columbia was 0–14 in the Ivy League and 2–25 overall the year before Jones arrived. It showed immediate improvement with Jones' first recruiting class, and by the time those players were seniors in 2006–07, the Lions were 7–7 in Ivy play (fourth in the league) and 16–12 overall. Clearly, the program was moving forward. But after two more 7–7 Ivy seasons, Columbia dipped to 5–9 this year, and has been on the south side of .500 overall in each of the last three years. At a time when Penn had faded from Ivy dominance and Princeton had slumped as well (before rebounding last winter), Columbia had watched Cornell leapfrog it to the top and Harvard surge past it last season as well. It's understandable if Jones felt he had taken Columbia back to a certain level and that it was time to move on to a higher-profile program where he could focus on what he does best, which is recruiting and coaching defense, even though it meant no longer being a head coach.
Should Jones' tenure on Morningside Heights be judged a success or a failure? His teams never did better than .500 in the Ivy League and posted only one winning season overall, so by that standard his success was limited. But he did bring a sagging program back to respectability, so I agree with Athletics Director M. Dianne Murphy, who pointed out when Jones' resignation was announced, "Our men's basketball program is in much better shape now than when he first arrived, and for that we are very thankful."
Personable and energetic, Jones was a campus presence who was well-liked by his players and worked for their well-being on and off the court. He made his team a part of campus life and elevated its place in alumni consciousness. These factors all go into how a coach, especially an Ivy League coach, should be measured.
Winning in the Ivy League, and winning consistently, is not easy. That's why Donahue left Ithaca after a 13–1 Ivy season and a 29–5 mark overall, including a pair of NCAA tournament wins that garnered national attention. His Cornell team was loaded with seniors, including stars Ryan Wittman, Jeff Foote and Louis Dale, so Donahue realized this was his time to cash in and not risk being in the position of overseeing a program that had passed its peak.
The key to success in the Ivies, like any other league, is recruiting. But recruiting for Columbia, or any Ivy school, is challenging because of the shallow pool of prospects who are capable of, and willing to, combine a rigorous academic program with the demands of Division I basketball. Not only is Columbia competing with the seven other Ivies for these select prospects, but also with top academic schools like Duke, Stanford and others that can offer athletic scholarships and have much higher athletic profiles.
That does not mean the job is hopeless. Between a Columbia degree and all that New York City has to offer, Jones' successor has much to offer to recruits. And the beauty of basketball is you don't need a bevy of players to turn a program around; Donahue endured six losing seasons at Cornell before catching lightning in a bottle with the convergence of an all-around star (Wittman), a floor general (Dale) and a 7-foot center (Foote).
I'm reminded of the Lions of my college years, when Brooklyn's Jim McMillian '70 turned down UCLA to stay in the city and blossomed into an All-American, 7-footer Dave Newmark '69 was a pivot presence and Heyward Dotson '70, '76L provided backcourt leadership and scoring. That team won the Holiday Festival at Madison Square Garden when the tourney really meant something, was ranked in the nation's top 10, won the 1968 Ivy championship in a one-game playoff against Princeton and provided a positive rallying point at a time when campus unrest was about to bubble over.
Such success can happen again. Cornell had won exactly one Ivy championship in half a century before dominating the league the last three years. With the right coach and commitment, Columbia can do the same.