Features
Five Alumni Honored at John Jay Awards Dinner
By Alex Sachare '71, photos: Eileen Barroso
Five accomplished alumni — Andrew Barth '83, '85 Business; Alexander Navab '87; Kenneth Ofori-Atta '84; Michael Oren '77 and Elizabeth D. Rubin '87 — were presented with 2011 John Jay Awards for distinguished professional achievement on March 2 at the annual John Jay Awards Dinner.
The diverse accomplishments of this year's award-winners speak to the varied backgrounds and interests of College students and alumni.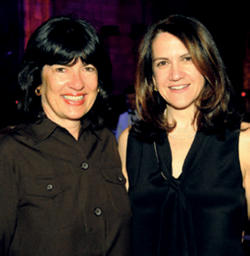 Honoree Elizabeth D. Rubin '87 (right) with fellow journalist Christiane Amanpour. Barth, Navab and Ofori-Atta are leaders in finance. Barth is the chairman of Capital Guardian Trust Co. and Capital International Limited, Navab is a partner and co-head of North American Private Equity for Kohlberg Kravis Roberts & Co. and Ofori-Atta is the executive chairman and co-founder of Databank Financial Services. Oren has been the Ambassador of Israel to the United States since 2009, worked on a kibbutz in Israel as a teenager and served in the Israel Defense Forces in the 1982 Lebanon war. Rubin is an award-winning war correspondent and a contributing writer to The New York Times Magazine and other publications who has reported from the front lines in the Balkans, Africa, Iraq and Afghanistan.
The black-tie dinner, attended by approximately 600 at Cipriani 42nd Street in New York, benefits the John Jay Scholars Program, which aims to extend and enhance the academic and extracurricular experiences of outstanding College first-years with panels, discussions and presentations by leading professors and professionals.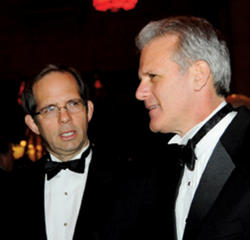 Honorees Andrew Barth '83, '85 Business (left) and Michael Oren '77. Leeza Mangaldas '11, who spoke on behalf of the John Jay Scholars, many of whom attended the dinner, was born in a small fishing village in the Goa, India. "On the 16-hour plane ride to New York and Columbia, I could see my life was going to change," she recalled. "Though the rural, sea-salt air made for an idyllic childhood, Columbia University in the City of New York seemed like the glorious antithesis to everything I'd known." She praised the "astounding eloquence and passion" of Columbia faculty members and said, "At Columbia, the everyday is extraordinary." An English major with a concentration in visual arts who has held summer internships in Hong Kong and Mumbai, Mangaldas plans to return to India after graduation and work in the film industry. (CCT profiled her in "Student Spotlight" in September/October 2008: college.columbia.edu/cct/sep_oct08.)
Board of Trustees Chair William V. Campbell '62, '64 TC welcomed the guests and introduced Columbia College Alumni Association Executive Committee member Kyra Tirana Barry '87, who thanked those in attendance and announced that the dinner had raised nearly $1.5 million. Dean Michele Moody-Adams recognized the faculty in attendance, calling them "the heart of the institution," and the students who were in the audience, saying, "All of us are very proud of your accomplishments and look forward to the day you can stand up here as recipients of this award."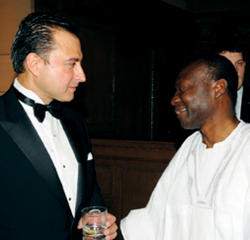 Honorees Alexander Navab '87 and Kenneth Ofori-Atta '84. In his remarks, President Lee C. Bollinger said Columbia was at a historical moment in its 257-year history. The opening of the Northwest Corner interdisciplinary science building completes the original blueprint for the Morningside Heights campus at the same time that the courts cleared the way for Columbia to create "a new campus for this century" in Manhattanville. "This solves the space problem that Columbia has had for four or five decades," Bollinger said. He also noted that the endowment had outpaced peer institutions by achieving a 17 percent gain last year and that the Columbia Campaign's $4 billion goal had been reached more than a year early. Bollinger got a laugh when he added, "Naturally, we extended the campaign by two years and raised the goal to $5 billion."
Ofori-Atta, who is from Ghana and whose business is based in its capital, Accra, is the first African-born recipient of a John Jay Award. He was pleased when Bollinger named Nairobi as a future site of a Columbia Global Center. "Africa is truly the next frontier, and Columbia should be taking the lead in bringing us into the community of states," he said.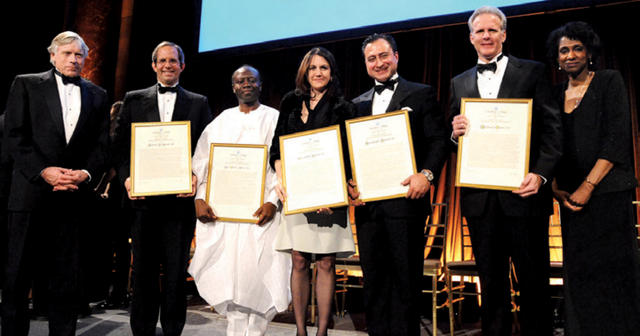 From top: Joining President Lee C. Bollinger (far left) and Dean Michele Moody-Adams following the presentation of citations are (left to right) honorees Andrew Barth '83, '85 Business, Kenneth Ofori-Atta '84, Elizabeth D. Rubin '87, Alexander Navab '87 and Michael Oren '77; students played a prominent role in the ceremony as presenters and speakers, including (left to right) Warren McGee '11, Alicia Outing '11, Vesal Yazdi '11, Leeza Mangaldas '11, Francesca Triani '11 and Alexander Moll '11; Mangaldas represented all John Jay Scholars in addressing the crowd of about 600 at Cipriani 42nd Street, which is in an ornate former bank branch; and Moody-Adams praised the faculty in attendance, describing them as "the heart of the institution."