Features
Guru of Climate Change Law
When an island nation is threatened with extinction due to rising waters, Michael Gerrard '72 is the man to call
By Shira Boss '93, '97J, '98 SIPA
Leaders of the Marshall Islands, alarmed that their country is slowly disappearing into the Pacific Ocean due to rising waters caused by climate change, recently turned to environmental lawyer Michael Gerrard '72 for help.
Gerrard, renowned in the field of environmental law and especially climate change law, returned to Columbia from private practice two years ago to teach at the Law School and head the new Center for Climate Change Law, the first of its kind. Its mission is to develop legal techniques and resources to help governments, companies and even individuals fight global warming and cope with its impact.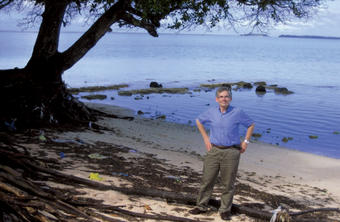 Signs of the damage caused by rising waters due to climate change are everywhere in the Marshall Islands. Michael Gerrard '72 stands on a beach where much of the sand has been washed away, exposing the trees' roots and threatening their survival. PHOTO: Derrain CookGerrard visited the Marshall Islands late last year and witnessed the vulnerabilities firsthand. The capital, Majuro, rises only a few feet above sea level on an island whose width is roughly the distance between Broadway and Amsterdam Avenue on the Columbia campus. It's not just an outright disappearance underwater that threatens habitability but also erosion from rising tides, pounding by increasingly severe tropical storms, and salt water infiltrating the drinking water supply, which are already happening.
Among the Marshall Islands' legal concerns, which they share with other small island nations are: Where would their citizens go, with what citizenship status, if and when their country becomes uninhabitable? Would the country retain fishing and mineral rights? Would it still be a country at all?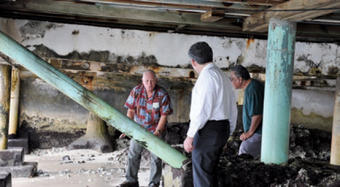 Gerrard examines a building whose underpinnings are endangered by rising waters. PHOTO: Derrain Cook"The questions were so novel and difficult and numerous that they were beyond our capabilities to answer on our own," says Gerrard, the Andrew Sabin Professor of Professional Practice, referring to the Center for Climate Change Law's small staff of student interns, four fellows and two visiting scholars. Instead, Gerrard put out an international call for papers — answered by 77 scholars in 23 countries — and organized a conference to be held at Columbia on May 23–25, "Threatened Island Nations: Legal Implications of a Changing Climate."
One of many gravestones that have been damaged by the encroaching seas. PHOTO: Derrain CookIt's not just encroaching oceans that are a concern worldwide, says Gerrard. Climate change has grown into one of the most vital problems affecting the earth. Gerrard has been heavily involved in the issue for several years and has worked at the forefront of environmental law since its inception in the 1970s. He has written nine books on specific areas of environmental law, including the first and definitive volume on U.S. climate change law, and he has represented scores of corporate, municipal and nonprofit clients in environmental actions.
"There's overwhelming scientific evidence that humans are causing changes to the climate and that these changes will have a significant negative impact," Gerrard says. He believes that legal techniques are among the most effective tools to change patterns of energy production and use and address climate change.
Gerrard came of age in an industrial area of Charleston, W.Va., heavily polluted with discharge from chemical plants. While he was an undergrad, the country was just waking up to the importance of environmental protection. In 1970, the first Earth Day was celebrated, the Environmental Protection Agency was founded and Congress passed key legislation such as the Clean Air Act.
"In the shadow of Vietnam, there was a lot of attention paid to reforming society and controlling corporate conduct," Gerrard says. "It became clear that the environmental problems of the country resulted not only from engineering failures but also from political and legal failures, and that political and legal action was a necessary component of fighting environmental decline."
A political science major, Gerrard initially pursued a career in journalism. He was a writer and editor at Spectator and worked in the summers and after graduation for the Charleston Gazette and the Charleston bureau of the Associated Press.
But a seminar he took during his junior year, "Institute in American Politics and Social Change," taught by Alan F. Westin, led him to his eventual field of environmental law. In Westin's course, Gerrard studied the problem of air pollution in West Virginia. That research turned into his senior thesis, "The Politics of Air Pollution in West Virginia," for which he won the Alan J. Willen Memorial Prize for the best thesis on American politics.
After his stint in journalism, Gerrard came back to New York in 1973 to be a policy analyst at the Council on the Environment of New York City, affiliated with the Office of the Mayor. He became involved in the Westway case, the biggest development controversy in New York City in the '70s. It involved a proposal to build an interstate highway on the far West Side that would have included landfill in the Hudson River and cost about $2 billion. "At a time when the New York subway and bus systems were falling apart, this would have cost $10,000 a linear inch," Gerrard says.
The battle helped inspire Gerrard to become a lawyer. "It became clear to me that this beast could best be fought in court and other legal arenas," he says. "I watched lawyers use legal techniques to great effect."
During law school at NYU, Gerrard interned at the Natural Resources Defense Council and remained involved in the Westway case, which was defeated in 1985 on environmental grounds. After he graduated from NYU Law in 1978 and went to work for Berle, Kass & Case, Gerrard's experience with Westway "led to a string of cases representing municipalities and community organizations litigating against highways," he says. He then used many of the same legal techniques to represent municipalities and citizens groups fighting hazardous, solid and radioactive waste landfills and incinerators.
When Gerrard attended law school, there was no environmental law program; the school's entire offering on the subject was a single course taught by an adjunct. Gerrard has not only built his expertise working in the field but also has helped shape it through numerous books and articles, work with environmental advocates, teaching and now by forming and leading the Center for Climate Change Law.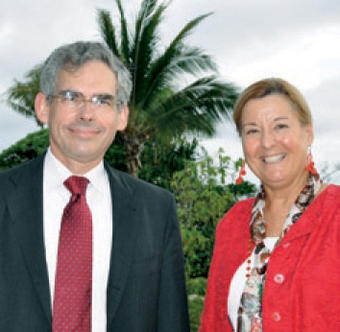 Gerrard and Martha Campbell, U.S. ambassador to the Republic of the Marshall Islands. PHOTO: Derrain Cook"He's always on the cutting edge," says Deborah Goldberg, who worked with Gerrard at two law firms and now is managing attorney of Earthjustice, a nonprofit public interest law firm. "He's written the book on any number of issues just as they were emerging, and is still doing it now, with the Center for Climate Change Law." Goldberg says he is the leading authority on environmental impact review in New York and that "the first thing anyone with a question in that area does is to reach for Mike's two-volume treatise."
Gerrard wrote the first and leading book on U.S. climate change law, Global Climate Change and U.S. Law, in 2007. His two most recent volumes are The Law of Green Buildings: Regulatory and Legal Issues in Design, Construction, Operations and Financing, published last August, and The Law of Clean Energy: Efficiency and Renewables, which came out this spring. He now is co-editing a book on the law of adaptation to climate change, which includes domestic and international laws. Two of his books have won the Association of American Publishers' Outstanding Legal Book of the Year award: the 12-volume Environmental Law Practice Guide and the four-volume Brownfields Law and Practice: The Cleanup and Redevelopment of Contaminated Land, both of which are continually supplemented.
"He's very unusual in not only the quality but the amount of his writing — books, articles and studies," says Ross Sandler, professor of law at New York Law School, who was the adjunct who taught environmental law to Gerrard at NYU. "Many academic lawyers would envy his output over the years." Sandler says part of what enabled Gerrard to be so prolific while practicing law full-time is that he "keeps voluminous files on every aspect of environmental law, and has them meticulously organized — he did the work of a computer even before computers."
Gerrard has been ranked by Who's Who Legal and in the Guide to the World's Leading Environmental Lawyers as one of the top environmental lawyers in the world. Peers surveyed by the publication group Best Lawyers designated him the 2010 New York Environmental Lawyer of the Year. Their awards are given to the attorneys who have earned their peers' highest respect for "their abilities, their professionalism and their integrity."
A tagline for Gerrard's career could be "Act Globally, Act Locally."
"He has a really sophisticated perspective," says Steve Cohen, director of the Earth Institute at Columbia. Gerrard was recruited to the faculty of both the Law School and the Earth Institute. "He understands the perspectives of interest groups, industry and environmentalists, and the details of environmental policy and law."
Gerrard continues his professional practice part-time as senior counsel at Arnold & Porter, where he was previously managing partner of the New York office and head of its environmental practice. He has represented numerous real estate companies involved in proposed development projects, helping them navigate the environmental review process and get the permits they need. Since 2002, he has represented developer Larry Silverstein concerning the environmental issues regarding redevelopment of the World Trade Center site.
"Mike analyzes legal issues without favor or bias. He is the first person we all look to on a difficult or close issue in our field," says Jim Periconi '70, who met Gerrard when they attended NYU Law and who now runs a boutique environmental law firm in New York and remains a friend. "He's given so much time and effort to nonprofits, and at the same time he has an impressive roster of corporate clients. He commands great respect in both camps — it's rare for an environmental attorney to be so admired and trusted by such radically competing interests."
Gerrard points out that the two sides are not always conflicting. "Many companies really do want to comply with environmental laws and want to know what they are and how to do that," he says. "Silverstein wants to make the new towers green. For years, we've been working on the design and construction and operation being as environmentally friendly as possible." The towers now being erected at the former World Trade Center site will earn the Leadership in Energy and Environmental Design Gold certification or the equivalent, Gerrard says.
For several years in the mid-'90s, Gerrard represented the Natural Resources Defense Council (NRDC) on a pro bono basis in litigation against the New York City Department of Sanitation for failure to implement the city's recycling law. As a result of the case and political pressure, recycling was expanded.
In 2008, he represented the NRDC in filing a petition — largely drafted by Gerrard — with the White House Council on Environmental Quality asking it to issue regulations requiring environmental impact statements to discuss greenhouse gas emissions and climate change. (The CEQ did issue proposed rules in February 2010.)
Gerrard has a reputation for tact and gentility, which make him a more influential attorney and advocate and also, colleagues say, a behavioral role model.
"Mike never gets frazzled," Periconi says. "He's the most generous of people in helping colleagues with the right way to approach a legal problem, providing sources of information you didn't know existed, telling you the right people to call on an issue … and yet he's supremely modest about his accomplishments. I've never heard anyone say a negative word about Mike Gerrard — ever."
Gerrard taught courses as an adjunct at the Law School, NYU Law and the Yale School of Forestry and Environmental Studies before joining the faculties of the Law School and the Earth Institute full-time at the beginning of 2009.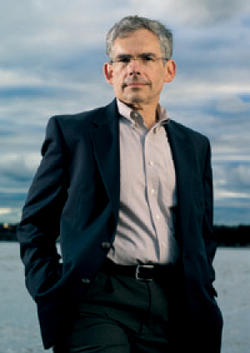 Gerrard is a pioneer in environmental law and has helped shape the growing field with his prolific writings, professional work and the founding of Columbia's Center for Climate Change Law. Photo: Erica Martin"I came to feel climate change is one of the most serious issues facing humanity, and since I have some expertise, I felt an obligation to devote myself to helping devise solutions and train the next generation of leaders in the field," Gerrard says. "There's too much to be done, and not enough people to do it."
Cohen says Gerrard is truly interested in education and is a popular teacher, whose courses on environmental law, climate change law and energy law are always full.
"What he brings to the classroom is his enormous experience from the time environmental law started, so students get the benefit of knowing what went on and how we got to where we are today," Sandler says.
Students say Gerrard, who can come across as staid before getting to know him, makes even lecture courses lively and interactive. He will play YouTube videos to bring the material to life, and has brought in bumper stickers from oppositional campaigns and original documents from cases for show and tell. "He's quite funny, and intersperses anecdotes from his years of experience in the field throughout the class," says Ben Schifman '11L. "He's been involved in many of the foundational environmental law cases we read in the case books — you are unlikely to have a professor who can do that in other fields such as, say, property law, which was largely developed centuries ago."
While student interest in pursuing environmental careers has been growing during the past decade or so — enrollments in related courses have increased, and the College added a major in sustainable development in 2010 — neither the school nor Gerrard fully anticipated his reception on campus. For 18 spots available in the spring 2010 semester for his "Seminar on Energy Law," a topic Gerrard says was previously considered "an obscure corner of the law," 130 students applied. Demand remains strong, and this semester, for the first time, Gerrard admitted 20 undergraduates to his "Climate Change Law" lecture class.
Carolyn Matos '12, an urban studies major who interned at the Center for Climate Change Law last summer, is taking "Climate Change Law" and says she has decided to pursue environmental law as a career, "primarily because of Professor Gerrard, how much he loves environmental law and how passionate he is about climate law."
"I find a great deal more student interest in environmental law now versus before," Gerrard says, referring to his time as an adjunct lecturer at the Law School from 1992–2000. "Before, it was considered a specialty, and not a great many wanted to go into it as a career. Now, people are attracted to it. They think environmental issues are important to their own futures and the future of civilization. The environment poses many fascinating legal and policy issues they'd like to tackle. And they see job growth in this area."
To reduce his carbon footprint, Gerrard commutes to campus from his home in Chappaqua, N.Y., by Metro-North train to East 125th Street, a crosstown bus and a half-mile walk on Amsterdam Avenue. He points out that mode of transportation is a major determinant of one's personal environmental impact.
Gerrard and his wife of 34 years, Barbara, to whom he was introduced through taking the Westin course, also are active in local politics. In November 2009, Barbara Gerrard was reelected to a second term as supervisor (the equivalent of mayor) of the Town of New Castle, of which Chappaqua is a part. The town has become increasingly environmentally conscious under her leadership and was the first in New York to sign the state's Climate Smart Communities Pledge to lower greenhouse gas emissions, promote recycling and reduce energy consumption.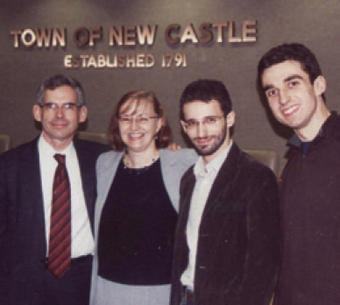 Back home in Chappaqua, N.Y., Gerrard with his wife, Barbara, supervisor of the Town of New Castle, and their sons, William '05, '12 Arts (second from right) and David '03, '07 Arts. PHOTO: Lori SachareMichael Gerrard has chaired the town's Solid Waste Advisory Board, which he admits sounds unglamorous but says plays an important role in any local environment. He also sits on several nonprofit boards, and for 10 years was the pro bono general counsel of the Municipal Art Society of New York.
The couple's sons, David '03, '07 Arts, and William '05, '12 Arts, are third-generation Columbians. Gerrard's parents met while both were attending graduate school at Columbia: his father, Nathan '52 GSAS, in sociology, and his mother, Louise '69 GSAS, in political science (she took time off to raise Michael and his brother, then completed her Ph.D. when Michael was a first-year at the College).
A tagline for Gerrard's career could be "Act Globally, Act Locally." At the same time that he has been working on the plight of drowning island nations, he was one of six private citizens appointed to work on the issue closer to home, as part of New York State's Sea Level Rise Task Force. "The sea is rising and rising at an accelerating rate," he says. "By the end of the century, the rise could be quite significant for low-lying cities, including New York." Regarding his wide-ranging involvement in the field, he states simply, "There are a lot of balls to juggle."
Colleagues marvel at how much Gerrard accomplishes, and at the way he does it. Periconi says, "I think of Mike as perhaps the best exemplar of the mix of qualities promoted by a Columbia education: a spirit of intellectual adventurousness, tremendous public mindedness, contributing to the commonweal and not all that focused on promoting his own career yet with outstanding professional accomplishment."
Shira Boss '93, '97J, '98 SIPA is a contributing writer to CCT.