Alumni Profiles
Art Rosenbaum '60 Records Folk Music History
By Matt Roshkow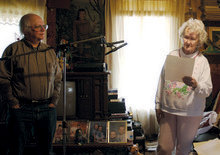 Art Rosenbaum '60, '61 Arts recording ballad singer Mary Lomax in White Creek, White County, Ga., in 2007. Photo: Margo Newmark RosenbaumWhen Art Rosenbaum '60, '61 Arts arrived in New York in 1956 to begin his undergraduate career, his timing could not have been better. Already a folk music aficionado, weaned on the early recordings of Pete Seeger, Burl Ives and many others, Rosenbaum found himself just uptown from what would become the epicenter of the 1950s folk music revival. Gathering daily in Washington Square Park, Rosenbaum recalls, "was a whole nest of banjo pickers and folk singers."
While majoring in art history (he later earned an M.F.A. in painting), Rosenbaum quickly became a regular on the folk scene and, along with fellow Columbia undergrads Tom Gibbs '60, Jeffrey Stewart '60 and Steve Cogan '60, started his own group, The Columbia Cham'bry Players. Playing banjo and fiddle as well as singing, Rosenbaum performed at such clubs as Gerde's Folk City, where he crossed paths with a fellow transplant from the Midwest, a skinny, nervous-looking kid named Bob Dylan. But when he got a tip about a terrific old blues guitarist still playing in his hometown of Indianapolis, Rosenbaum grabbed his tape recorder and began what would essentially become his true musical calling.
"One side of the coin of the urban folk revival was to play in coffeehouses," Rosenbaum says. "The other part was to seek out the living players." Rosenbaum chose the latter and has spent the better part of 50 years crisscrossing the country in search of every unrecorded blues, gospel, mountain ballad, banjo and fiddle song he can find and preserve on tape. Rosenbaum's day job, as it were, consisted of teaching art. He retired two years ago after teaching studio art for 30 years at the University of Georgia, and counts among his former students R.E.M. lead singer Michael Stipe.
The Art of Field Recording Volume 1, a four-disc set that was released last year by the Atlanta-based Dust-to-Digital record label, represents the sum of Rosenbaum's recording labors and features an encyclopedic compendium of traditional American music dating to the 1920s. Among the featured musicians is Scrapper Blackwell, the blues guitarist from Indianapolis who got Rosenbaum started on his journey.
The boxed set, which includes a 96-page booklet of Rosenbaum's commentaries and paintings of the musicians, as well as photographs by his wife, Margo Newmark Rosenbaum, has garnered him much critical acclaim. The New York Times called it "a gold mine, an ark," and USA Today proclaimed it nothing less than "Harry Smith's Anthology of Folk Music for a new generation." The discs serve as a fitting retrospective of a lifetime devoted to archiving and preserving a vanishing art form. Some of the recordings simply consist of unaccompanied voices, something that, as Rosenbaum points out, a listener would not find on even the earliest generation of 78s, where commercial constraints demanded musical accompaniment and where performances were often limited to no more than three minutes.
Rosenbaum used a basic reel-to-reel tape deck for many of the earlier recordings and was careful to preserve as many of the recordings' aural quirks and background noises as he could. "I try to get as faithful and simple a documentation of a sound and place as I can get, " he explains. As a result, listeners are treated to the atmospheric accompaniment of a nearby dog barking or the drone of cicadas on a hot Southern summer night. The project has been so successful that Rosenbaum now is finalizing the tracks list for The Art of Field Recording Volume 2, which he hopes will be released this fall. What's more, he's already "kicking around ideas" for Volume 3, which may feature video shot by his 41-year-old son, Neil, a video­grapher who lives in Missouri.
According to Dust-to-Digital founder Lance Ledbetter, what makes Rosenbaum special is that "he absolutely loves the artists and the music. It can't be underestimated how much he wants this tradition to be carried on." Ledbetter also points out that unlike some field recorders, Rosenbaum makes the effort to "get to know and stay in touch" with many of the musicians he comes across.
Although music is Rosen‑­baum's "deep passion," he notes that "my ambition always has been to make [a] personal statement through my art." Rosenbaum's paintings have been lauded for their dynamic fusing of abstraction, expressionism and opulent color with an Old Master tradition of art. Among his major influences, Rosenbaum cites Philip Guston, whom he first heard speak at Columbia, as well as his Columbia art professor John Heliker, whom he calls a "great mentor and wonderful painter." Two years ago, the Georgia Museum of Art held a major retrospective of Rosenbaum's work.
Rosenbaum remains a presence at the University of Georgia, where he teaches a seminar on traditional American music that he calls "O Traditional Music, Where Art Thou?" in an affectionate nod to the Coen brothers' popular Depression-era period piece O Brother, Where Art Thou? While teaching the seminar, Rosenbaum even managed to unearth an old Georgia murder ballad from one of his students who had heard it sung by his mother and grandmother.
Rosenbaum is quick to draw an aesthetic connection between his work as a traveling musical archivist and his more sedentary life at the easel at his home in Athens, Ga. In folk music, Rosenbaum searched for and found something "very old yet very now that correlated with what the New York City artists were doing in the 1950s as well as some of the poets and writers at the time." To that end, paint brush and tape recorder in hand, he keeps on searching.
Matt Roshkow is a screenwriter and freelance journalist living in Hastings-on-Hudson, N.Y.