Alumni Profiles
Jamsheed Choksy '85 Helps Give Back to Humanities
By Amanda Erickson '08
For Jamsheed Choksy '85, it started with a voicemail on his office machine. When he returned the call, he was offered a chance to help the nation's largest supporter of humanities projects decide what kind of research and projects it would fund.
Choksy, a professor at Indiana University who studies history and religion of the Middle East and Central Asia, was offered a position on the National Council on the Humanities, which oversees the National Endowment of the Humanities. The endowment, which is federally funded, provides money for humanities projects as well as to groups that are preserving access to cultural resources and improving liberal arts education. As a board member, Choksy offers advice and guidance on grant awards and has a say in how the endowment's $4 billion are directed.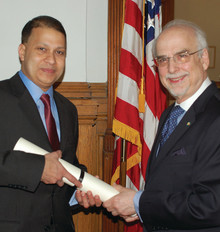 Jamsheed Choksy '85 (left) is sworn into office at the National Endowment of the Humanities on May 22 by Chairman Bruce Cole. Photo: NEHThese funds "help us understand the world and our place in it," he says. "I can't think of a more exciting project."
During the last few years, the organization has provided money for Columbia's preservation efforts in the Rare Book & Manuscript Library. In 2001, it helped the University's Middle East and Asian Languages and Cultures (MEALAC) department and Center for Iranian Studies publish volumes of the first Encyclopedia Iranica.
For Choksy, the position gave him a chance to advocate for what he loves: the study of other cultures and languages.
That hadn't always been his passion. Choksy grew up in India and Sri Lanka, and chose Columbia because he wanted to attend school in an urban area that would remind him of London, where he studied as a boy.
He came to the College with a plan: He would study genetics and become a scientist. But once he arrived, Choksy started a dual course of study that allowed him to pursue his biology courses and another passion — the Middle East.
Choksy took language and Middle Eastern civilization courses with professors such as Richard Bulliet, a history and MEALAC professor. By his senior year, he was regularly taking graduate-level courses in both subjects.
"I liked the diversity of it," Choksy says. "I think that is the true legacy of a liberal education."
But he also knew his focus was narrowing, and in his senior year, Choksy choose to continue his graduate studies on the Middle East and Central Asia. He went on to earn his Ph.D. at Harvard, where he narrowed his focus to Islam and Zoroastrianism, a religion practiced in Iran, India and Pakistan. After research stints abroad and at Princeton (funded by the National Endowment of the Humanities), Choksy spent two years teaching at Stanford before moving on to Indiana. Now he splits his time between Bloomington, Ind., and Washington, D.C.
He was nominated by President Bush on January 8 and says of his latest role, "I can't think of a bigger honor."
Amanda Erickson '08 majored in urban studies. She spent the summer covering the 2008 Presidential campaign for the Chicago Tribune.