Alumni Profiles
Ilene Weintraub '02 Heads Women's Tennis
By Nathalie Alonso '08
When Ilene Weintraub '02 returned to alma mater to become head coach of the women's tennis team, she had only been away from Columbia for three years since graduating, and a part of her had never really left. "I always knew I wanted to come back and be the head coach. That was my dream," she says.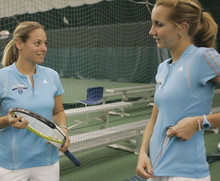 Ilene Weintraub '02 (left) shares advice about the game of tennis with Natalia Christenson '11 Barnard. PHOTO: Gene Boyars/Columbia University AthleticsAfter graduation, Weintraub was Columbia's assistant coach until 2004, when she was hired as head coach of the women's tennis team at Seton Hall. During three seasons she led the Pirates, who had not made the postseason in five years, to a 38–27 record and three Big East Tournament appearances. Weintraub returned to Columbia when her predecessor and former coach, Rob Kresberg '89, stepped down after 13 seasons.
Weintraub, who majored in theater with a focus on directing, was no stranger to the spotlight during her playing career with the Lions. A four-year letterwinner, she earned All-Ivy Second Team honors in doubles during her first two years at Columbia and was team captain her junior and senior years. She says her most thrilling moment as a player was being mobbed by teammates after winning a match her junior year that gave the Lions their first win over Princeton in the history of Columbia's women's tennis program.
"My entire team started running at me. It's one of those moments you never forget. They got to me before I was able to shake the opponent's hand," recalls Weintraub.
Weintraub, who grew up in the Brighton Beach neighborhood of Brooklyn and first picked up a tennis racket at 5, got her first taste of coaching by assisting Kresberg during her senior year. "That's when I fell in love with coaching," she explains. "Just as a director does in theater, I was able to work magic behind the scenes."
Weintraub's new passion ultimately led her back to Morningside Heights, just as her flair for the dramatic steered her toward Columbia years earlier.
"I knew that I wanted to study theater, and New York was one of the best places to do that," she says of her decision to attend the College.
According to Weintraub, as president of Columbia Musical Theater Society her junior year, she was the first person to direct a major stage performance in Roone Arledge Auditorium in Alfred Lerner Hall, a rendition of A Chorus Line that involved more than 100 students. She now is artistic director of Downstage Eye Music Theater, a nonprofit, Off-Broadway theater company.
Weintraub found a way to combine her passions when it came time to write her senior thesis. Her topic was how to direct musical theater using athletic training techniques.
"I always found a lot of similarities between directing theater and coaching athletes. It's all about motivating someone to perform at their best," she notes, adding, "It was one of the only As I ever got here."
Although the women's tennis team had a 2–12 record in 2007–08, according to Nina Suda '09, the team's co-captain, Weintraub scored an "A" when it came to establishing bonds with the players in her first year as head coach.
"She feels at home when she enters Baker Field and calls us 'her family.' Her Columbia pride and school spirit are so deeply rooted that it definitely motivates us," says Suda.
With a team that should be strengthened by a recruiting class that was ranked No. 21 in the nation by tennisrecruiting.net in February, Weintraub is optimistic going into her second season.
"We will continue to work hard to meet our goals of having a winning record in the Ivy League. I am looking forward to playing the schedule I have created, which will be much more competitive and includes more nationally ranked opponents," she notes.
Nathalie Alonso '08, from Sunnyside, Queens, majored in American studies. She has seen every episode of I Love Lucy and is an avid New York Yankees fan.