Around the Quads
Chalfie Wins Nobel Prize in Chemistry
Martin Chalfie, the William R. Kenan Jr. Professor and chair of biological sciences, is one of three winners of the 2008 Nobel Prize in chemistry for their discovery of a glowing jellyfish protein that makes cells, tissues and organs light up, a tool used by researchers around the world. Chalfie shares the $1.4 million prize with Osamu Shimomura, an emeritus professor at the Marine Biological Laboratory in Wood's Hole, Mass., and Boston University Medical School, and Roger Y. Tsien of UC San Diego. The winners were announced by the Royal Swedish Academy of Sciences on October 8.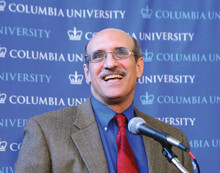 Martin Chalfie jokes with reporters after sleeping through the phone call telling him he would be sharing the 2008 Nobel Prize in chemistry. Photo: Eileen BarrosoChalfie learned of the honor on the Internet after sleeping through a phone call from the academy. He said he checked the Nobel Web site because, "You do wonder every November" about who will win. Of the discovery, he said, "You don't do it for the recognition. You do it to answer a question."
Shimomura identified the protein in 1962 and showed that it glowed bright green under ultraviolet light. In the 1990s, Chalfie showed how the protein could be used as a biological identifier tag by inserting the gene that produces the protein into the DNA of an organism, and Tsien made glowing proteins of colors other than green, permitting biologists to track different cellular processes at the same time.
In one of his experiments, Chalfie inserted the protein into six cells of a transparent roundworm. When placed under ultraviolet light, those cells glowed green, revealing their location. Biologists now routinely use green fluorescent proteins to track the growth of specific cells.
Asked at a news conference in New York about the impact of the award, Chalfie said, "One of the things that has already changed is that people want to listen to what I have to say, which is a surprise and a shock to me."