Around the Quads
Five Minutes with... Janet Currie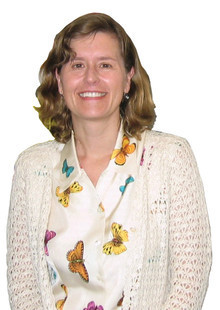 Janet Currie is a professor of economics and chair of the Department of Economics. She received her Ph.D. from Prince­ton in 1988 and has taught there, at MIT and at UCLA, where she held the Charles E. Davidson Chair in Economics. For the past decade, Currie's research has focused on evaluating programs aimed at poor children and families. Her latest book, The Invisible Safety Net: Protecting the Nation's Poor Children and Families, was published by Princeton University Press in 2006. Currently she is examining social determinants of child health and the relationship between socioeconomic status and health.
Where did you grow up?
Ottawa, Canada.
What was your favorite toy or game?
I used to like making ladders — out of ropes or twist ties — for my Barbies, so that they could scale tables.
What would you have liked to have been, if you weren't doing what you do now?
I thought about becoming a medical doctor. If I didn't do the kind of research that I'm doing, then doing medical research would be very interesting.
How did you get interested in economics?
When I was an undergraduate, I had a teacher, Donald Dewees, who used to come with articles from the newspaper every day and just discuss … how they related to economic concepts. The idea that you could explain what was going on in the world by thinking about it from an economic point of view was very appealing.
So it was like a philosopher's stone for you, a way to decode everything?
I think a lot of economists think about economics that way.
How did you end up at Columbia?
I came here in 2005 as part of a large group of people who were being recruited to rebuild the department. What really attracted me was the idea that the University was committed to building a top department and was willing to put resources into it over a long period of time to accomplish that.
It's a really collegial department, which I appreciate, and it doesn't really have an ideological slant. One distinguishing feature of our department is that people are very interested by and large in what's going on in the real world — in policy and the real economy.
Which undergrad classes are you teaching right now?
Right now, since I'm chair, I'm not teaching undergraduates. But I was teaching a seminar course on "Poverty in America," and I've also taught "Labor Economics."
What are you working on right now?
I have several things in the works, which would be moving a lot faster if I were not the chair of the department (laughs). One project that I'm very interested in that's kind of a long-term project is looking at how poor health in childhood affects adults' outcome. The issue is that there's a lot of research that's been done looking at how health at birth is related to long-term outcomes, and you can show, for example, that children who were low birth weight on average do less well in school or are less likely to graduate from high school. But we know very little about how other health problems after birth affect children's outcomes. I've been looking at that using some Canadian data … because it's a socialized health insurance system you can track every contact with the medical system.
You are married to W. Bentley MacLeod, who teaches in your department. Do you have kids?
Yes, I have two kids, 11 and 8. They go to the Columbia School.
What's something your students would never guess about you?
They would probably never guess that I know quite a bit about geology, because my father was a geologist. I can recognize most minerals and a lot of geological formations.
If you could go anywhere in the world right now, where would it be?
The South of Spain — the Alhambra.
What's your favorite food?
Sushi.
Coffee or tea?
I drink tea all day long. This sounds like a personal ad. (Laughs).
Rose Kernochan '82 Barnard