Around the Quads
Sarracina Littlebird '09: A Champion for Native Populations
By Nathalie Alonso '08
Sarracina Littlebird '09 always has enjoyed spending her spare time in the kitchen, experimenting with new salads and testing potato recipes. Just don't ask her to whip up any fish dishes.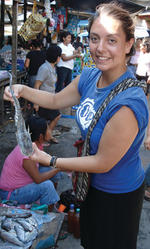 Sarracina Littlebird '09 spent the summer between her junior and senior years in Iquitos, Peru, conducting research about local fisheries. Photo: Jason Patinkin '09Littlebird, an environmental biology major from Santa Fe, N.M., spent last summer in Iquitos, Peru, studying ways in which local cultural mythology and belief systems influence fishing practices in that region of the Amazon rainforest. The Kluge Scholar traveled solo to Iquitos and stayed at a hostel off the city's main square. Her days were spent interviewing fishermen and conducting market surveys in which she noted the types, size and amount of fish for sale in order to determine if local fisheries are being overharvested.
While Littlebird admits that "seeing the fish in the hot sun every day" quelled her appetite for seafood, the two-month trip yielded a wealth of primary material for her senior thesis. By conversing with local elders, she became familiar with myths about ghosts, anacondas and dolphins that are said to harass fishermen in certain areas of the rivers. According to Littlebird, such beliefs about mythical creatures are still prevalent, but no longer dictate where and how fishing takes place.
"Everyone just fishes wherever they want. People still talk about encounters with these mythological beings, but they have become desensitized," explains Littlebird, who designed her project — an independent endeavor — with associate research scientist Miguel Pinedo-Vazquez. She received funding from the Kluge Summer Research Fellowship and the University's Center for Environmental Research and Conservation.
Littlebird's interest in the way indigenous people make use of natural resources stems partly from her Native American background.
"In elementary school, I started to realize that I had this sort of wisdom or way of being that other people didn't share with me. That really interested me and brought my attention to the fact that my Native American heritage offers me different things than my Anglo heritage," says Littlebird, whose father belongs to the Laguna and Santo Domingo tribes of New Mexico.
Littlebird's goal is to eventually return to The Land of Enchantment as a tribal representative and work through the federal court system to champion the rights of Native Americans.
"It is my belief that the grossly disproportionate occurrence of alcoholism, suicide, diabetes and incarceration that native populations face stems from a lack of pride in their heritage," says Littlebird, who is particularly interested in issues of education, water use and land management. She hopes to participate in negotiations that affect the semi-sovereign legal status of Native Americans.
"It's incredibly important to preserve and celebrate differences, but not to the point where it has a negative impact on your community," she cautions.
Littlebird received the prestigious Harry S. Truman Scholarship [see "Around the Quads," May/June], which is awarded to college juniors with leadership potential and promising futures in public service. She plans to use the funding to pay for law school — a road not often traveled by environmental biology majors.
"One of the things that really strikes me about Sarracina is her social conscience," notes Matthew Palmer, director of undergraduate studies in the Department of Ecology, Evolution and Environmental Biology. "She brings a great mix of both rigorous environmental science and public policy concerns."
Palmer is Littlebird's thesis adviser and one of her favorite professors. "The way he presents his knowledge is very engaging. He's always making jokes. All of us in the major feel comfortable going to him," she says.
Though Littlebird always has been preoccupied with improving the quality of life for native populations, she arrived at Columbia with a different academic trajectory in mind.
"I started out thinking I wanted to major in physics, but realized my love for physics was purely intellectual," she says. "With environmental biology, I got to look at things I was passionate about for a very long time."
Littlebird was president of the Columbia Undergraduate Scholars Program Alliance during the 2007–08 academic year. She says she chose Columbia because it offered her a quality education while allowing her to continue pursuing another lifelong passion: dance.
"I wanted a school that had excellent academics and a great dance program, because those are very important in my life," explains Littlebird, who says she has been dancing "since I could walk."
As a dance concentrator, Littlebird takes ballet, modern dance and dance history courses at Barnard. When she is home in Santa Fe she collaborates with Dancing Earth, a traveling company based in San Francisco that fuses traditional native dance with contemporary dance. She also enjoys reading, rafting — and, of course, cooking.
"I love making chili. It's something that's unique to the Southwest region [of the United States]," says Littlebird.
Nathalie Alonso '08, from Sunnyside, Queens, majored in American studies. She has seen every episode of I Love Lucy and is an avid New York Yankees fan.