Around the Quads
Provost Brinkley Will Return To Teaching, Research
After five years as University Provost, Alan Brinkley announced he is stepping down at the end of this academic year. "I feel that it is now time for me to return to research and teaching," he stated in a University-wide e-mail sent in early October. Brinkley said he will serve as provost until a successor is named, then take a year-long academic leave before returning to teaching and research.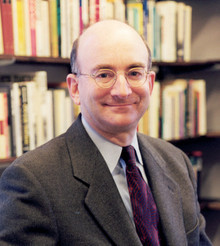 Alan Brinkley Photo: Eileen BarrosoA noted scholar of 20th century American history, Brinkley holds the Allan Nevins Professorship in History, is the author of several books and contributes to a number of publications. He won a 1983 National Book Award.
Brinkley came to Columbia in 1991, having held faculty positions at MIT, Harvard and the CUNY Graduate Center. While at Columbia, he published The End of Reform: New Deal Liberalism in Recession and War (1995) and Liberalism and Its Discontents (1998), and in 2000 he became chair of the history department.
During Brinkley's tenure as provost, Columbia launched a number of initiatives, including the growth of the faculty, the launch of the new science building, a review of undergraduate education and the increasing globalization of the University. Also on his watch was the creation of the Office of the Vice Provost for Diversity Initiatives, which is charged with making the University more diverse through its hiring of faculty, administration and officers of research. He also oversaw development of the Office of Work/Life, which promotes awareness and use of policies and programs to create a family-friendly environment at Columbia.
"I think what I'm proudest of is simply having played a part in the really big things that have happened in the last five-plus years," he noted. "All these are projects that are not mine alone, but I'm very proud to be part of them."