Around the Quads
Grimmett Heads Double Discovery Center
Muriel A.S. Grimmett, a specialist in multicultural education and African-American studies, is the new executive director of the Double Discovery Center, Columbia's program for low-income, college-bound students in New York. She succeeded Olger Twyner III in September. Across the last four decades, Double Discovery's academic enrichment programs have served more than 30,000 students in the city. DDC also has served as a model for programs elsewhere.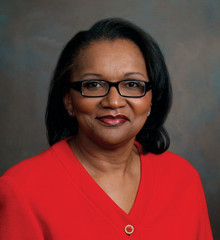 Muriel A.S. Grimmett Grimmett has worked at the national, regional and state levels on issues related to enhancing access and outcomes for low-income, college-bound students. She has held administrative and teaching posts at UNLV, Rutgers, Carleton and Southern Illinois.
"It is an honor for me to take over as executive director of Columbia's oldest community outreach program," Grimmett said. "I am heartened by the large number of volunteers and friends who continue to pledge their services and resources toward the Double Discovery mission of providing academic assistance to students from underrepresented communities."
The Double Discovery Center works with teenagers who are at risk of not completing high school or entering college. It offers academic, career, college, financial aid and personal development services year-round with the goal of increasing the rate of high school graduation, college entrance and college completion. Participants have a 96 percent high school graduation rate, and 66 percent go on to graduate from a four-year college — 20 percent higher than the national rate of college graduation.
Grimmett earned her bachelor's and master's from Southern Illinois and her Ph.D. in higher education administration from St. Louis. She has received the Award of Excellence from the Association for Excellence and Equality in Education and has been recognized for her work with the National Ronald E. McNair Undergraduate Research Conference and Graduate School Fair held annually at Delavan, Wis. In 1998, Grimmett was one of 11 recipients of the inaugural TRIO Dissemination Partnership Program grants awarded by the U. S. Department of Education.
Learn more about DDC.