Bookshelf
Bioethical and Evolutionary Approaches to Medicine and the Law by W. Noel Keyes '43. Keyes discusses the scientific, religious, ethical and legal aspects of bioethics; evaluates current bioethical issues and approaches for their resolution; focuses on medical, legal and other problems from the beginning through the end of life; and discusses the major bioethical issues in genetics and genetic engineering (American Bar Association, $189.95).
A Draft of Light: Poems by John Hollander '50. Hollander's latest collection reveals the ways in which we are constantly creating unique worlds of our own that shape our most basic identities and truest selves (Alfred A. Knopf, $26).
Final Stamp: The Jewish Doctors in the Warsaw Ghetto by Dr. Myron Winick '51, P&S professor emeritus. Winick's historical novel is based on a secret study, conducted by Jewish doctors in two ghetto hospitals during WWII, to better understand the adaptations made by the human body during semi-starvation (AuthorHouse, $19.95).
At My Own Pace: The Autobiography of Fred S. Keller edited by Jon Bailey, Mary Burch, A. Charles Catania '57 and Jack Michael. The work of Keller, a professor emeritus of psychology who taught at Columbia for 26 years, included devising methods for Morse Code operators during WWII, teaching the first undergraduate course in psychology using Skinner's experimental methods and writing several important psychology texts (Sloan Publishing, $39.95).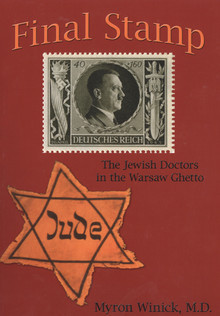 Along the Roaring River: My Wild Ride from Mao to the Met by Hao Jiang Tian with Lois B. Morris; foreword by Robert Lipsyte '57. Operatic bass singer Tian relates the dramatic story of his childhood in Communist China, his coming of age during the Cultural Revolution of the 1960s–'80s and his success on the international opera circuit and as a "house basso" at the Metropolitan Opera (Wiley, $27.95).
Mourning in the Presence of a Corpse by Norbert Hirschhorn '58. Poems dealing with death, depression, romantic affairs, and the power of memories and resilience (Dar al-Jadeed, $10).
Heart of War: A Descent into Darkness by Hal R. Weidner '58. Weidner's hero Captain Parker fights desperate sea battles on the Atlantic as he pursues a treacherous and powerful enemy during the 1770s (iUniverse, Inc., $26.95).
Ending the Mendel-Fisher Controversy by Allan Franklin '59, A.W.F. Edwards, Daniel J. Fairbanks, Daniel L. Hartl and Teddy Seidenfeld. The authors  present their conclusions on the controversy surrounding British statistician and biologist R.A. Fisher's challenge to Gregor Mendel's findings on the principles of inheritance through experimentation with pea plants (University of Pittsburgh Press, $27.95).
Letters to the Next President: Strengthening America's Foundation in Higher Education edited by Stephen Joel Trachtenberg '59 and Gerald B. Kauvar. These letters from across the spectrum of American higher education offer policy recommendations designed to secure our preeminence in higher education (The Korn/Ferry Institute, limited quantities available free for download or in print at www.kornferry.com/Publication/9150).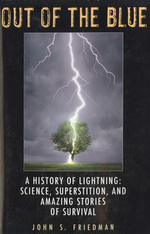 Out of the Blue: A History of Lightning: Science, Superstition, and Amazing Stories of Survival by John S. Friedman '64. Through a combination of science, history and storytelling, Friedman explores lightning from its meteorological origins to its profound influences on human beings across the globe (Delacorte Press, $24).
Envisioning the Tale of Genji: Media, Gender and Cultural Production edited by Haruo Shirane '74, the Shincho Professor of Japanese Literature. Bringing together scholars from across the world, the author presents a portrait of The Tale of Genji's reception and reproduction during the past 1,000 years (Columbia University Press, $32.50).
Guide to Property Tax Valuation by Robert F. Reilly '75 and Robert P. Schweihs. Reilly and Schweihs, managing directors of Willamette Management Associates, describe practical solutions to current ad valorem tax valuation issues (Willamette Management Associates, $59.95).
Chronic Pain Management: Guidelines for Multidisciplinary Program Development edited by Michael E. Schatman '81 and Alexandra Campbell. This text helps readers understand multidisciplinary chronic pain management and outlines effective strategies to treat chronic pain (Informa Healthcare, $149.95).
Your Money & Your Brain: How the New Science of Neuroeconomics Can Help Make You Rich by Jason Zweig '82. Combining concepts in neuroscience, economics and psychology, Zweig explains how our biology drives us toward good or bad investment decisions (Simon & Schuster, $26).
The Gluten-Free Guide to Italy by Maria Ann Roglieri Ph.D. '88. Offering detailed information about where to find gluten-free food all over Italy and how to ask for it, Roglieri lists hotels, restaurants, pizzerias, bakeries, ice cream stores, supermarkets and other venues (Mari Productions, $24.95).
From Yeoman to Redneck in the South Carolina Upcountry, 1850–1915 by Stephen A. West '88. A new view of two iconic figures in the American South's social landscape: the "yeoman" and the "redneck." Examining these richly evocative figures as ideological inventions rather than sociological realities, West looks at the divisions they obscured and the conflicts that gave them such force (University of Virginia Press, $45).
The Carbon Age: How Life's Core Element Has Become Civilization's Greatest Threat by Eric Roston '93. Carbon is one of the fundamental elements of Earth's life-support systems, and the author chronicles the science and use of carbon from the Big Bang to the industrial era to today's global warming (Walker and Co., $25.99).
Schooled: A Novel by Anisha Lakhani '98. In Lakhani's debut novel, a young Ivy League graduate begins teaching at an elite private school, copes with the realities of her small paycheck and the affluence of her students, discovers an underground economy of students paying their tutors to do their homework — and decides to join in [see September/October "Bookshelf" feature] (Hyperion, $23.95).
Silhouette/Shadow: The Cinematic Art of Gao Xingjian edited by Fiona Sze-Lorrain '03. Poetry and essays by the 2000 Nobel Prize Laureate in Literature, Gao Xingjian, accompanied by illustrations from the 2005 film Silhouette/Shadow, a documentary that focuses on Gao Xingjian's artistic expression. Contact: contours@contours.fr; or 2, rue de la Roquette, Passage du Cheval blanc, 75011 Paris, France; or (33) 01 46 28 71 50 (Contours, €28).
Privatization: Successes and Failures edited by Gerard Roland with a foreword by Joseph E. Stiglitz, University Professor. This book brings together the ideas of the world's foremost experts on privatization. Developed by the IPD Privatization Task Force, it is a sophisticated analysis of the trade-offs between public and private ownership (Columbia University Press, $29.50)
Irina Dimitrov