Columbia Forum
Chili Oil and Rice Wine: A Chinese-American Learns to Cook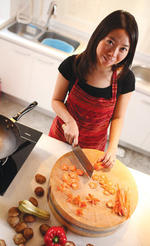 Jen Liu-Liu '99, '00J Photo: Chen Chao"The way to a man's heart is through his stomach," goes the saying. And when Jen Lin-Liu '99, '00J, a Chinese-American freelance journalist, first moved to China, she found that the best way to get to know this vast new country was … to eat out. Seeking a deeper knowledge of China and its food, she attended a local vocational cooking school, interned at Shanghai's posh, avant-garde Whampoa Club, and kneaded and grated noodles at a Beijing noodle shop. Finally, she founded her own Beijing cooking school, Black Sesame Kitchen. In her new memoir, Serve The People: A Stir-Fried Journey Through China (Harcourt), she tells the story of her journey from enthusiastic eater to knowledgeable chef. Here, Lin-Liu begins her lessons at The Hualian Cooking School.
Rose Kernochan '82 Barnard
---
In cooking class, I learned a startling array of things: Eating fish head will repair your brain cells. Spicy food is good for your complexion. Monosodium glutamate is best thrown in a dish just before it comes off the wok. Americans are fat because they eat bread, while Chinese are slim because they eat rice. If you work as a cook in America for three years, you can come back to China and buy a house.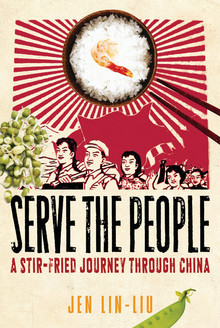 I had to bicycle down a narrow valley, past a public toilet and through a gate with a scowling security guard to get to cooking school. The Hualian Cooking School was one of 129,000 hits that had come up when I Googled "Beijing cooking school" in Chinese. I chose the school mainly because it was in my central Beijing neighborhood — a big factor considering the capital's monstrous size and horrendous traffic. I was looking for a typical experience. I didn't start out with an ambitious goal; I figured I would be happy if I could become reasonably adept in Chinese cooking, good enough to hold a decent dinner party. I enrolled in October 2005, in my fifth year of living in China.
Lectures were held in a classroom rented from a high school, and the unheated room felt colder by the minute. Everyone else was used to the lack of heat and insulation in public schools and dressed accordingly, in down jackets. I shivered in my thin coat.
My classmates slumped in their seats, seeming bored and detached, holding their pens limply. They were all men, ranging in age from twenty to fifty. Most hadn't completed high school. Teacher Zhang didn't mind that they answered their cell phones in class. Once I heard a student clipping his fingernails, the snip of the scissors punctuating the cadences of the lecture. Teacher Zhang often narrowed his eyes at me while he spoke, however. He didn't like that I was different from the others.
I interrupted him with questions. I didn't bother to raise my hand because that custom didn't exist in this classroom — students weren't supposed to have questions. So I just spoke up, as loudly as I could. "Could you write that character more clearly?" I often asked.
But when I asked questions, Teacher Zhang shot me annoyed glances, and the other students shifted uncomfortably in their seats. I learned to behave like the rest: listen, bow, and copy.

When we weren't in the classroom taking notes on the world according to Teacher Zhang, we were in the kitchen. The kitchen was created out of another classroom by installing a burner, gas tank, countertop, sink, and refrigerator. With those simple fixtures, it became a larger version of the typical home kitchen in China. Though spacious, it wasn't the kind of room where you let your eyes wander, lest they settle on a patch of scum on the tile wall that had probably not been scrubbed for a good five years. I figured the time we would spend in the kitchen learning real things would make up for the time wasted on the lectures. I had never been in a professional Chinese kitchen, which was notoriously off-limits to diners. I now found myself in a room full of cutting boards, woks, cleavers, and bottles of chili oil and oyster sauce. But I quickly found out that even in this kitchen, certain things were not permitted to students. Like cooking.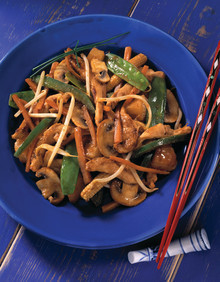 PHOTO: FABFOODPIX.COMInstead of cooking, we sat on a set of bleachers across the room, observing Chef Gao's every move. Gao was an old-school chef who worked at a Soviet-style, government-run hotel that had seen its glory days pass with the end of the state-planned economy. Gao continued the time-honored Chinese traditions of using MSG and copious amounts of soybean oil. Despite the MSG and the oil — or maybe because of them — his cooking was delicious.
We watched as Chef Gao fanned out his skinny arms and elbows like a grasshopper as he cooked. We listened to him chirp the recipes in a folksy Beijing accent as he wrote them on the chalkboard, dividing the ingredients into three categories: main ingredients, supplementary ingredients, and seasonings. Occasionally, he noted quantities next to the main ingredients, but usually he threw things in by intuition. In any case, the kitchen didn't contain a single measuring cup or spoon.
We scrutinized his equipment, which was limited to a wok, a cutting board, and a cleaver with an eight-inch-long and four-inch-tall blade. Once in a while he'd pull out something more sophisticated, like a fryer basket. "You see this basket and handle? It's all one piece, so it will never break. I bought this in the 1960s, and the factory has been closed for years. They don't make baskets like this anymore!" he hollered with a disdain that suggested that the old days, when China was dirt-poor, were better.
We gazed, captivated, as Chef Gao demonstrated his skills at the wok. He lined the curved pan with thin slices of pork tenderloin that had been marinated in rice wine and placed it over a moderately high flame, swirling the juices around. When one side was cooked, he picked up the wok and flipped the pork in a single sheet, like a pancake. He repeated the maneuver — swirl, flip, swirl. Seasoned with leeks and ginger, this tender and flavorful guota liji (pan-fried pork tenderloin) displayed the fundamentals of Chinese cooking: freshness and simplicity above all else.
When all the day's dishes were cooked, we went into action. We jumped off the bleachers, gathered around the cooking station, and swooped in with chopsticks that we had brought from home, attacking the food with a unified strategy. The smallest dishes went first, especially expensive items like seafood. We moved on to the dish giving off the most steam, and then we finished the rest. In three minutes flat, everything was gone. At the end of one class, I barely beat someone to the last skewer of deep-fried scallops. He ended up with an empty stick as the scallops slid off into my greedy grasp. I had already learned that I couldn't stand around waiting for anything to be handed to me.
Teacher Zhang and I had an uneasy relationship. Most of the time, he spoke with a guttural Beijing accent. But when he turned to me to ask a question, he enunciated very carefully. "Miss Lin," he'd say with a hint of condescension, as if he were taunting me. He'd pause and take a sip from his glass jar filled with tea or wipe his hands on the sleeves of his ski jacket. "How is food different from cuisine?" Occasionally he'd look at me with his beady eyes and let out a little laugh, shaking his head. The teachers and students were baffled as to why I called myself "Chinese American," a fuzzy concept in their heads. They seemed unable to conceive that it meant that I knew English better than I knew Chinese, much less that I could be more American than I was Chinese.
My Mandarin was not bad, but it was far from perfect. I could hold fluent conversations, even if my tones were a little off. But I had neglected to work on my reading and writing skills after my first year of living in China, and nothing in my previous experiences had prepared me for the nuances of discussing fish guts. While my classmates dutifully copied down what was written on the board, my pen often hovered above my notebook, midcharacter. I had trouble finishing basic culinary words like "sauce" and "steam."
A month into the class, after about the fiftieth time Teacher Zhang had turned to me to ask, "Do you understand?" and received a blank stare in return, something seemed to dawn on him.
"Miss Lin, Chinese is not your mother tongue, is it?"
The revelation rocked the class, setting students atwitter.
Never mind that I had clearly informed the administration of my identity and my purpose when I enrolled, and that the information had been funneled and disseminated in the usual bureaucratic Chinese way. "Miss Lin is a Chinese-American writer, and she wants to spread propaganda about Chinese food to the American people," an administrator had proudly announced to the class on my first day.
I had needed assistance to fill out the registration forms. I had assumed that when I interrupted Teacher Zhang to ask questions, he and the students understood that I had to process the information in Chinese first and then mentally translate it into English. Apparently, however, they had simply thought I was retarded.
After his shattering discovery, Teacher Zhang called for a break. He threw his legs around a chair, sitting with his back to the chalkboard, and studied me carefully. One student wiped off the board. Another student offered him a cigarette. The classroom filled with smoke as half the class lit up.
Gao was an old-school chef who worked at a Soviet-style, government-run hotel that had seen its glory days pass with the end of the state-planned economy.
"So you've spent a lot of time in America, have you?" Teacher Zhang asked.
"I was born and raised there," I replied.
He narrowed his eyes. "But why do you look Chinese?"
"My parents are originally from China."
"Why isn't Chinese your mother tongue then?"
I was born and raised in America, I repeated.
One of the students, Little Pan, perked up. His name described his youth more than his girth, which was enhanced with generous helpings of Chef Gao's samples. "If an American man has a baby with a Chinese woman, what does it look like?"
Teacher Zhang pushed on before I could figure out how to respond. "Where are your parents from?"
"Guangdong and Fujian, or at least their ancestors were," I replied. My parents had grown up in Taiwan and moved to the States in their early twenties, but I didn't want to shock the classroom any further. Taiwan was a touchy subject, since China considered it a "renegade province" that remained part of the "motherland" and had successfully indoctrinated 1.3 billion people in the intractable belief that this was indeed the case. I usually felt it was wiser to skip the subject of Taiwan altogether, to spare myself the inevitable tirade that arose from a casual mention of the island.
Teacher Zhang and the students dragged on their cigarettes, as ashes fell to the floor. They stared at me, perplexed. America meant white, the land of people who looked like President George W. Bush. China meant Chinese, and I looked Chinese. My explanation didn't seem to sway them; they eyed me with suspicion. Why was Miss Lin pretending to be something she was not?
I needed something to make it concrete to them. I happened to have my passport with me, but I hesitated to pull it out. An American passport meant status to the Chinese. It meant being a member of the most powerful country in the world. I was uncomfortable with the idea that some Americans thought their passports provided them with immunity when they traveled abroad, especially to developing countries. I knew that flaunting my passport in China was the equivalent of boasting that I was landed gentry in a room full of Victorian factory workers.
In desperation, I handed the blue booklet to Teacher Zhang. The students gathered around, admiring the stamps as he flipped through it. "Wow! She's been to Thailand!" someone exclaimed. My classmates looked at me with new respect. In a matter of minutes, I had gone from class dunce to passport-wielding, bona fide American.
Somehow this only fanned the flames of my exasperation after enduring weeks of Teacher Zhang's condescension. "I've had a really hard time here," I said. "This may be an easy class for all of you, but try taking it in another language. I did my schooling in the United States, and none of it was this hard." And before I could stop myself, I blurted out, "Even graduate school wasn't this difficult."
If this was an insensitive thing to say in a class of Chinese workers who would probably spend months doing manual labor in the kitchen after graduating from cooking school, who would never have the chance to go to college, no one let on. They looked smug, as if it reaffirmed something they knew all along: of course cooking school was harder than American graduate school!
"I thought Miss Lin was pretty from the moment she stepped into class," said Tie Gang, a short-order cook at the Ministry of Railroads with a buzz cut and a beer belly. He had already made it apparent that he had a crush on me by waiting for me after class every day and following me wherever I went. Though I was not so impressed with Tie Gang, my classmates were: he had become a leader among them when he announced that he was already a cook and was there to sit for the national advanced-level cooking exam.
My cheeks flushed. "What about all of you?" I asked, directing my question to the rest of the students. "Where are you from?"
"Beijing," said the guy seated behind me who showed up for class in fatigues. He was a soldier in the People's Liberation Army.
"Beijing," said a short guy with fluffy hair streaked with red highlights.
"Beijing," said Little Pan. He worked in the maintenance department of an office building.
"Dongbei," replied a tall, skinny guy who worked in security at an upscale mall. At least one other student was from somewhere else, even if it was just an overnight train ride away to the northeast.
"But your roots!" Teacher Zhang interjected, pronouncing "roots" with a particularly harsh pitch. "Your roots are still in China."
"Yes, that's why I'm here," I said.
He smiled. "Americans don't understand Chinese history. You don't study any history but your own. And you only have three hundred years of it!"
"Do you study American history in China?" I asked.
"Yes, of course we do," he said.
"What year did America gain its independence?" I quizzed him. My classmates' eyes went wide with shock that I was challenging a teacher.
"Let's get back to the lesson," Teacher Zhang grumbled. From then on, he peppered his lessons with references to Chinese history and allusions to emperors, poets, and the Buddha. Each time, he glanced in my direction, chuckled, and said, "But Miss Lin doesn't understand … "
PAN-FRIED PORK TENDERLOIN  (GUOTA LIJI)

¾ pound pork tenderloin, thinly sliced against the grain
2 tablespoons rice wine or sherry
½ teaspoon salt
½ teaspoon freshly ground white pepper
2 large eggs
½ cup all-purpose flour
¼ cup vegetable oil plus 1 tablespoon for drizzling
2 tablespoons chicken stock
1 leek, white part only, cut in half lengthwise and shredded
2 thumb-sized pieces of ginger, peeled and shredded
2 teaspoons sesame oil
Marinate the pork in 1 tablespoon of the rice wine, ¼ teaspoon of salt, and ¼ teaspoon of pepper for 10 minutes. In a bowl, beat the eggs and set them next to the stove.
Place the flour on a plate. When the pork has marinated, coat each slice with flour on both sides, patting to remove the excess. Set the slices on a plate next to the eggs.
Place a wok over medium heat and add ¼ cup of oil, swirling it to coat the sides. When the oil is hot, quickly dip each piece of pork in the beaten egg and place it in the wok, arranging the slices so they cover the bottom and sides in a thin sheet. With a spatula, gently loosen the pork, then drizzle a little oil around the wok from time to time so the meat doesn't stick as it cooks. When the bottom of the pork sheet has turned a light golden brown, flip it over.
(Don't worry if it doesn't flip in a single sheet; just make sure to turn over each piece.) Add any remaining oil, the remaining 1 tablespoon of wine, the rest of the salt and pepper, and the chicken stock.
Sprinkle the shredded leek and ginger over the pork, and drizzle sesame oil over all. When the second side of the pork is browned, remove the wok from the heat and slide the pork onto a plate. Serve immediately.
Despite the cultural barriers and frustrations, I found cooking school strangely invigorating: copying Teacher Zhang's nonsensical babbling, gaping at Chef Gao's cooking, scrambling for free samples. My Mandarin was improving, and I was introduced to a whole new vocabulary. I had finally become a participant in this baffling, contradictory country that was transforming itself into a superpower.
I was even grasping some of the basic principles of Chinese cooking, but I continued to be impatient for hands-on experience, unlike my classmates. We'd been promised that after six weeks of instruction, we would have two classes devoted to improving our knife and stir-frying skills. I didn't want to wait that long. After being rebuffed by various teachers at the school, I decided to seek the advice of Chairman Wang one afternoon when class was dismissed. "Chairman" was a bit misleading; it was more of an honorary title for a low-paying, all-purpose job that encompassed serving as registrar, assistant to the school's president, assistant teacher, food purveyor, and de facto janitor — in short, all the tasks that no one else wanted to do. During demonstration classes, Chairman Wang moved around the kitchen in a slow shuffle, tidying up after Chef Gao and lighting the burner just when he needed it. She had a stern, matronly air about her, but once in a while she'd break into howling laughter. She always wore a blue lab coat, which, combined with eyeglasses and wiry gray hair that stood up in stiff, Albert Einstein-like puffs, made her look like a mad scientist.
"You want cooking lessons?" Chairman Wang asked, as if this were a preposterous request at a cooking school. She continued to mop the grimy kitchen floor, which seemed to retain the same amount of dirt no matter how many times it was cleaned. I couldn't tell if she was taking my request seriously. For that matter, I wasn't sure she — or anyone at the school — took me seriously, being not only a foreigner but a woman to boot.
Chairman Wang always wore a blue lab coat, which, combined with eyeglasses and wiry gray hair that stood up in stiff, Albert Einstein-like puffs, made her look like a mad scientist.
It surprised me that the idea of a woman in the professional kitchen was such a taboo. After all, even critics of Mao conceded that he had advanced women's rights: he eliminated the tradition of foot binding, banned prostitution, and gave women equal access to education and jobs. During the Cultural Revolution they had been forced to toil equally in the fields. Mao's changes had a lasting effect; rarely did I meet a woman who didn't have a job, and female doctors and other professionals were common. But I was learning that gender equality didn't apply in the kitchen.

"You want to be a chef?" Teacher Zhang had asked me once.
Did he think it was possible? I asked.
"You could make pastries," he'd replied dryly. Given the poor quality of northern Chinese pastries, that was like saying I could be a burger flipper at McDonald's.
"You could work in a Western restaurant," a classmate had suggested. "Women aren't cut out to be stir-fry masters."
But didn't women cook at home?
"Yes, but the fire is much smaller," the classmate had pointed out. "It's a tough job being a chef."
Chairman Wang paused in her mopping, staring at me through her thick glasses.
"All right," she said. "I'll teach you."
For our first lesson, Chairman Wang had let me choose the dish. I bought the ingredients for deep-fried shrimp. But we hadn't settled on a fee, and as I walked across the school's basketball courts to the kitchen, I tried to figure out the best way to bring up the issue of money.
"I'm really grateful that you're spending time with me, and I'd like to pay you," I said.
Chairman Wang pursed her lips and remained silent. What was going on behind those thick glasses? Surely she wasn't planning to teach me for free, was she?
DEEP-FRIED SHRIMP

12 jumbo shrimp, shelled and deveined
½ teaspoon ground white pepper
½ teaspoon salt
2 teaspoons rice wine or sherry
2 scallions, white parts only, finely shredded
1 teaspoon ginger, peeled and minced
1 large egg and 1 egg yolk
1 cup all-purpose flour
2½ tablespoons cornstarch
1 quart vegetable oil
Butterfly the shrimp so they can be spread out flat, and tenderize them by pounding them lightly with the flat side of a cleaver. Arrange the shrimp on a plate and rub with the pepper and ¼ teaspoon of salt. Sprinkle with the wine, scallions, and ginger, then cover with plastic wrap and place in the refrigerator for 30 minutes, or up to 2 hours.
In a bowl, beat the egg and egg yolk. Add the rest of the salt. Stir in ½ cup of the flour and the cornstarch; mix thoroughly. The batter should be a little thinner than pancake batter. If it is too thin, add more flour and cornstarch (three parts flour to one part starch). Pour the remaining ½ cup flour onto a plate. Place the batter bowl, flour plate, and marinated shrimp next to the stove.
Place the oil in a wok over medium-high heat until it is hot but not smoking. As the oil heats, dredge the shrimp one at a time in the flour and set them on the edge of the plate. When the oil is hot, dip each shrimp into the batter, holding it by the tail. Wipe off any excess batter with your fingers and gently slip the shrimp into the wok, being careful not to splash the oil.
Once the wok is filled with shrimp (depending on the size of your wok, you may have to fry in two batches), increase the heat to high and fry until golden brown, about 5 minutes. Drain the shrimp on a paper towel and serve immediately.
Money was an odd topic in China. Usually the Chinese inquired relentlessly about what things cost and how much people made, even among strangers. Shoppers haggled over the price of groceries, clothes, and bicycles. But at moments like this, talking about money seemed taboo.
Three of my classmates caught up to us as we entered the kitchen. Our theory class had just adjourned, and the students were intrigued to hear that I was having a private cooking lesson. I hadn't let on that I was taking a "private" lesson, but the students had found out from the gossipy teachers. I was embarrassed, because even in post-Mao China I thought it sounded too bourgeois, but my classmates had an unexpected reaction: "We want to learn too," said Little Pan. But I knew they wouldn't be willing to pay anyone for individual lessons when they had already spent a good chunk of their money on their courses. My embarrassment was replaced by guilt; I could afford the lessons and they couldn't. But I also felt possessive of Chairman Wang.
"I arranged this class especially with her," I whispered as the chairman disappeared into the backroom to get an apron. "I'm paying for it, you know."
"How much?" they asked loudly, practically in unison.
"We haven't discussed it yet," I said.
How much had I paid for my butcher knife? they wanted to know. (Four dollars, I said.) The chairman reappeared and asked me the same question. Then she asked me how much I had paid for the shrimp. (A dollar-fifty.) Always in these inquiries, my interrogators admonished me for paying too much. Being a foreigner, I was bad at bargaining, invariably the fool.
(Never mind the disparity in our incomes. The money I made from writing articles for American publications put me in China's top income bracket. I soon learned that it was a bad idea to tell people how much I made or how much rent I paid, even if it wasn't a lot by American standards.)
Chairman Wang took one look at my cleaver and rushed into her office, her blue lab coat fluttering behind her, and returned with a replacement. "Yours is pretty good. But you won't be able to use it today. It's not sharpened."
"Can't we sharpen it here?" I asked.
The chairman explained that professional knives came out of the factory with blunt edges. The ordinary stone block that the chefs at the cooking school used to hone their cleavers wasn't strong enough to put an edge on a never-sharpened knife. "You'll have to find a professional sharpener and tell him that the mouth of the knife needs to be opened."
As the chairman instructed me on the cooking, my classmates draped their arms around each other and watched. It still threw me a bit, the display of affection between men in China, which would have been construed quite differently in America.
"Look at the way your shrimp are moving!" Tie Gang, the class leader, scolded. He detached himself from the group and grabbed the knife out of my hand. "You must keep your left hand firm while cutting with your right hand."
Eventually the three of them got tired of watching the lesson and left. Chairman Wang continued to correct me, on everything from how to hold my knife (like a giant razor, between my thumb and index finger) to my posture. My culinary skills had been limited to making basics like pastas and stir-fries, and baking cookies and brownies — out of a box.
When I was growing up, cooking had never been emphasized at home, since I was supposed to become a doctor or a lawyer, and my years in China hadn't improved my culinary skills, since eating out was so cheap and easy.
I had watched Chef Gao make deep-fried shrimp and had chosen it because it seemed simple and familiar, but I couldn't do anything right. I tried to stand like Chairman Wang, putting my right foot parallel to the table and my left facing 90 degrees outward, like a poised ballerina.
"Keep your belly away from the chopping block," the chairman commanded. I sucked in like an awkward girl at a school dance.
Once the shrimp were breaded, Chairman Wang lit the pilot light. I tried to raise the wok with one hand, but it didn't budge. "Don't use the handles. You won't have enough support," she instructed.
I tried again, lifting the side of the wok with a folded kitchen cloth. After another series of admonishments, she pushed me aside and took control of the wok and spatula. I stood on the sidelines, occasionally dropping a battered shrimp into the wok. This wasn't a cooking lesson; this was what six-year-olds did with their mothers.
The shrimp came out crisp and nicely browned, though they were a bit tough. I hadn't given the poor suckers a thorough enough pounding with the back side of the cleaver. "Hai xing. Not bad," the chairman commented, as if I had done all the work. "Cooking is like driving a car. You just have to learn the mechanics. It's that simple."
"Isn't it a talent, an art?" I asked.
She raised an eyebrow at my naïveté. Okay, then, did she know how to drive?
"No," she said, shrugging. Then she added abruptly, "I'm not going to lie to you. This class is going to cost money."
"Sure," I said, holding my breath for a second. "Name your price."
"Well, a lot of teachers would charge more than me. I'm only asking for thirty yuan."
Less than $4 for two hours of private class; I was stunned. I happily handed her the money, and, the issue resolved, we both relaxed. We chatted as we cleaned up.
"Are you married?" she asked.
Like money, this was another topic that Chinese people talked about bluntly, and I still couldn't get used to it, especially when I knew that they looked at me with pity when they found out that I was twenty-eight and single. I had actually started subtracting two years from my age sometimes, remembering that at twenty-six my unmarried state hadn't caused as much of a fuss.
But Chairman Wang knew how old I was, and all she said in response was "That's okay. I didn't get married until I was thirty-three. My husband is six years older than me."
We smiled at each other. It was consolation from a former spinster to a younger spinster: I had plenty of time.
Excerpted from SERVE THE PEOPLE: A Stir-Fried Journey through China by Jen Lin-Liu, copyright © 2008. Reprinted by permission of Houghton Mifflin Harcourt Publishing Company. All rights reserved.