Cover Story
Q & A: Dean Austin Quigley
As he nears completion of his 14-year tenure, Quigley points with pride to collective achievements
Last spring, Austin Quigley announced his plans to step down as dean of Columbia College at the end of the 2008–09 academic year. His 14 years at the helm is the second-longest tenure in the College's 255-year history. CCT editor Alex Sachare '71 visited Quigley in his office in Hamilton Hall for a wide-ranging interview, the first part of which follows. Part II was published in the March/April 2009 issue.
---
Quigley says reestablishing the centrality of the College to Columbia's stature as a research university has been one of the major accomplishments during his tenure. PHOTO: EILEEN BARROSOAs you reflect upon your tenure as dean, the second-longest in the history of the College, what would you say is your most significant achievement, the one that will have the greatest lasting impact?
It is really quite pertinent, not just a kind of etiquette, that whenever I am asked what matters most to me, I always turn it back to "us" and "our greatest achievement together." A fundamental part of what my job entails is to offer a certain kind of leadership, the kind that enables and encourages many other people to lead in their own way alongside whatever I offer. If I have done my work right, it involves encouraging, enabling and assisting many other people (faculty, staff, students, parents and alumni) to do lots of creative thinking and offer leadership of their own, so that we all work together to make the many, many facets of the College better.
In an early interview (CCT, Winter 1999), I spoke about creating a coherent picture of what the whole educational enterprise is about in the College. The goal has been not just to make some of the parts better but to make all of the parts work well together, so that everyone senses a consistent picture of the whole, and that people feel they are participating at every level in the larger proj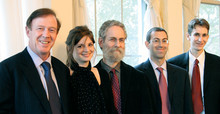 Quigley says involving many constituencies and building a strong senior staff have paved the way to collective achievements. Clockwise from top left, Quigley with faculty members Sheldon Pollack (center) and Samuel Moyn (second from right) at the 2007 Van Doren-Trilling awards ceremony PHOTO: DANIELLA ZALCMAN '09ect.
One of the key things we have thus achieved together is to change the status of the College within the University. It is very important to have more and more people in the University (and perhaps outside the University, also) understand that the stature of a research university these days depends in very important part on the stature of the undergraduate college. Historically, when Columbia moved up to the Morningside campus, there was much speculation at the highest levels of the University about the fact that the really successful research institution of the 20th century was going to depend fundamentally on the strength of its graduate and professional schools. Now, that focus is not wrong in itself; but what Columbia did not get right was where the undergraduate college fits in that context. As the 20th century unfolded, that lack of understanding of where the College fit played itself out in a number of unhappy ways that many people are familiar with. The College was kept alive and thriving by a critical mass of faculty, staff and alumni who were really committed to the College at a time when the institution itself was much less so.
Almost every unit is functioning much better than before, so that every facet of the student experience is much better than it used to be.
By the late 20th century, the College had become in some ways an orphan child of the institution. When George Rupp was appointed president, he felt it important to say (though it had been said before) that it was time to put the College back at the center of the University. I came in to be Dean of the College at that point, and to pursue that goal. But, while it was important that we get the institutional commitment from the top, there was a very large gap between announcing a priority and taking the steps needed to make it happen.
Quigley with Trustee Robert K. Kraft '63 at the 2004 Alexander Hamilton Award Dinner honoring Kraft. PHOTO: EILEEN BARROSOSo if I were to say, what's the legacy here, what have we achieved together, it's that going forward Columbia will not again, at any time in the near future, lose sight of the centrality of the College to its stature as a research university. The ranking of individual departments matters, the ranking of individual schools matters, but what really, really matters — it even matters to our bond rating — is the stature of the College. This is what is assessed in the national rankings that, for better or for worse, grasp public attention, like those of U.S. News & World Report.
Now, the actual stature of the College is only indirectly related to what is measured in U.S. News & World Report rankings. The stature of the College has a lot more to do with the actual quality of the educational experience inside the classroom and outside, with how happy students feel about their time at Columbia, and how committed our graduating students feel, in the long term, toward supporting this institution. These are the things that affect the quality of the applicant pool, the commitment of the faculty and the loyalty of alumni. All alumni have to feel that, though they're only in residence for four years, their involvement in the institution is a lifetime involvement. A private institution depends upon the intergenerational sense of responsibility that faculty feel toward students and that alumni feel for the students coming along behind them. A private university depends very much upon the philanthropy of its former students if it is going to thrive. You really cannot afford to have a skeletal College, which is what we had at one point — a good education inside the classroom but not enough outside the classroom. Many an alumnus can tell you about the bad old days with great gusto and sorrow. And we have had to continue the process of fixing all that, together.
Quigley Endowment
Inspired by a group of College alumni, the Dean Austin Quigley Endowment for Student Success has been announced to pay tribute to Quigley's 14 years of service as Dean of the College. The endowment's goal is to raise $50 million to support, initially, undergraduate advising and career education programs. To date, commitments for approximately $25 million have been received.

A first-rate undergraduate college has to focus extensively on the students' personal and social development, their intellectual development and their professional development. These are 18-22–year-olds, working not just on what they want to be in terms of jobs but also who they want to be, which values will inform their lives, how they will devote their time and to whose benefit besides their own.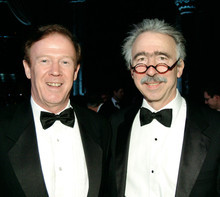 Quigley and V.P. of Arts and Sciences Nicholas Dirks Photo: Chris TaggartA university with a college at its center has to invest in the college in a variety of different ways — faculty support, classroom, studio and laboratory upgrades, student affairs staff and programs, career services, advising staff, residential life programs, New York City-as-a-classroom initiatives, alumni-student programs, a first-rate student center, a library that can also be a social center, attractive lounges and other meeting places, well-maintained grounds and public spaces, better residence halls, athletics facilities and other special activity facilities, including the Roone Arledge Auditorium and Cinema, community outreach and study abroad programs, a subway station that speaks of our importance to the city and so on. With the generous help of alumni and parents, we renovated 37 classrooms in Hamilton Hall because we feel that, if faculty are teaching College students, it ought to be in an environment that is consistent with the expectations and standards of people working at the highest level of intellectual exchange. It is all interrelated.
Some measure of power comes with every title, but authority derives from others, from the trust others develop in you if you use well whatever power you have.
As the quality of the College students has gotten better and better, the institutional leadership — not just me, but others, too — has focused upon making the centrality of the College a top institutional priority. There's also been an accompanying structural change in Arts and Sciences, where the Dean of the College is increasingly included in decision making
Quigley with students at a College function in 2006. Photo: Eileen Barrosoabout faculty hiring and promotions, and there is a reemphasis on the importance of teaching for successful faculty careers here at Columbia. At the same time, the vice president for Arts and Sciences has become much more involved in student affairs. Nick Dirks and I have worked for the last four years on implementing the complementary nature of our roles.
These really are two sides of the same coin: The University and its faculty take greater ownership of the College, and the College alumni take greater responsibility for the support of the faculty. If you check back on the rate at which College alumni and parents were funding endowed chairs for the faculty, before I began as dean, it was very slow. Now there's a steady stream of endowed chairs coming in for the faculty. At the same time, alumni support of student programs, facilities and financial aid has grown prodigiously so the College and the larger University have benefited together.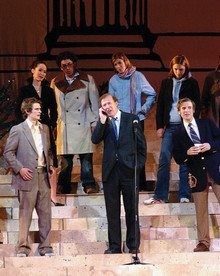 Quigley portrays himself in the 2004 Varsity Show.Photo: Eileen BarrosoThus the central importance of putting the College back at the center of the University and recognizing that the stature of the University depends significantly upon the stature of the College — if I'm going to describe what matters to me most, I think it is taking a leading role in putting together all of the pieces needed for that to happen. And I think it has happened, and I think it will last.
On the flip side, what has been your biggest disappointment? When you first took the job, you must have had certain expectations. Is there anything specific, a place you hoped the College would be where it is not, or not yet?
The two things that constrain everybody at Columbia are resource limitations and space limitations. It's a common challenge. When you're trying to upgrade the College in a large variety of ways, they all require new resources and they all require new space or better use of existing space or refurbished space — there's always a space challenge.
If the initial goal was to get a lot of people together who would all lead alongside my leadership and we would upgrade every facet of the College together, then that has happened. But we couldn't do all of the things simultaneously; some have had to move more slowly than others. The list was very long at the beginning, and almost every unit is functioning much better than before, so that every facet of the student experience is much better than it used to be. But there are still several places where we are far from where we want to be both in terms of facilities and of personnel. While it was essential to increase rapidly our resources in order to get many things done — if you'll check the annual fund, for example, it's gone up from $4.5 million when I started to more than $13 million last year, a huge increase — our needs are always in advance of even our increased resources, because we were starting from so far behind.
The biggest single frustration has been that, because we have been so visibly getting better and better, we have been able to hire some truly excellent staff, and of course, a lot of excellent faculty. But it hasn't always been possible to hold onto them. Our losses have been less on the faculty side, because we really try very hard not to let that happen. But we've spent a lot of time rethinking what a college education outside of the classroom should be like. We have rethought how all the pieces fit together and what all the support programs should be like, and we hired an excellent staff over the years who really contributed to that discussion and were inspired by the possibilities. But then some of them were hired away by other institutions at much higher salaries. It is a constant frustration to be losing staff who have developed the expertise we need but we can't pay them beyond a certain level and we can't give them enough colleagues to support them appropriately because the resources aren't there. That has been the single biggest recurring disappointment, that we haven't been able to retain all of our excellent staff.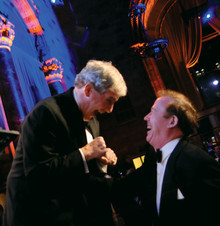 University Trustees Chair Bill Campbell '62 and Quigley at the 2006 John Jay Awards Dinner. Photo: Eileen BarrosoI want to make it clear, of course, that we have retained a critical mass of excellent staff. Constant innovation provides an appealing working environment for a lot of people so there are rewards outside the pay packet. Far more College staff and faculty than I am comfortable with — and I'm very grateful to them all — work much longer hours than are justified by their salaries, because they think that the goal and the achievements are worth it in themselves. I'm enormously grateful that we have had the loyalty that we've had and that people have achieved more with less, worked longer hours than they should and certainly more than they're paid for, as this has played an enormous part in the resurgence of the College. But it's unfortunate that we have to rely on that. Then you have the disappointment when a person reaches a limit and leaves because he or she can do much better financially elsewhere, even though he or she may like the job here. That's a recurring challenge that's been difficult to live with, and I'd liked to have been able to do more, more quickly, in that area.
Why did you feel the time was right for you to step down at the end of this academic year?
You have to contextualize it a little bit. I'm now the second-longest serving dean, and Dean [Herbert] Hawkes served in a very different time (1918–43), so I've been the longest-serving dean in the modern era. A dean's term, not unlike a college president's term, is typically 10 years plus or minus two; that's a fairly common measurement, though most of my predecessors have served shorter terms. Once you get close to 10 years, you have to start thinking about when the appropriate time is to go, bearing in mind that you're nearer the end than the beginning. If things are going well, there is the impulse to keep going because things are going well, and they keep getting better. But there is a reason why these positions are set up as rotating positions. However successful an individual dean is, everybody has strengths and weaknesses; everybody has an angle of vision that is their own. That's why it's important that these jobs rotate. I've been playing to my strengths, but the whole point of a rotation is that another person will bring another set of strengths to the job. So really, once you get to 12 or 13 years, you're trying to find the right time in what is a rapidly narrowing window.
We work with students to help them understand how much of what they enjoy at Columbia has been put in place by their predecessors.
It is also important, of course, to hand over strong momentum to your successor, not to play your own hand to the full. And it's not as if I am going to disappear from Columbia. I'll be teaching, I'll be doing my research here, I'll continue to have a voice at Columbia, and I'll be doing some work to support the president's efforts to enhance undergraduate education more broadly.
You spoke of collective achievement. Can you describe the working partnerships you have developed during your time as Dean of the College, with other administrators, faculty, Arts and Sciences, students, alumni …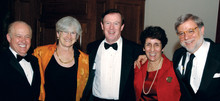 Below, the College's senior staff in a photo taken at the 2006 Alexander Hamilton Award Dinner, from left, former Dean of Student Affairs Chris Colombo, Associate Dean of Strategic Planning Susan Mescher, Quigley, Dean of Academic Affairs Kathryn Yatrakis and Dean of Alumni Affairs and Development Derek Wittner '65. PHOTO: EILEEN BARROSOUniversity leadership, particularly that of President Lee C. Bollinger, Provost Alan Brinkley, E.V.P. for University Development and Alumni Relations Susan Feagin and V.P. of Arts and Sciences Nick Dirks, has been indispensable to our more recent progress. Faculty leadership has been just as vital from the beginning: the departmental chairs, the teachers of the Core Curriculum, the members of the College's standing committees, the A&S faculty committees, the deans of Columbia's other schools and so on. Our Alumni Association and Board of Visitors have been amazingly supportive. And the current University alumni and development operation has worked very closely with us to everyone's benefit. Not so visible, but tremendously influential, has been the leadership provided by University Trustees in restoring the College to its central role in the University.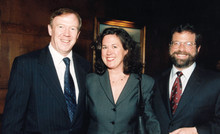 Quigley with trustee Richard Witten '75 and his wife, Lisa '97 TC, benefactors of the Center for the Core Curriculum in Hamilton Hall. PHOTO: EILEEN BARROSOI've developed successful working partnerships with all of the above — as I would have to if I were doing my job in the way I believe it needs to be done, as a leader among other leaders. In this regard, I like to distinguish between the power that comes from having a title and the power and authority that come from having led with a reasonable amount of skill. Some measure of power comes with every title, but authority derives from others, from the trust others develop in you if you use well whatever power you have, demonstrate a readiness to listen and try to build consensus. So partnerships with the various constituencies in the College and the University are very important because, if you don't acquire trust, you may still be in office but you are not really in charge in any satisfactory way. And partnerships also register the humility essential to any successful leadership role at a university. Columbia attracts strong minds and strong personalities from which any successful leader can constantly learn and should constantly be learning.
Alumni have to feel that, although they're only in residence for four years, their involvement in the institution is a lifetime involvement.
We also have tremendously strong student leadership these days, a Student Council with very active students who are very much engaged with the institution and with whom we develop many kinds of partnerships. Through our leadership programs and outreach programs, internships and Student-Alumni Programs, we have students who are much engaged not only with Columbia but also with the neighborhood, the city and the larger world. The Senior Gift, which last year reached a record participation of 85 percent, is some indication of the way students feel about their commitment to Columbia, about Columbia's role in the world beyond our gates and about the College's need for their leadership in the long term. We work with students from day one to help them understand how much of what they enjoy at Columbia has been put in place by their predecessors, so they, in turn, have responsibilities as well as rights. We've also been working with students on what it means to create a college community here, since responsibility for a college community rests with the students as well as with the faculty and administration. They take a leadership role in that, too, and we work with them to help.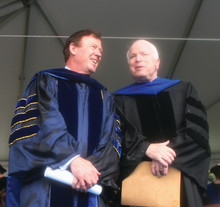 Quigley with Senator John McCain P'07 before his 2006 Class Day address. Photo: Eileen BarrosoI spend a lot of personal time with individual students and groups in different ways — it's not always as visible as it might be, partly because I like to keep it between me and them. But there is, of course, only one of me and 4,000 students, so a lot of my work with students is conducted through staff. But the key thing is that across the board we try to develop a situation where the students feel cared for and listened to, and that their opinions count. Partnerships grow because students feel they are listened to and because they feel they can take a lead in a variety of different ways in the life of this institution.
In the last two or three years, we have partnered with the student leaders to develop a community principles document. This was student initiated. The goal is to develop consultative mechanisms that would help, for example, in discussions about who should and should not be invited to speak at Columbia. When the Ahmadinejad event occurred in the last academic year, it was a big thing in itself, but it was one in a long series of events involving controversial speakers that we have brought to Columbia. Now there are better conversations in advance, at the end of which there will still typically be disagreement, but at least all those with strong opinions have the opportunity to hear in advance why an invitation is issued, why some people oppose the invitation, and they can decide together how they would like to handle the proposed event. We want the students to feel that they have a key role to play in establishing the rules and regulations that govern their own community, and that, to some degree, student governance is self governance. When students feel they are full members of this community, they feel they have a responsibility for it. As in all cases in social life, rights and responsibilities go hand in hand.
As far as alumni are concerned, their sense of connectedness to the College and to each other is vital if they are to provide the leadership we need. There are 35,000 of them and just one of me, so I spend a lot of time reaching out, but I rely heavily on the readiness of volunteer alumni to build and maintain relationships with the College, to maintain class links, to promote successful reunions, to help us provide services for alumni so they feel it's not just a one-way street, with us just asking them for money. Indeed, Columbia College Today is an important part of our reaching out to our alumni and is very successful in promoting that sense of partnership between those at Columbia now and those who were here in the past.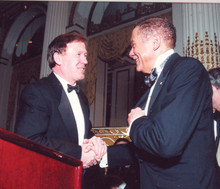 Quigley and Carlos Muñoz '57 at the 2001 John Jay Awards Dinner. Photo: Eileen BarrosoIn working with the Board of Visitors and with the Alumni Association, and with their committees and at their meetings, you encounter astonishingly talented and accomplished people around the nation and around the world. We travel much more than we used to. We build partnerships with our alumni in as many different ways as we can so they, too, feel heard and included and listened to, and that they have an ongoing role in the life of the institution. The goodwill that is generated by doing that successfully is vital both for the ideas we get from alumni and for the time they are consequently willing to devote to Columbia. This is what also produces a really successful development operation. It all needs to work together.
It's very important, of course, that the faculty be closely engaged. The Committee on Instruction is one of my regular ways of relating to the faculty as a whole about how the curriculum works and how well our students are being served and what new resources we might need to develop. The COI meets weekly and also functions as my faculty advisory committee. It has been enormously gratifying to have faculty members constantly ready to serve on that committee and to have those partners in the faculty.
There's a similar group called the Core Curriculum Committee. It is vital to the College that faculty feel that their needs in teaching this wonderful Core Curriculum are being met and that we are constantly monitoring the Core and its resources to see whether anything needs to be refined, changed or updated. Through the generosity of alumni and parents we have been able to strengthen that vital part of the institution by establishing an endowment for the Core and more recently the Witten Center for the Core. These have been great for faculty morale. Together they have transformed institutional support for our students taking the Core and for our faculty teaching in it.
We've done several new things as well with the faculty through the Arts and Sciences. The College's partnership with Nick Dirks has probably been one of the most successful changes in the University in some years. Nick has included me and Kathryn Yatrakis, dean of academic affairs, in the key committee that reviews departments and faculty resources, the Academic Review Committee. We now are closely involved in resource allocation and planning for each of the departments and help him increase those resources. That's a very important thing that Nick and I have worked out together, and I'm very grateful to Nick for that.
Across the board, we try to develop a situation where the students feel cared for and listened to and that their opinions count.
Then, during recent years, the Executive Committee of the Faculty of Arts and Sciences, the sole elected body of the Arts and Sciences faculty, has increasingly worked with the College to try to coordinate goals on broad fronts. That ever-growing informal relationship with ECFAS has been very important and I expect it to grow further as a consequence of recommendations made by the recent Task Force on Undergraduate Education, including the establishment of a new Arts and Sciences committee on policy and planning that should further coordinate the work of administration and faculty.
There's one more relationship I want to say more about, and that is with the Board of Trustees. One of the most important indices of the growing importance of the College to the University has been the growing number of active and influential trustees with College backgrounds. It has become something of a regular occurrence for people to work with the Alumni Association and the Board of Visitors and then move on up to the Board of Trustees. That means the University has trustees who are very well informed about what matters to College faculty, what matters to College alumni and what matters to College students. The current board, whether grounded in the College or not, is one of Columbia's greatest strengths.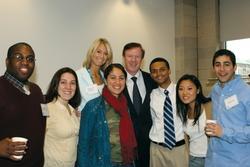 Quigley with students at a Dean's Tea in 2006. Photo: Eileen BarrosoWhen alumni become trustees they take on responsibility, of course, for all the schools in the University, but given the importance of the College to the institution, it's very important that the trustees understand what matters to the College and why it matters. Enhancements require resources and resources are always limited, so trust and consultation are essential as other schools also have their own vital needs.
Building partnerships is the theme across the board here. You've really got to build them across all constituencies, make everybody feel that they are being heard, that they have a voice, because in the last analysis, whatever success I've enjoyed as dean has depended upon work done through and with the many gifted people of the Columbia community. My basic sense of what it means to succeed at Columbia is to make the most of the wonderfully talented people Columbia attracts so that there's a collective mission being undertaken by a lot of people who talk to each other, listen to each other and then come to some shared sense of what the priorities are.
You've spoken about the duality of preserving the College's long-established historical character while setting new goals and instituting new traditions. Can you give some examples of how this was achieved? I'd say we're in an example of that, the renovated Hamilton Hall.
I'm a great believer, with my academic theatrical background, that our built environment really does affect significantly the quality of the education that students receive, whether it's the residence halls or the administrative offices or the classrooms. A building that's badly maintained and hasn't been renovated in 100 years sends out a negative signal, whether you like it or not, whether you mean it or not: Either you don't take yourself as seriously as you should as an institution, or you haven't tried hard enough to match the standards of your predecessors, to create the environment and support programs that reflect the quality of what you believe should characterize the educational experience as a whole.

Students in the renovated lobby of Hamilton Hall, with one of the restored Tiffany stained glass windows in the background. Photo: Alan S. OrlingWe were very pleased to renovate 37 classrooms in Hamilton Hall, the historical home of the College, because that's a way of saying to the faculty and students that what goes on in that exchange in the classroom is as important now as it has ever been, and certainly as important as it was when this grand building was constructed. The light should be good, the air should be fresh, the desks should be functional, the walls should be attractive and the technology should be up to date. It should feel like a place in which the educational experience is taken with the utmost seriousness. The same thing applies to faculty offices and the dining halls and the residence halls and the student center and the library. We've steadily upgraded many student and faculty facilities, but there is still much more to be done. It is in faculty-student exchanges that College traditions are revived, renewed and revised on a regular basis.
In this respect I want to go back to a previous point about the intergenerational community. It's fine to say to students, "You should think of yourselves as proto-alumni when you arrive here because so much of what you are going to enjoy comes from the philanthropy of those who were here before you." But it's also important that we link our students and alumni together to revive and renew College traditions. We have initiated a variety of programs where alumni are hosting students, either at events on campus or out in the city. We've established strong links between the 50th anniversary class and the class that's graduating. When we have our Class Day, alumni of all the alumni classes carry their banners alongside this graduating class, so that by the time students move on to being young alumni, they feel they are extending a partnership with a group to which they already know they belong. Having that tradition of alumni participating, class by class, in the graduation exercises seems very important to me. And just as important has been upgrading our annual Alexander Hamilton and John Jay awards dinners that have been transformed in quality and scope, and part of the enhancement for these and other events has been the new tradition of including students prominently in the event programs.
The ultimate resource of a university is its faculty, because so much else follows from its quality and the quality of its involvement.
We also have established the tradition of a senior dinner on South Field where all the students get together in the final week to have a wonderful meal under a large tent. When I first started to talk about it, the idea that students would get dressed up for a class event seemed a little unlikely. But now, almost everyone attends, beautifully dressed, to mark a big occasion in their lives. There's much laughter and much nostalgia, so I'm not surprised to see a tear here or there, and the class really bonds, and everyone is taking photographs of each other, and even of me. The Senior Dinner is a wonderful new tradition. If I had further resources, I would try to have a first-year dinner and a second-year dinner and a third-year dinner, so that the senior dinner would be the culmination of four years of similar events.
Indeed, one of the things I'm trying to work on right now — it's still in the planning stage — is to renovate John Jay Dining Hall for social events. It's a beautiful dining hall, but like much of our physical plant, it has not been recently renovated and we are not living up to the expectations and standards of our predecessors. I would love to have it upgraded beyond what our predecessors envisioned to the level at which you could provide a gathering place for a large number of students with invited guests, so that the president, or the faculty, or other visiting speakers could get together with a large number of students in a social environment we could all be proud of. That will eventually be a tradition as thriving as the Yule Log ceremony in John Jay Hall that we also have upgraded in recent years.
Having events involving alumni, parents, faculty and students on the road and not just at Columbia is important as well. We need a much stronger tradition of reaching out to specific places on a regular basis so that there are Columbia bases and Columbia clubs around the country and around the world. One of the things that we have added on to these events — again, to have students feel that students, parents and alumni are all part of a shared community — is that when we have trips to California or Boston or Atlanta or Paris or Singapore or wherever, we invite the students who have just been admitted along with their parents. We bring the students up to the front, we announce their names and we give them some little memento — in recent years we have given them a copy of The Iliad and said, "Welcome, start reading." You can see how appropriate that is as a new College tradition.
Overall, we just have to keep weaving the community more and more tightly together with lots of partnerships and traditions so that all of the community's disparate constituencies feel as if they all belong to this complicated tapestry, so that everyone knows what it means to be a member of an intergenerational community grounded in that kind of faculty/student relationship. This is, of course, why institutions of higher education exist in the first place, to share knowledge and perspectives across generations and cultures.
There is, however, no more fundamental tradition in the College than the Core Curriculum. The Core itself is a College tradition and its intellectual life involves exploring cultural traditions in many different ways. One recent change has been of vital importance. It's no secret to anyone who has been around here for a while that the Core Curriculum has always been missing a science component — not because nobody had thought about it, but because the people who had thought about it long enough couldn't figure out how to make it work. There has been a lot of disagreement among the science faculty about whether such a course should be taught, and how it should be taught were it to be taught. Given the national need for better science education, it seemed appropriate to take something of a risk on that and say, "Let's reengage that conversation, reignite that debate, even if we're not going to reach an easy consensus on this." There is no successful model for doing something like this around the country, so we needed to begin something on the basis of trial and error. But it was worth taking the risk, as there has been a critical mass of senior faculty who are willing to put their reputations on the line to make it work.
So we set out to do a new Core course, "Frontiers of Science," knowing it was going to be a bumpy road. What makes me feel we should persist is that there are some gifted faculty, including Nobel Prize winners, who continue to want to take on the challenge of teaching general science to first-year students — not because they knew how to do it, but because they felt that Columbia is the place where we should take the lead in trying to address this national challenge. We've had a five-year experiment with it, and we've just renewed it for another five years, so we'll see. Having the Core Curriculum incorporate science seems to me to be a new tradition that needs to become lasting, and we should keep trying until we are successful.
I'm just going to list a few other new or renewed traditions, without going into much detail, to give you a sense of the range of our efforts. We have an annual faculty-senior class event that the College and SEAS sponsor together for graduating seniors so they can invite their favorite faculty and thank them for all that they enjoyed while here as students. We have an annual faculty-staff holiday party for SEAS and the College to bond the faculty and staff together. The much enhanced Music Performance Program is an example of how important it can be to provide students in the arts with a really first-rate performance environment. The number of students in that program is now at an astonishing 400 and rising. The very best of them now perform at the Weill Auditorium in Carnegie Hall on an annual basis. For those talented students to be in Carnegie Hall with their parents, with alumni, in a beautiful auditorium, it's just a terrific new tradition for all of them. With the generous help and active participation of Lee Bollinger, we now have a ceremonial Orientation welcome to first-year students and parents that rivals Class Day. We have radically upgraded our alumni of color outreach programs that, among other things, provide a lot of active mentoring to our students, as does our association of Columbia College Women. College alumni and parents have taken a leadership role in funding the upgrading of facilities and services for our athletes. And last, but not least, with the help of a remarkably generous gift from John Kluge '37, we have radically renewed our commitment to need-blind admissions and full-need financial aid with a massive new investment in the quality of the aid we offer. This reinforces our tradition of enrolling a genuinely inclusive student body.
The goal has been to make all of the parts work well together.
As I said, these are just some of the many important initiatives that help people in the various constituencies of the institution feel admired, rewarded, attended to, cared for — all that is important — and it is through our College traditions, old and new, that the College community, now fueled by the aspirations of 2008, feels connected to the aspirations and achievements of the College community of 1754 and thereafter.
More than a decade ago, the College went through Enlargement and Enhancement, when enrollment grew by about 15 percent. Now there is talk of further growing the College. What are the advantages to the College of such a step, and where does this stand?
Every decision to enlarge the College needs to be done with a great deal of careful planning. There was very extensive planning the last time around, and that enabled us to reap many of the benefits we hoped we would achieve. The enlargement plan in 1996 tried to move the College forward on several fronts simultaneously. We would grow the College, invest in new facilities for the students, invest in new faculty and invest in alumni relations and development so that the goodwill that would be generated by new investments in the College for our students would spark a readiness of alumni to invest in the University and in the College. I think that has worked wonderfully well. You look around and see the new Broadway Residence Hall, which was part of the Enlargement and Enhancement plan; the new Alfred Lerner Hall student center, which was partly paid for by the enlargement and partly by a large gift from the Lerner family and other generous alumni; the renovation of Butler Library including the Milstein Family College Library (incorporating a coffee lounge and creating a much more social environment); and also the renovation of Hamilton Hall, its classrooms and offices. The idea across the board was for the tuition funds derived from enlargement to be plowed back significantly into the College and for that to be succeeded by a much larger development operation for the College to the benefit of the College, Arts and Sciences and the University. All of that seems to me to have worked pretty well, although the immediate impact of enlargement was reduced by the volatility of national tuition increase norms and by a lack of clear accounting of where the funds were allocated.
Enlargement was meant to be part of a much broader effort to invest in the College, including investing in the College faculty writ large, and that means in effect the Arts and Sciences faculty. Of the pieces that really needed to be cranked up, that probably was not done as well as the rest of the operation. It is well known that the faculty did not grow as rapidly as the student population grew, and this is one of the reasons why further enlargement is viewed in some quarters with some skepticism.
The 1996 enlargement was informed by an extensive and detailed study of how much potential growth could be accommodated in existing classrooms and in existing residence halls, or with reasonably easy access to more beds by moving some administrative offices out of the residence halls that didn't need to be there. But we've used up that excess capacity, so another phase of enlargement would require that another set of criteria be brought to bear. Almost every new bed would have to be provided for by a new residence hall, and that raises the expense. And since we did the last enlargement, the cost of building anything in New York City, which was astronomical then, has become even more astronomical now.
It's fairly clear that there would not be an immediate financial benefit to conducting an enlargement now. How soon would there be money to plow back into making the College and Arts and Sciences better? The financial model isn't as positive as the last one was, or at least appeared to be. There is much to be debated at this point about whether we should or should not grow larger anytime soon. It's very much on the table. It probably will not move forward more rapidly than the Manhattanville project moves forward. As Manhattanville facilities come online, there will be people moving out of the buildings here on Morningside, and there will be more classrooms and offices available. If we do in fact develop a larger faculty on Morningside, it seems logical to consider growing the College to use the available classroom space. But there are many other considerations, and before moving forward we would need to be very clear on how a growth in the size of the College would be directly linked to an enhancement of its quality.
So enlargement is not off the table, but the relationship between the variables is complicated and a clear plan is needed to inform any decision. So while it's being looked at, a decision is not imminent.
What is the role of the President's Task Force on Undergraduate Education? How has the relationship among the College, SEAS, Barnard and General Studies evolved during your tenure?
The appointment of a task force facilitates one of those big picture reviews that need to be undertaken periodically to get everyone thinking beyond the orthodoxies of the day. It generates conversations and reflections in ways that standard faculty governance structures don't. We have all sorts of faculty committees at the departmental level and at the College level, but we don't have a standing committee that sits down and thinks about the whole of undergraduate education. How exactly does the College relate to SEAS and to General Studies and where should Barnard be in the mix? To what extent are we avoiding duplication and maximizing potential? To what extent are we obstructed by the current ways that we go about our business and can that be changed? And how much of it should be changed? Sometimes those questions alarm people, but they should be asked. If the alarm is justified, the faculty committee will work its way toward recognizing that "we thought this might be a good new idea but now we can see why we haven't and shouldn't do it that way." On the other hand, some challenging questions can lead to helpful revisions in the way we organize ourselves.
Another thing a committee like this does is extend the reach of faculty governance. The ultimate resource of a university is its faculty, because so much else follows from its quality and the quality of its involvement. It's very hard to get a first rate student body if you don't have a first rate faculty. The faculty is the single most significant constituency on campus. That being the case, it matters enormously that we have good structures for faculty governance, that faculty feel included at all levels in decisions made about academic affairs across the institution. That's vital, but it's much easier said than done. While we want the faculty closely involved with all major decisions that impinge on academic affairs, we also want the faculty to devote as much of their time as possible to doing their research and teaching, so in one sense we want the faculty to do as little administration as possible because we're investing in them to do those things that they are really great at. So there's always a slight tension between our desire to keep faculty governance at the center of university governance and our desire to keep faculty relatively free from administrative responsibilities.
The way we have knit together the College and SEAS, students in those schools now feel very much as if they are in complementary groups.
Forming a task force, however, is an important periodic step in the intellectual life of the institution, and Lee [Bollinger] was very bold to set one up on undergraduate education as a whole — one of his strengths is setting up mechanisms for productive institutional change. So the committee asks big questions: Should we enlarge the College? What's the best relationship among the College, Engineering and GS? How do those three Columbia institutions relate to Barnard? They ask big questions like that, and then they ask more local questions with the help of University-wide data and institutional research. How do students flow through their schools? In the College, what's the balance between the amount of time students put into their majors versus the amount of time they put into the Core Curriculum versus the amount of time they put into electives? How do those components relate to each other? What calls do they make on faculty resources? What would be the result of hypothetical changes? You can make arguments all over the place, but that kind of local and large thinking and questioning is so important.
Every now and then, of course, something leaks. There was a puzzling headline in the Spectator last year, something like "College and GS to Merge," which wasn't what the story under the headline was actually about. Of course, it would be appropriate for the task force to ask: If the College and SEAS can work so closely together, doesn't that provide a model for the College and GS? A task force like this would surely ask that question. The next step is to ask what are the commonalities, what do the schools share, and what are the differences between the two schools that are so important that they be preserved and, indeed, strengthened? It quickly becomes apparent that the College/SEAS commonalities differ from the College/GS commonalities and the discussion has to go down a quite different path and will end up in a quite different place.
Following up on that, can you assess the relationship between the undergraduate schools?
The relationship between the three residential schools — Barnard, SEAS and the College — has strengthened tremendously during the period that I have been dean. For [former Barnard President] Judith Shapiro, [former SEAS Dean] Zvi Galil and me, this was one of our shared goals. It's one thing to have a friendly rivalry among several undergraduate constituencies, and a quite different one to have an unproductive hostility, which did occur from time to time. We really wanted to make sure that the competitive tendencies among the schools became as productive and cooperative as possible. Because of the way we have knit together the student affairs operations in the College and SEAS, students in those schools now feel very much as if they are in complementary groups. It's a little bit more difficult with Barnard because it's across the street and it's a different operation. But the staffs of student affairs at the three schools have worked very closely together, the student councils work very closely together, students are members of the same clubs, there's good back and forth in terms of the social life of the students across the board and that nicely parallels the academic experience, where students move around and take classes together as they choose, with a few restrictions. So it seems to me that the commonality among these three residential colleges has developed wonderfully well to the benefit of all three.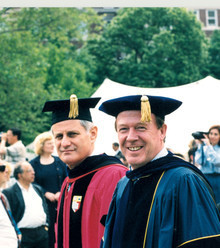 Quigley worked extensively with SEAS Dean Zvi Galil to develop a close relationship between the two schools. Photo: Eileen BarrosoIt's more challenging with the GS group because if you don't have that residential component as a fundamental part of the student experience, then student life is going to be somewhat different with a characteristically different relationship between social life and academic life. Different age groups also affect that, although GS students who wish to be included in the student life organizations have the opportunity to do so.
This seems to me to be an ongoing challenge for all of us, first, because many people have strong views about it and second, because it's in everyone's interest — the College, SEAS, Barnard and GS — that the primarily residential colleges establish the optimum relationship with the School of General Studies, whatever that is. But it's complicated, and we are not where we would like to be in figuring it out yet.
Coming up: Quigley looks back at the time he was fired and rehired within a week, as well as the campus reaction to the events of 9-11, and looks ahead.