Features
Technique + Tactics = Olympic Medal for James L. Williams '07
By Yelena Shuster '09
From left, Jason Rogers, Williams, Tim Morehouse and Keeth Smart '12 Business celebrate on the podium with the silver medals they won at the Beijing Olympics. Photo: AP Photo / Andrew MedichiniJames L. Williams '07 has never thrown a punch, but he's been dueling for years. The Sacramento native exudes California cool, a trait that helped him contribute to a fencing silver medal in Beijing this summer as a member of the U.S. Men's Olympic Saber Team. Williams, 23, joined Jason Rogers, Tim Morehouse and Keeth Smart '12 Business to earn the first American medal in men's fencing since 1984.
Williams comes across as shy and nonchalant on first impression, often flashing a goofy smile. But his controlled serenity allows him to stay in control on the fencing strip.
"You're not thinking while fencing," he says. "You're just trying to fence your best and stay focused."
Aladar Kogler, the former co-head coach of Columbia's fencing team and current director of the sports psychology lab, believes what distinguishes Williams from other fencers is his "openness and readiness to work on the mental aspect of this sport.
"Fencing is a demanding sport of technique and tactic. To be able to control his emotions and mental state — this you cannot force," Kogler says.
Columbia's team captain his junior and senior years, Williams was chosen as an alternate on the four-man U.S. saber team for Beijing. In the Olympic team competition, each of three fencers competes against three rivals from another nation, with the cumulative score of the nine matches determining the nation that advances. Williams, who did not compete in the quarterfinal and semifinal wins over Hungary and Russia, respectively, was inserted into the lineup for the gold medal match against France, but the U.S. team was defeated 44–37 on August 17.
Although Williams has been to far-flung places such as Poland, Venezuela, Tunisia and Chile for world tournaments, he says that staying at the Olympic Village, built for the Beijing games, was an extraordinary experience. "Living there was so out of the ordinary. Everyone's dressed the same. Everyone's there to greet you. We were very conscious that this was the Olympics," Williams says.
James L. Williams '07 at a Glance
Ranked No. 26 in the world in men's saber competition
Qualified for Team USA in late April 2008 after a strong performance at the NACF & Division I National Championships in Portland, Ore.
Won the bronze medal as a member of the U.S. national team at the Pan American Zonal Championships in 2006 and 2008
Won the silver medal as an individual in the Pan American Games in 2007
Helped U.S. saber team win silver medal at Beijing Olympics in 2008
Highlights of the post-medal celebration included partying in Beijing with fellow Lions who joined him for support, including Avi Zenilman '07, Izumi Devalier '07, Phil Saran '07, Jerone Hsu '07, Ping Song '07, Nishant Dixit '07 and Abhi Vattikuti '08E. "It was really touching that they would come out to cheer me on. I felt very fortunate to have such good friends," Williams says.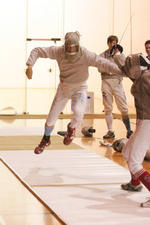 Williams in action in February 2007 at NYU. Photo: Gene BoyarsHis parents also were in the audience. The trip to Beijing had personal meaning for Williams, who is half-Chinese. His mother, Mae, whose parents were from the Guantong province next to Hong Kong, set a narrative for Williams about her parents leaving and no one from the next generation going back. "Here, the generation after went back and came home with a medal," says Williams, who discovered his affinity for authentic Chinese food like hand-pull noodles and Peking duck heart in Beijing. Williams even tried taking the intro to Chinese course at Columbia his senior year, but ended up dropping the five-credit class to spend more time training. "I was so excited to see where half of my family came from," Williams says.
His Olympic teammates eagerly sing the praises of the youngest member of the team. Morehouse, who met Williams when he was 13, calls him "a natural talent," and Rogers, who has known Williams for almost a decade, says, "He's definitely one of the most talented up-and-coming fencers in America."
Williams began fencing at 9, although he grew up taking tap dancing classes. "I really wasn't that athletic," says Williams, who tried and soon gave up on more popular sports like baseball, basketball and tennis. But at 13, his competitive juices kicked in; he hung up his tap shoes and fenced five times a week.
Success did not come instantly. Of his first national competition, he recalls, "I lost pretty early on and cried." But Williams persevered and fell in love with a sport that often is described as physical chess. "Fencing is really an art," he says. "You have to be very strategic. There's no better adrenaline rush when you come up with a great combination against your opponent."
Williams never made the cadet (under 16) and junior (under 19) world teams, and broke his foot and missed the first tournament of his junior season at Columbia in October 2005. His first success on a national stage — "I still laugh when I think about it," he says — came in January 2006 when he won the NAC Division I Nationals in Houston. That may have been a surprise for Williams, but not his coaches. Three-time Olympic coach Yury Gelman believes Williams has become one of the best fencers in the United States. "There is no question about it," says Gelman, who has coached Williams since he arrived in New York. "He has worked hard these five years and we see the results. Everything he does he takes seriously. He understands without hard work nothing will be achieved."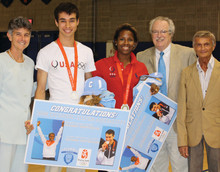 James L. Williams '07 and Erinn Smart '01 Barnard were welcomed back from their Olympic experience and presented with plaques and a standing ovation from Columbia's student-athletes, coaches and staff in September at the annual Varsity 'C' Student-Athlete Welcome Reception. From left, M. Dianne Murphy, director of intercollegiate athletics and physical education; Williams; Smart; head fencing coach George Kolombatovich; and associate coach Aladar Kogler. Photo: Darlene CamachoPrior to the Houston victory, Williams was convinced that he "sucked" (a popular word in his vocabulary) and had considered quitting fencing after college. But his senior year, the competitions started out "like a normal day" and Williams says he "just kept winning." He started going to world cups (where 12 people from the country are chosen) and world championships (where four people are selected).
At Columbia, with its rich fencing tradition, Williams worked to build team chemistry as captain. James Gossett, associate athletics director for sports medicine, recalls the camaraderie Williams generated. "Most everything I remember seeing him do he did with a smile on his face," Gossett says. Williams credits the Columbia fencing team for instilling in him a sense of team, the idea of fencing for more than yourself, and for giving him lifelong friends. "I will always love the Columbia fencing team. I can't say enough positive about what a great effect the team has had on me," Williams says.
Fencing, however, is not Williams' only love. He is finishing his master's in Slavic culture at Columbia after majoring in U.S. history and concentrating in Russian studies as an undergrad. After studying Spanish for four years in high school, Williams arrived at Columbia wanting to learn something "exotic." He loved the syntax of the Russian language and its ability to express beautiful ideas in compact phrases, and he became determined to master the notoriously difficult language. Williams speaks to his Russian friends only in Russian (and even insisted on having a part of this interview in his adopted language).
Professor Irina Reyfman, who taught Williams as an undergrad, always was impressed by his appreciation for Russian literature. She recalls how he began reading Tolstoy's War and Peace in Russian the summer before his senior year and never let his fencing competitions interfere with his school work. "He always had a unique perspective on literature," she says.
Gelman, the Olympic coach who emigrated from Ukraine, also has become a mentor away from the fencing strip. "James is improving his Russian with every month. I correct him when he needs it, but he understands almost everything," Gelman says.
The only thing that makes the usually nonchalant Williams squirm, however, is his newfound fame. He claims that he is "pretty incognito" on campus, though he hobnobbed with other sports celebs on Oprah's huge Olympics show in September. "She's like a demigod. It was cool to watch her in action," Williams says. But he says meeting the queen of daytime television was nothing compared to meeting basketball star Kobe Bryant, with whom Williams shook hands and had a photo taken.
When asked about his Wikipedia page, Williams says he has no idea who wrote it. "Oh, wow. The man who took the time to do that … That's bizarre," Williams says, adding later, "There are people who are famous and then there's me. There's nothing in my mind that confuses the two."
Yelena Shuster '09 is a Russian literature enthusiast and sometime athlete. She spent the summer in Russia working as a reporter for The Moscow Times.