Features
My Summer in Hong Kong
Columbia Experience Overseas (CEO) offers global internships
By Katherine Reedy '09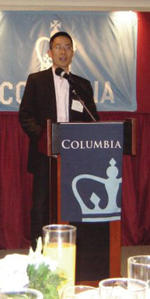 Danny Lee '95 of Bain Capital Asia spoke to students and alumni at the Conrad Hotel and introduced Nicholas Dirks, v.p. of arts and sciences. Photo: Katherine JoThe ferry lurches as you try to maintain your balance and squeeze into a wooden seat. Just below the open windows, the dark water of Victoria Harbour is broken by the reflection of the dazzling vista of Hong Kong Island. There, against the deep-black sky, dozens of multi-colored logos and thousands of office windows form a constellation of man-made light. In the harbor, crimson-sailed vessels and fishermen's boats crawl along beneath the towering monuments. This is Hong Kong, Asia's World City, a Specially Administered Region of China and a triumph of the modern era.
This isn't a mere glimpse of the Far East, a clip from a travelogue. This past summer, for 11 College and SEAS rising juniors and seniors, the view of Hong Kong Island from the Star Ferry was a part of everyday life. Through the Columbia Experience Overseas (CEO) program, one of the Center for Career Education's (CCE) global internship initiatives, 10 other students and I spent eight weeks living and learning in one of the most exciting and fast-changing places on Earth. We set off with varying expectations and backgrounds — some students knew Cantonese and had relatives in Hong Kong, while others, like me, were utterly uninitiated — but we all arrived hoping for an enriching experience. And that we got.
Now in its second year, CEO sends students to Hong Kong and London to participate in internships in industries ranging from banking to nonprofit. In addition to CEO, CCE offers the Encouraging Dynamic Global Entrepreneurs (EDGE) consulting-training program in Scotland. The application-intensive and competitive internships include Columbia-arranged housing, and, if one qualifies, additional financial support. According to CCE Dean Kavita Sharma, funding for the program comes from the College and SEAS as well as the Heller Family Foundation.
"Increasingly, students desire the opportunity not only to study abroad but to intern abroad too," says Sharma. "The CEO program was a response to student demand." While sending students to China may seem an unconventional choice, she emphasizes the benefits of global experience. "Hong Kong provides a diverse range of professional development opportunities in a wide array of industries and real immersion in a different culture," Sharma notes.
CEO offered numerous choices at the outset of applying. During my eight weeks in Hong Kong I interned at bc Magazine, self-described as "Asia's Hottest Entertainment Magazine," alongside Stephanie Wu '10. The position required us to think and act fast, to explore Hong Kong and neighboring Macau and to write and edit magazine articles at a professional level. Wu penned features on a new Cirque du Soleil show as well as on ballet and opera; I wrote about Hong Kong's role in the Olympics and Paralympics and put together guides to some of the city's most fascinating (and gastronomically appealing) districts.
"Increasingly, students desire the
opportunity not only to study abroad but to intern abroad too. The CEO program was a response to student demand."
Each intern followed a distinct path, chosen when applying for the CEO program, a process that started in January. While Wu and I were at bc, Wilson Wong '09 worked for Ventures in Development, a company devoted to economic development among disenfranchised rural populations. Bryan Lowder '10 interned at the Hong Kong Science Museum and delivered the opening address at its major exhibition opening, while Karen Leung '10 worked at the Hong Kong Museum of Art. Sara Canby '10 helped out at the educational nonprofit Enlighten – Action for Epilepsy and Michael Lo '10E put his computer skills to use at ecVision, a supply chain management company that focuses on apparel. Andrea Chan '09E interned at HIT Toy Co., Feifei Zheng '09 worked at PricewaterhouseCoopers, Kevin Chou '10 got a head start in business at Hang Seng Bank and Jennifer Chen '10E interned at Business Creation, an Internet business startup company.
Reflecting on her time in Hong Kong, Chen noted that CEO allowed her to "explore career fields, gain international work exper­ience and network with alumni." She added that while she has not pinned down her future plans, her "eyes have been opened to a wider range of options that I hadn't considered."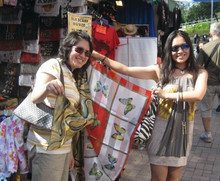 After just a few weeks, those of us who had never been to Hong Kong had mastered most of the elements of the fast, fun HK lifestyle. Having lived in New York helped me navigate the tangled urban jungle, and I quickly grew accustomed to the metropolis' crowded (and spotless) metro system, established a favorite noodle shop for lunch with the locals and learned to always carry an umbrella: There were two city-paralyzing typhoons in just two months, and countless cloudbursts.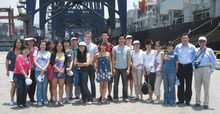 Along with dorm-style housing at Hong Kong Baptist University, CEO provided us with individual alumni mentors from the College and Columbia professional schools. Elizabeth Yuan '96, '98J, an editor at CNN.com Asia who mentored Wu, says being involved with CEO "allows me to keep one foot at Columbia, despite having graduated 12 years ago. I find such [student] perspectives and enthusiasm refreshing." Like other mentors, Yuan invited her mentee to dinner and to activities such as attending a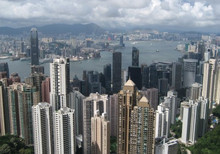 concert by renowned violinist Midori. "Interning in Hong Kong, for most, is far away from home, and I can understand the need for a support system, even outside the students' immediate group," Yuan says.
My mentor, Amy Ma '03, had an inspiring career trajectory of investment banker to advertising copy writer to chef to food critic, so she was able to offer advice on a variety of fields.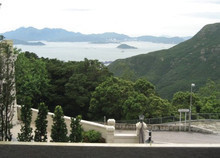 In addition to spending time with our mentors, we enjoyed meeting the members of the Columbia University Alumni Association of Hong Kong, who enriched our program with their generosity. Edith Shih '77 TC, '78 TC, took us on a behind-the-scenes tour of the Hongkong International Terminals, the world's busiest container port; Candice Hwa '94 invited us to a Sunday brunch — and to admire the amazing view — atop Victoria Peak; and Angel Bacchus '91E arranged for scuba diving lessons. Danny Lee '95, who invited us to dinner at the sumptuous American Club, offered interns professional advice. "Being a Columbian in HK has definitely shaped my career and success," he comments. "I hope the CEO program and other internship programs can really help the current students understand that and leverage off the network."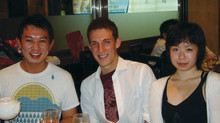 From top: Andrea Chan '09E (left) and Feifei Zheng '09 show off a purchase at one of Hong Kong's many open air markets; CEO interns, mentors and guests at the Hongkong International Terminals; the view from atop Victoria Peak, looking down on the urban jungle of Central Hong Kong; and the view from Candice Hwa '94's home, atop Victoria Peak. PHOTOS: JENNIFER CHEN '10E Bottom: Wilson Wong '09 pours tea for Bryan Lowder '10 and Karen Leung '10. PHOTO: KATHERINE JOWhen we weren't busy with alumni, we soaked up the sights and sounds of the metropolis. I maneuvered wet markets — where butchers and grocers hawk their pungent wares in the street — and practiced haggling in Mong Kok, took ferries with friends to the Outlying Islands and explored the New Territories, sampled the world-famous Cantonese cuisine and spoke with co-workers about their views on China and the world. Before long, my dorm table was piled with concert stubs, maps, chopsticks, souvenirs, photographs and business cards. My fellow interns and I had become bona fide members of Hong Kong society, and I felt the weight of gratitude for being given access to the vibrant city.
The night before we departed, Wu and I watched the opening ceremonies of the Summer Olympic Games with co-workers in a restaurant near our office. As the spectacle unfolded, I glanced at the whirling, cosmopolitan city around me and realized that even that night, the fleeting festivities in Beijing had nothing on the permanent exuberance of Hong Kong.
Katherine Reedy '09 is the managing editor of The Blue and White magazine. She hails from Buffalo, N.Y.