Alumni Profiles
Phil Kline '75 Strikes a Chord with Critics and Masses
By Justin Clark '04J
"How many experimental composers does it take to screw in a light bulb? I don't know — I fell asleep halfway through."
Whoever came up with this old joke surely wasn't listening to one of Columbia's most cutting-edge composers, Phil Kline '75. Kline may be "experimental" (who else can boast of writing a symphony for 21 iPods?) but his reputation hasn't scared off less adventurous listeners. Neither has his exposure on CNN, NPR and countless other media outlets. In three decades of writing for post-punk bands, choral groups, and, yes, iPods, the New Yorker has managed a remarkable feat: escaping the avant-garde ghetto.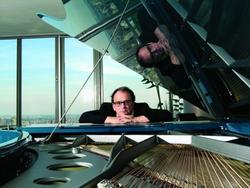 Phil Kline '75 in a friend's home near Lincoln Center. He says his own downtown studio is a "bit more humble." PHOTO: NINA ROBERTSMaybe it's because Kline escapes the sterile concert hall entirely, bringing his music to audiences in the unlikeliest of venues. Take one of his best-known pieces, Unsilent Night, which debuted at Christmas­time in 1992. Kline wrote a 40 minute-long piece of ethereal electronic music, placed the tracks on individual cassettes and led his "performers" (volunteers with boomboxes) caroling around Greenwich Village. The piece has traveled to 30 cities — and will do so again this year, with performances on different nights — and is now performed annually by a parade of hundreds of volunteers (www.unsilentnight.com).
"The hardest part now is finding enough boomboxes," Kline jokes.
Quirky as Unsilent Night sounds, its composer often works with serious themes, literary and political. One of Kline's recent works, Zippo Songs, juxtaposes Donald Rumsfeld's briefings at the Pentagon with the witty, tragic poems that Vietnam veterans inscribed on their lighters. "If I had a farm in Vietnam and a home in hell I'd sell my farm and go home," reads a typical verse. Zippo Songs is "one of the most brutally frank song cycles ever penned," according to The New Yorker.
Kline's newest work, released in June, is the CD John the Rev­elator, a full-length choral mass. He and the early music vocal group Lionheart premiered the piece at the former World Trade Center site. Equally somber and post-modern, it incorporates the texts of Samuel Beckett and Kline's former Columbia professor, his friend and collaborator, poet David Shapiro '68.
Shapiro remembers Kline's improvisational talent. One day he challenged his student to write as if his life depended on it. " 'But what if this is your last work, Phil? What if this exists and you and I are mugged in the street? What do you say then?' " Shapiro remembers challenging Kline. "He paused with tremendously alert eyes and murmured: 'You throw me brightly against the wall.' "
Shapiro adds proudly, "Phil throws me brightly against the wall."
For his part, Kline says Shapiro's guidance at Columbia was critical in reconciling his musical passions with his love of poetry. Kline spent so much time at the music department as a non-major that former department chair Joel Newman began to mistake him for a student.
Though Kline grew up in a music-loving family in Silver­ Lake, Ohio — "I was a Stravinsky-head at the age of 6," he says — he spent more time at Columbia spinning classical music records for WKCR than working on his own music. That changed when Kline began jamming at Hartley and then Furnald Hall with two now-famous Lions, writer Luc Sante '76 and Kline's childhood friend, film director Jim Jarmusch '75.
"I fondly remember spending hours together scrounging through the discount record stores that, at that time, lined 8th Street between Sixth Avenue and Broadway," Jarmusch reminisces.
Post-graduation, the three formed a band called The Del-Byzanteens and spent years playing in the mythical downtown art rock scene of the late 1970s.
After releasing an album on the influential Beggar's Banquet label, Kline's musical career suddenly shifted course. One day a friend invited him to perform at an experimental performance series. In mulling it over, Kline remembered how "electrified" he'd been a few years earlier after hearing composer Steven Reich play his landmark minimalist composition, Music for 18 Musicians, at a Columbia music seminar.
"That's when I had this idea about doing an orchestra of tape players," Kline recalls. "Things sort of took off from there."
Kline lives downtown and also has a studio there. But since his wife, who has her own music publicity firm, is Miller Theater's publicist, he visits campus frequently and keeps his eye on the music program.
"Right now a particularly vibrant generation of composers is coming out," he enthuses.
Still, it's uncertain whether the new generation can top Kline's Columbia experience — in particular the night he and a couple of friends snuck into the radio station when it was off the air.
"In open defiance of FCC rules," Sante recalls, "they broad­­cast an apocalyptic mash­up of music, sound effects records, and whatever else they could lay their hands on. I didn't hear it myself, but was told about it the next day with the understanding that if I breathed a word of it to anyone, Phil and friends faced expulsion and perhaps indictment.
"Too bad it wasn't recorded!" laments Sante.
Justin Clark '04J writes for numerous publications, including LA Weekly and Nerve, and is a frequent contributor to CCT.