Alumni Profiles
Claire Theobald '88 Builds Children's Accessories
By Elizabeth King Humphrey '88
Alister the dinosaur munches greenery on his lunchbox while Esther the bunny nibbles a carrot and Nigel the shark swims toward a starfish. Colorful Dante Beatrix brand T-shirts and backpacks burst forth from the pages of a book celebrating design, Play All Day: Design for Children. The book also displays Fei-Fei the plump panda sitting in a green patch and Dieter the monkey cradling a banana. Coming to a T-shirt, backpack or lunchbox near you are bold, rotund animal characters; colorful peace signs; hearts; and the recycle symbols of Dante Beatrix, a mother's bag and children's accessories designer and manufacturer.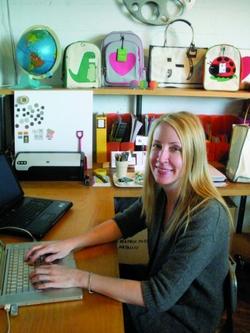 Claire Theobald '88 at her desk. Peering over her shoulder are some Dante Beatrix products that feature the characters Percival the dragon, a Little Love, Wink, and Juju the ladybug.Claire Theobald '88 is one of Dante Beatrix's three partners. The company's designs, featured in dozens of magazines, are available worldwide in Barneys New York, Neiman Marcus, Nordstrom, A Pea in the Pod and in exclusive designs for Giggle. Paparazzi have snapped photos of "Desperate Housewife" Marcia Cross and actress Liv Tyler carrying the bags.
Initially, Theobald arrived at Broadway and 116th Street from Darien, Conn., because of the educational opportunities. However, she also was attracted to New York's vibrant theater and art scenes and the easy availability of world-class museums. She interned at the Metropolitan Museum of Art as a student in the College's architectural program.
"I still use the same processes I learned at Columbia," Theobald says of her work today.
While Dante Beatrix, based in New York City, focuses on accessories and not buildings, Theobald credits the College for teaching her the analytical process of solving a design problem. Whether designing a building or a backpack, Theobald says the process encourages her to ask: "What will make it wonderful and durable and different from another? What do you do to get to the final point? What is the big picture? What does the community or retail sector need? How are we going to do this so it lasts?"
Theobald says that she especially enjoyed taking junior and senior studios with Donna Robertson, who headed Barnard's undergraduate architecture program, and Roy Strickland, who oversaw the College's undergraduate architecture department. "They were amazingly dedicated to the architecture program and the students. It is an intense experience," Theobald says. "They were instrumental and taught me the analytical thinking."
In 1991, Theobald earned a master's in architecture from Yale's School of Architecture, and in 1998 she earned an M.F.A. in graphic design, also from Yale. Soon after, Theobald went to work for the Branding Integration Group (BIG) at Ogilvy & Mather in New York, which rebranded products and studied the brands of large, U.S. corporations. Because Theobald had experience with museum exhibition work, she also worked on O&M's own rebranding, allowing her the opportunity to help create unique O&M interior spaces.
Theobald directly assisted the head of BIG design in the renovation of the lobby for the floor housing the agency's creatives. The space incorporated chalkboard-based paint on the walls and used a muralist who, throughout the lobby, painted David Ogilvy quotes such as "The consumer is not a moron, she is your wife." Employees in the creative area were each given a shadowbox to fill with whatever he or she wanted. The completed shadowboxes were placed in the lobby with each person's name attached. Twenty school chairs were placed in the space and, each day creatives moved the seats around or stacked them.
In 2001, Theobald left O&M to give birth and stay at home with her twins, Alexander and Juliane, with then-husband Michael Purves '86.
Five years later, as the children prepared for school, Theobald prepared to reenter the work world. Around this time, Dante Pauwels, an O&M colleague who had founded Dante Beatrix in 2002, approached Theobald to join her in the expansion of her company, which initially had focused on designing women's handbags. "Claire made us think more about veering into kids' products," Pauwels says, "and now that is half our company."
Marcus Woolcott, who has creative marketing experience, followed as a third partner. Although often a collaborative creative effort, according to Theobald, the three split the responsibilities, with Pauwels handling sales while Woolcott is the creative director, designs the characters and deals with manufacturing, and Theobald is involved in the media, marketing and financial areas.
Dante Beatrix recently started shipping the children's items with tags that tell fictional stories about the animals. For example, a tag attached to Anastasia describes her as a pig who has a "flair for the dramatic" and beautiful skin, made more attractive because she must have "frequent spa treatments and take such long mud baths." A series of eco-friendly backpacks made from the recycled material of four to seven 16-oz. bottles have joined the company's design line. Prices for Dante Beatrix products range from $30 for a T-shirt to $175 for a large DB haul tote.
"Dante Beatrix ties all of my education and experiences together," Theobald says. "Instead of designing buildings, we're designing stroller bags, diaper and wipe 'envelopes,' and haul totes."