Around the Quads
Obama Wins Nobel Peace Prize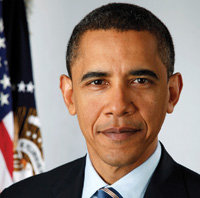 PHOTO: courtesy of the white housePresident Barack Obama '83 has been awarded the Nobel Peace Prize for his "extraordinary efforts to strengthen international diplomacy and cooperation between peoples," joining Theodore Roosevelt (1906) and Woodrow Wilson (1919) as the only sitting U.S. Presidents to receive the honor. Jimmy Carter was awarded it in 2002.
At an October 9 news conference in the Rose Garden, Obama said he was "surprised and deeply humbled" by the honor, which he described as an "affirmation of American leadership on behalf of aspirations held by people in all nations.
"To be honest," Obama said, "I do not feel that I deserve to be in the company of so many of the transformative figures who have been honored by this prize, men and women who've inspired me and inspired the entire world through their courageous pursuit of peace. I will accept this award as a call to action, a call for all nations to confront the common challenges of the 21st century."
Obama is one of 78 Columbians ever to win a Nobel Prize; Nicholas Murray Butler (Class of 1882) shared the Nobel Peace Prize in 1931. Last year, Martin Chalfie, the William R. Kenan Jr. Professor and chair of biological sciences, was one of three winners of the Nobel Prize in chemistry.
Thorbjorn Jagland, chair of the five-member Nobel Committee, said Obama was selected because he "has created a new climate in international politics." The committee "in particular looked at Obama's vision and work toward a world without atomic weapons." Acknowledging criticism that it was early in Obama's career for such an honor, Jag­land said, "Some people say, and I understand it, 'Isn't it premature? Too early?' Well, I'd say then that it could be too late to respond three years from now. It is now that we have the opportunity to respond — all of us."
The prize was created by Swedish industrialist Alfred Nobel in his will and first awarded in 1901. It carries a prize of $1.4 million (10 million kronor). Past awardees include Martin Luther King Jr., Desmond Tutu and Mother Teresa.
Obama learned of his selection from his press secretary, Robert Gibbs, who delivered the news just after 6 a.m. on October 9. The prize will be presented in Oslo on December 10.
The President said that shortly after he learned of the prize, his daughter Malia "walked in and said, 'Daddy, you won the Nobel Peace Prize, and it is Bo's birthday,'" referring to the family's dog. Then he said his other daughter Sasha added, " 'Plus, we have a three-day weekend coming up.' So it's good to have kids to keep things in perspective."
Alex Sachare '71