Bookshelf
Fact-Finding and Truth-Seeking
D.D. Guttenplan '78's take on I.F. Stone and himself
By Eugene L. Meyer '64
It all began with 295 words. D.D. Guttenplan '78 was a general assignment reporter for New York Newsday when he was sent to cover a July 12, 1989, memorial service for I.F. Stone, the iconoclastic scourge of the establishment who, after a decade of daily newspapering, had morphed into a one-man band of investigative journalism.
For 19 years, Isadore Feinstein Stone published I.F. Stone's Weekly, in which he reported inconvenient truths he found largely in obscure documents that other reporters did not deign to read, much less report. And 19 years after he signed a contract to write Stone's biography, Guttenplan's brief newspaper article has borne a book: American Radical: The Life and Times of I. F. Stone (Farrar, Straus and Giroux, $35).
Like his subject, Guttenplan also found the daily news beat stifling and has since made a career as an essayist and an author. The Stone biography is his second book. During its long gestation, Guttenplan, who divides his time between London and Vermont, in 2001 published The Holocaust on Trial, based on his coverage of the yearlong libel trial that pitted British author David Irving against American academic Deborah Lipstadt, who had accused him of being a Holocaust denier.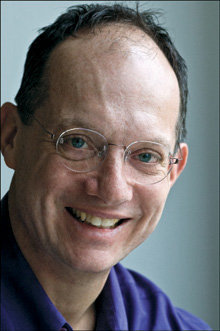 Ultimately, Irving lost his libel claim, and Guttenplan's book received some criticism for noting that, while the essential truth of the Holocaust is undeniable, mythology had replaced historical fact in some of the details often cited in its retelling. "I wrote a complex book about an area people like to see in less complex terms," Guttenplan says. So far, however, his exhaustive and affectionate biography of Stone has won almost universal praise. "His life," Guttenplan says, "was an opportunity to tell the story of a stream of American history that goes underground from time to time but never goes away."
Some pundits have challenged his debunking of suggestions that Stone might once have been Soviet spy, a charge that surfaced with the release of some ambiguous Russian documents. But Guttenplan says that the proven facts simply don't support the assertion.
A philosophy major at Columbia, Guttenplan prides himself on objectively looking at facts, but, like Stone, he thinks objectivity can obscure the truth. "For those of us who come out of a tradition of engaged journalism, it's still a challenge to let yourself become surprised by facts, to let what's there change your views. And Stone was always able to do that."
Born in Virginia, Guttenplan grew up in Philadelphia and Memphis. At Columbia, he wrote for Spectator. "Unlike most of my friends who wrote for Spectator, I also went to class," he adds. "And I took to New York like a pilgrim. Spectator asked me to write the introduction to a Columbia guide to New York City for freshmen. I thought, wow, three years ago I was a barefoot boy from Tennessee and now I'm a New Yorker. That's really what Columbia did; it make me a New Yorker, which was the greatest thing."
Guttenplan's earlier residence was defined by his father's job. The move to Memphis came when he became deputy director of that city's Jewish Federation. "I.F. Stone's early Jewish background wasn't foreign to me," Guttenplan says. Nor was his career trajectory. Stone quit a newspaper job at the Camden (N.J.) Courier after his editors refused to send him to cover the execution of anarchists Sacco and Vanzetti in 1927. He would write again as a newspaperman and eventually for PM, a legendary left-leaning daily, but at PM, he worked more as a columnist than as a reporter, ultimately striking out on his own to publish his small-circulation, high-impact weekly.
As did Stone, Guttenplan writes for The Nation, along with the Guardian, from London. His resume also includes a stint with The Village Voice, where he honed his investigative skills. Guttenplan covered the David Dinkins administration for New York Newsday, through which he became acquainted with "Izzy" Stone after Stone's death. After his short piece appeared, an agent asked if he'd like to write a biography. Even before the call, Guttenplan had filed a Freedom of Information request with the FBI. The file turned out to be 6,000 pages long, a good starting point for the work ahead.
"I identify with him now more than I used to. My friends joke I'm beginning to look like him, which kind of scares me," he says. "What I came to identify with fairly early were two things: He was very, very tough-minded, and he wrote what he saw, what the facts were, rather than what he wished he saw. It's not that common, particularly for people who write on the left."
One difference: Stone was a Penn drop-out, Guttenplan is a proud Columbia alum. "It completely changed my life," he says of his years on Morningside. "The Columbia of intellectual gunslingers is something I really took to. Steven Marcus '48, '61 GSAS taught me not to be afraid of poetry. Sidney Morgenbesser taught me how to think."
His Columbia experience, Guttenplan says, "got me out of the kind of macho posturing approach to literature. When I went to Columbia, I was very suspicious of anything that wasn't Hemingway or Dashiell Hammett. I owe it all to Columbia. It's a cliché but completely true."
Eugene L. Meyer '64 is a former Washington Post reporter and editor, an author and a freelance writer who majored in American history.