Columbia Forum
Outcasts United
A Refugee Team, an American Town
On a cool spring afternoon at a soccer field in northern Georgia, two teams of teenage boys were going through their pregame warm-ups when the heavens began to shake. The field had been quiet save the sounds of soccer balls thumping against forefeet and the rustling of the balls against the nylon nets that hung from the goals. But as the rumble grew louder, all motion stopped as boys from both teams looked quizzically skyward. Soon a cluster of darts appeared in the gap of sky between the pine trees on the horizon and the cottony clumps of cloud vapor overhead. It was a precision flying squadron of fighter jets, performing at an air show miles away in Atlanta. The aircraft banked in close formation in the direction of the field and came closer, so that the boys could now make out the markings on the wings and the white helmets of the pilots in the cockpits. Then with an earthshaking roar deep enough to rattle the change in your pocket, the jets split in different directions like an exploding firework, their contrails carving the sky into giant wedges.
On the field below, the two groups of boys watched the spectacle with craned necks, and from different perspectives. The players of the home team — a group of 13- and 14-year-old boys from the nearby Atlanta suburbs playing with the North Atlanta Soccer Association — gestured to the sky and wore expressions of awe.
The boys at the other end of the field were members of an all-refugee soccer team called the Fugees. Many had actually seen the machinery of war in action, and all had felt its awful consequences firsthand. There were Sudanese players on the team whose villages had been bombed by old Russian-made Antonov bombers flown by the Sudanese Air Force, and Liberians who'd lived through barrages of mortar fire that pierced the roofs of their neighbors' homes, taking out whole families. As the jets flew by the field, several members of the Fugees flinched.
PHOTO: Charles Thompson '92In 1999, Warren St. John '91 traveled with the colorful fans who follow the Crimson Tide, the University of Alabama's football team. The book he wrote about that season — Rammer Jammer Yellow Hammer: A Journey into the Heart of Fan Mania (2004) — became a national bestseller. Sports Illustrated named it one of the best books of the year, and The Chronicle of Higher Education chose it as its No. 1 pick on the list of the "10 Best College Sports Books Ever." CCT wrote about St. John and the book in the September/October 2005 issue.
In St. John's latest, Outcasts United: A Refugee Team, an American Town, he's still following a young Southern team — but there the resemblance ends. The sport is soccer, and the team, the Fugees — composed of young refugee boys from the world's war zones — has much more than the next goal to worry about. The players in Clarkston, Ga., are going hungry; their families find resettlement painful; they are haunted by the memories of the atrocities they've survived. Can boys from Liberia and Sudan and Kosovo really work together as a team? And can a mere sport — a simple, universal game — help to heal their wounds? An excerpt from Outcasts United follows.
Rose Kernochan '82 Barnard
"You guys need to wake up!" a voice interrupted as the jets streaked into the distance. "Concentrate!"
The voice belonged to Luma Mufleh, the 31-year-old founder and volunteer coach of the Fugees. Her players resumed their practice shots, but they now seemed distracted. Their shots flew hopelessly over the goal.
"If you shoot like that, you're going to lose," Coach Luma said.
She was speaking to a young Liberian forward named Christian Jackson. Most of the Fugees had experienced suffering of some kind or another, but Christian's was rawer than most. A month before, he had lost three siblings and a young cousin in a fire at his family's apartment in Clarkston, east of Atlanta. Christian escaped by jumping through an open window. The smallest of the dead children was found under a charred mattress, an odd detail to investigators. But the Reverend William B.J.K. Harris, a Liberian minister in Atlanta who reached out to the family after the fire, explained that during Liberia's 14 years of civil war, children were taught to take cover under their beds during the fighting, as a precaution against bullets and mortar shrapnel. For the typical American child, "under the bed" was the realm of ghosts and monsters. For a child from a war zone, it was supposed to be the safest place of all.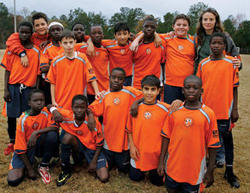 Luma Mufleh (back row, second from left) founded the Fugees in hopes that soccer would help unify the refugee children who settled in Clarkston, Ga. PHOTO: Nicole Bengiveno/The New York Times/ReduxNot long before the fire, Luma had kicked Christian Jackson off the Fugees for swearing at practice. Swearing was against her rules. She had warned him once, and then when he swore again, she told him to leave and not to come back. That was how Luma ran her team. Not long after the fire, Christian showed up at the Clarkston Community Center field where the Fugees practiced, and watched quietly from behind a chain-link fence around the playing area. Under normal circumstances, Luma might have ignored him — she gave second chances, but rarely third. But Luma summoned Christian over and told him he could rejoin the team so long as he understood he was on probation. If he swore again at practice or during a game, he was gone for good. No exceptions. Christian said he understood. This was his first game back.
Luma shouted to her players to gather around her and gave them their position assignments — Christian was told to play striker, on offense — and they took the field. Forty or so parents had gathered on the home team's sideline to cheer on their boys, and they clapped as their sons walked onto the pitch. There was no one on the Fugees' sideline. Most of the players came from single-parent families, and their mothers or fathers — usually mothers — stayed home on weekends to look after their other children, or else worked, because weekend shifts paid more. Few had cars to allow them to travel to the games anyway. Even at their home games, the Fugees rarely had anyone to cheer them on.
The referee summoned the Fugees to the line to go over their roster and to check their cleats and numbers. Luma handed him the roster, and the referee wrinkled his brow.
"If I mispronounce your name, I apologize," he said. He ticked through the names awkwardly but respectfully. When he got hung up on a syllable, the boys would politely announce their own names, then step forward to declare their jersey numbers.
A few minutes later, a whistle sounded and the game began.
The head coach of the North Atlanta team was a screamer. From the outset, he ran back and forth on his sideline, barking commands to his players in a hoarse bellow: "Man on! Man on!" "Drop it! Drop it!" "Turn! Turn! Turn!" His words echoed over the quiet field like a voice from a public address system. Luma paced silently on her side of the field and occasionally glanced over at the opposite sideline with a perturbed look on her face. She was all for instruction, but her method was to teach during practice and during the breaks. Once the whistle blew, she allowed her players to be themselves: to screw up, to take chances, and to create. All the shouting was wearing on her nerves.
When North Atlanta scored first, on a free kick, the team's coach jumped up and down on the sidelines, while across the field parents leaped from their folding lawn chairs in celebration: more grating noise. Luma pursed her lips in a tiny sign of disgust and kept pacing, quietly. She made a substitution on defense but otherwise remained silent.
A few moments la­ter, Christian Jackson shook himself free on the right side, dribbled down field, and fired a line drive into the top right corner of the net: goal. Luma betray­ed no reaction other than to adjust her tattered white Smith College baseball cap and to continue pacing. The Fugees soon regained possession; they controlled the ball with crisp passes and moved into range of the goal. A Fugees forward struggled free of traffic to take a shot that flew a good 20 feet over the crossbar and into the parking lot behind the field, and soon after, let loose another that was wide by a similar margin. Luma paced. Meanwhile, with each of his team's shots, the North Atlanta coach shouted more instructions to his players, ever more adamantly. He was getting frustrated. If his players had followed his instructions to the word, they could've scored on Manchester United. But as it was, they ended the first half trailing the Fugees 3–1.
It all started as casually as a pickup soccer game in somebody's backyard. In spring 2006, Warren St. John '91 was talking with one of his readers, a caseworker in the South, who mentioned a team of refugee kids who played soccer. Intrigued, St. John went to see them play the very next day. As the book excerpt here makes clear, he was moved by the team — not only by the way they played and responded to their coach, Luma Mufleh, an American-educated Jordanian woman, but also "by the fact that I was watching boys from more than a dozen countries play as one.
"I wanted to know how that was possible," St. John says.
His curiosity kindled, St. John decided to research the team, which named itself the Fugees — and the small Southern town where they lived — for his next book. The townspeople of Clarkston, Ga., just outside of Atlanta, were finding it hard to fit the large numbers of refugees who'd arrived into their once-cohesive community. During his research, St. John (a reporter for The New York Times, currently on leave) began to write stories for the paper about the Fugees and Clarkston. Things went a little better for the underfunded team after that. "Times readers stepped up with a wave of donations," says St. John, and Nike came through with uniforms.
It was obvious that the boys' story — especially in St. John's skilled hands — was one that could move many. Not surprisingly, the movie rights were sold outright (to Universal Pictures). More remarkably, after the book's publication, teachers in colleges and high schools began to assign Outcasts United to their students. To these teachers, the book seems like "a way of discussing diversity in a way that isn't dogmatic or doctrinaire," comments St. John. As of this writing, three colleges have made the book required reading for incoming freshmen.
It's just as well that the Fugees have been receiving publicity and support, because there is still so much left to do. A visitor to the colorful Fugees Web site will notice that the team's outreach efforts now include four club teams, an academic boot camp, college and career counseling, and, most ambitiously, the Fugees Academy. Formed as a program "for players who were desperately far behind in school but demonstrated the desire to learn and the discipline to succeed," the academy now is a full-time school with 14 refugee students. And still, refugees from Burma, Burundi and Iraq continue to arrive in Clarkston, points out St. John, who urges people to visit the Web site and consider making a contribution.
Writing the book has been an eye-opener for him, St. John admits. "I have a much better appreciation of how simple acts of giving can have a huge impact on people and communities in need," he says.
Rose Kernochan '82 Barnard
A 3–1 lead at halftime would have pleased most soccer coaches. But Luma was seething. Her head down, she marched angrily to a corner of the field, the Fugees following behind sullenly. They could tell she was unhappy. They braced themselves for what they knew was coming. Luma ordered them to sit down.
"Our team has taken nine shots and made three — they've taken two shots and made one," she told them, her voice sharp and strident. "You're outrunning them, outhustling them, outplaying them — why are you only winning three to one?
"Christian," she said, looking at the boy who sat on the grass with his arms around his knees, his eyes downcast. "This is one of your worst games. I want it to be one of your best games. I want to sit back and watch good soccer — do you understand?"
At that moment, the voice of the North Atlanta coach — still screaming at his players — drifted down the field to the Fugees' huddle. Luma pulled up and turned her narrowed gaze toward the source of the offending noise.
"See that coach?" Luma said, tilting her head in the direction of the screamer. "I want him to sit down and be quiet. That's when you know we've won — when he sits down and shuts up. Got it?"
"Yes, Coach," her players replied.
When the Fugees took the field for the second half, they were transformed. They quickly scored three goals — an elegant cross, chested in with highlight-reel grace by a Sudanese forward named Attak, followed by a cannon shot from Christian from 10 yards out. Moments later Christian dribbled into the box and faked to his left, a move that left the North Atlanta goalie tangled in his own limbs, before shooting right: another score. The opposing coach was still yelling — "Man on! Man on!" — so the Fugees kept shooting. Another goal. And another. When the frustrated North Atlanta players started hacking away at their shins and ankles, the Fugees brushed them off and scored yet again.
At 8–2, the North Atlanta coach, hoarse now nearly to muteness, wiped the sweat from his forehead with the back of his hand, quietly wandered over to his bench, and sat down, flaccid and defeated. The Fugees tried to stifle their smiles. If Luma felt any sense of satisfaction, it was difficult to discern. She remained perfectly stone-faced. The referee blew his whistle three times to signal the end of the game. The final score was 9–2 Fugees. Christian Jackson had scored five goals.
The teams shook hands and the Fugees quickly ran to the bench for water and oranges, which awaited them in two white plastic grocery bags. A few moments later, the referee approached. He looked to be in his late 50s, white, with a graying mustache. He asked Luma if he could address her players. Luma hesitated. She was uncomfortable handing over her team's attention to anyone, especially a stranger. A little warily, she summoned her team, who gathered in front of the referee some 10 yards from their bench.
"Gentlemen," he said, "I'd like to thank you. You played the ball the entire game, and you didn't take any cheap shots. They got frustrated and started hacking, and you didn't retaliate. So I'd like to commend you on your sportsmanship." The referee paused for a moment and swallowed hard. "And that was one of the most beautiful games of soccer I've ever seen," he said.
This was the first time I'd ever seen the Fugees play. I'd shown up knowing little about the team other than that the players were refugees and the coach a woman, and that the team was based in a town called Clarkston. In a little more than a decade, the process of refugee resettlement had transformed Clarkston from a simple southern town into one of the most diverse communities in America. And yet few in Atlanta, let alone in the world beyond, had taken notice. Mention the "refugees of Clarkston" and even many Atlantans will ask first if you're referring to those who had arrived in town from New Orleans after Hurricane Katrina. Next, they'll likely ask, "Where's Clarkston?"
I came away from that first game intrigued. I had just seen a group of boys from a dozen war-ravaged countries come together as a team and create improbable beauty on the soccer pitch. How? Their coach, an intense and quiet presence who hid beneath the brim of her Smith College baseball cap and emerged only to dole out ferocious bits of inspiration or wisdom, presented another mystery. There was a palpable sense of trust and camaraderie between the players and their coach, and an equally powerful sense of fragility in all the tension and long silences. In fact, things with the Fugees were more fragile than I could have realized that day. The team had no home field, owing to the myopia of local politicians who felt threatened by the presence of these newcomers. The players' private lives were an intense daily struggle to stay afloat. They and their families had fled violence and chaos and found themselves in a society with a completely different set of values and expectations. Luma herself was struggling to hold her team — and herself — together. She had volunteered — naively, as she would admit — to help these boys on the field and off, unaware of the scope and intractability of their difficulties: post-traumatic stress, poverty, parental neglect in some cases, grief, shattered confidence, and, in more than one instance, simple anger at having to live the way they did. Luma, I would learn, had no particular background in social or human-rights work. She was just a normal woman who wanted, in her own way, to make the world a better place, and who, it turned out, was willing to go to extraordinary lengths to see that mission through. Luma had vowed to come through for her players and their families or to come apart trying, and on several occasions it seemed the latter outcome was more likely.
But more than anything that day, it was the surprising kinship of these kids from different cultures, religions, and backgrounds that drew me into the story and made me want to understand and tell it.
Perhaps no one in Clarkston was as excited to hear about the prospect of a free soccer program as 8-year-old Jeremiah Ziaty. Jeremiah loved soccer. Since arriving in the United States with his mother, Beatrice, and older brothers, Mandela and Darlington, Jeremiah had been cooped up in his family's Clarkston apartment on strict orders from his mother. She was protective to begin with, but after she was mugged on her very first commute home from her job at the Ritz-Carlton Hotel, Beatrice had taken a hard line. She wanted the boys inside when they got home from school. When Jeremiah asked his mother if he could try out for the new soccer team in town, she was unyielding.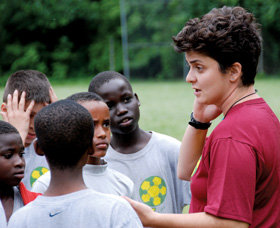 Mufleh talks with members of the under-12 team at practice. PHOTO: COURTESY OF THE FUGEES FAMILY"Certainly I say, Jeremiah," Beatrice told him, "you won't play soccer every day."
But soccer was one of the few things that could tempt Jeremiah into defying his mother.
Beatrice was still at work when Jeremiah set out from the family's apartment, a small backpack on his shoulder, ready to play.
When he arrived, he joined 22 other boys on the small field out back of the community center. On the sideline, he unzipped his backpack carefully, as though it contained a fragile and precious artifact, which in a way it did: a single black oversized sneaker. Jeremiah took off his flip-flops and slipped the shoe on his right foot, leaving his left foot bare, and took the field.
Before tryouts began, a sense of puzzlement seemed to settle on the boys: Where, they wondered, was the coach? Luma was right in front of them, but a woman soccer coach was a strange sight to young Africans, and especially to the young Muslim boys from Afghanistan and Iraq. During a shooting drill at an early practice, Luma was instructing the boys on how to strike the ball with the tops of their feet when she overheard a lanky Sudanese boy talking to the others.
"She's a girl," he said. "She doesn't know what she's talking about."
Luma ordered him to stand in goal. She took off her shoes as the boy waited beneath the crossbar, rocking back and forth and growing more anxious by the moment. She asked for a ball, which she placed on the grass. Then, barefoot, as the team looked on, she blasted a shot directly at the boy, who dove out of the way as the ball rocketed into the net.
Luma turned toward her team. "Anybody else?" she asked.
On that first day of tryouts, Jeremiah, in particular, played with all of the joyful abandon you might expect of an 8-year-old who had been stuck inside for months in a dark two-bedroom apartment. Soon the other boys had given him a nickname — One Shoe — which Jeremiah didn't seem to mind in the least. At the end of the practice, he took his shoe off, carefully wiped it down, and placed it in his backpack before slipping on his flip-flops and starting the two-mile walk back home.
"See you later, Coach," he said to Luma as he left the field.
"See you later, One Shoe," she said.
When Beatrice Ziaty found out her son was sneaking off to play soccer with strangers after school, all hell broke loose.
"You're too small," Beatrice scolded him. "Don't go out of the house!"
Jeremiah started to cry. And he cried. He begged his mother to let him play, but Beatrice held her ground. She wasn't going to let anything bad happen to her son. And she certainly wasn't going to be defied — after all she'd done to get the family here. Inside, though, Beatrice was torn. She knew an 8-year-old boy needed to run, to get outside. She knew it wasn't fair to keep him confined to a small apartment all the time.
"You say you have a coach," she finally said to Jeremiah. "Why you can't bring the coach to see me?"
"Momma," he said, "I will bring her."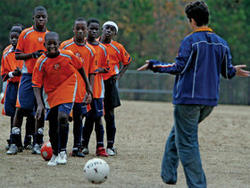 Jeremiah Ziaty is next to take the ball at a Fugees practice. PHOTO: Nicole Bengiveno/The New York Times/ReduxThe conversation took place outside, in front of the Ziatys' apartment. Luma came in her Beetle and parked out front. Beatrice walked outside with Jeremiah and explained her concerns to Coach Luma: She wanted to know that her son would be safe and would be with an adult. She wanted to know how to get in touch with Luma if something went wrong. And she wanted to make sure Jeremiah wasn't walking alone through Clarkston.
"She did the bulk of the talking," Luma recalled. "She said that Jeremiah was her baby and she wanted to know where he was going."
Luma promised to pick Jeremiah up before practice and to drop him off afterward. He wouldn't have to walk alone. She gave Beatrice her cell number and promised to be reachable.
"I'll treat him like he's my own kid," Luma told her. "He's going to be my responsibility."
Beatrice agreed to give the situation a try. Jeremiah climbed into Luma's Volkswagen and sat among the soccer balls and bright orange plastic cones strewn about — she used the car as a mobile equipment locker — and together they were off to practice. One Shoe had no intention of letting his mother down.
In those early practices, Luma made a point not to ask her players about their pasts. The soccer field, she felt, should be a place where they could leave all that behind. But occasionally, as the kids became more comfortable with her, they would reveal specifics about their experiences in ways that underscored the lingering effects of those traumas. Luma learned that Jeremiah, for example, had been at home the night that his father was killed. Once, in an early practice, Luma expressed frustration that a young Liberian player seemed to suddenly zone out during play. Another Liberian who knew the boy told her she didn't understand: the boy had been forced by soldiers to shoot a close friend. Luma wasn't a social worker, and she had no background in dealing with profound psychological trauma. In such moments, she felt perilously in over her head.
"How do you react when someone tells you he saw his father get killed?" she said. "I didn't know."
Luma picked up on another problem facing her young players. Many had come from societies that had been fractured by war, and as a consequence they never had access to any kind of formal education. It wasn't uncommon for some refugee children to be both illiterate in their native languages and innumerate — they had never learned the simplest math skills. Without this basic education in their own languages, they were playing catch-up in schools where classes were taught in a new language many of the boys could barely understand, if at all. While the public school system around Clarkston offered English-as-a-second-language programs, the schools were overwhelmed with newcomers. To move students through the system, many refugees were placed in standard classes that, while appropriate for their ages, did not take into account their lack of schooling or their deficiencies in English. The clock was ticking on these young students; if they didn't get help and find a way to succeed in school, they would fail out or simply get too old for high school, at which point they would be on their own. Given the enthusiasm for soccer in the refugee community, Luma wondered if perhaps the game and her team could be an enticement for after-school tutoring that might give young refugees a better chance to succeed. She resolved to get help from volunteers and educators for tutoring before practices, and to require her players to attend or else lose their spots on her team.
Somewhere along the way, the team got a name: the Fugees. Luma was unsure of who exactly came up with the name, which many opposing teams assumed was a reference to the hip-hop band. But in fact it was simply short for "refugees." The name stuck, and in time it began to take on its own meaning among the kids in Clarkston, one separate from its etymology. In Clarkston, the Fugees meant soccer.
That first season, the Fugees played in a recreational, or "rec," league, an informal division teams were required to play in before they could be admitted to more formal competition in the "select" grouping. There wasn't much of an equipment budget, so Luma relied on donations, which didn't always work out. A batch of jerseys given to the Fugees turned out to be absurdly large, like nightshirts. Someone donated a box of old cleats, which Luma distributed to her players. When one of those players went to kick the ball, the sole of his shoe went flying into the air, to hysterical laughter from his teammates; the shoes were so old that the glue holding them together had rotted. Luma stoically refused to acknowledge the equipment problems, at least to her players. She didn't want them to get discouraged by what they didn't have. She even made a point of wearing the same clothes to practices and games — soccer shorts, a ratty green T-shirt, and her dingy Smith baseball cap — because she noticed her players almost always wore the same clothes themselves.
Luma began the work of trying to make a competitive team out of her young recruits. She had to teach them the basics of organized play — how to execute throw-ins, how to stay onside. But soon enough, a far bigger problem began to reveal itself. Luma noticed that when she would tell the boys to divide into groups for drills, they would instinctively divide themselves according to their ethnic backgrounds or common languages. In scrimmages, boys would overlook open teammates to pass to their own kind. And each group, she learned, had its own prejudices toward others.
"The Afghan and Iraqi kids would look down at the African kids," Luma said. "And kids from northern Africa would look down at kids from other parts of Africa. There was a lot of underlying racism and a lot of baggage they have brought with them."
Somehow, Luma would have to find a way to get kids from so many cultures and backgrounds to play as a unit.
"It was about trying to figure out what they have in common," she said.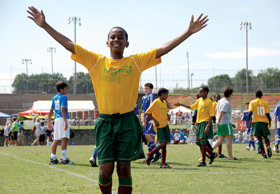 A Fugees player is all smiles after a tournament win in Roswell, Ga. PHOTO: COURTESY OF THE FUGEES FAMILYWhile Luma was trying to find a way to get the kids to play together, she was also getting to know their parents, mostly single mothers. She found they needed help — in understanding immigration documents, bills, school registration, and the like. With her Arabic and French, she was able to translate documents and find help through the network of people she was getting to know in the resettlement community. She arranged appointments with doctors and social workers. Luma gave her cell phone number out to her players and their families, and soon they were calling with requests for help negotiating their new lives. Teachers learned to call Luma during crises when her players' parents couldn't be found or were at work. All the while, Luma began to marvel at the impact of even the simplest of gestures on her part. The families were extraordinarily grateful, which they showed by offering Luma tea and inviting her to dinners. Luma found herself both appreciated and needed, and couldn't help but notice how much more fulfilling this kind of work was than running Ashton's, the café she had started in nearby Decatur. In fact, Ashton's was losing money — and fast. Luma faced the possibility of having to close and even of declaring bankruptcy. The stress, she said, was overwhelming.
One afternoon Luma was driving Jeremiah home when he let slip that he was hungry. Luma told him he should eat when he got home, but Jeremiah said there wasn't any food there — that it was, in his words, "that time of the month." It was a curious phrase for a 9-year-old boy. Luma probed, and Jeremiah explained that at a certain time each month, food stamps ran out. The family had to go hungry until another batch arrived. Luma was floored. She had understood that her players' families were poor, but she hadn't realized that they might actually be going hungry. She drove straight to the store and bought groceries for Jeremiah's family, but the episode stayed with her. Each night at the café, she tossed away leftover food without a thought. The idea that her players were going hungry cast her work at Ashton's in a new light.
"You're worrying if you're going to have enough people coming in to buy three-dollar lattes when just down the road there are people who can't afford to eat," she said.
The incident settled Luma's mind on the question of Ashton's. It was time for her to admit her failure and to walk away. She closed the café and filed for personal bankruptcy. But while the failure of Ashton's was a blow to Luma's ego, it also represented an opportunity to focus her life on things that she felt were more meaningful. She wanted to start a business that could employ women like Beatrice, providing them a living wage without requiring them to commute halfway across Atlanta by bus or train. With little capital, Luma didn't have many options. But she had an idea. She envisioned a simple cleaning business for homes and offices that would employ refugee mothers. She could drum up the clients through her local contacts, and work side by side with her players' mothers, who could work in the daytime while their children were at school and get home to their families in the evenings.
But mostly, Luma wanted to coach the Fugees. She let her girls' team know that she wouldn't be coaching them anymore. She was going to focus all of her energy on her new program and on trying to better the lives of the newcomers whose struggles she felt she understood. But doing so meant taking on far more responsibility than running a café. Luma felt she was ready for the challenge.
"When I got to know the families and their struggles, I knew I couldn't fail," she said. "I couldn't quit when things didn't go right. I was on the hook to succeed."
Indeed, with little idea of how it would all turn out and no inkling of the coming political storm around refugee resettlement in Clarkston, Luma was directing her life wholeheartedly toward the refugee community there. In the process, she slowly began to see the outlines of a larger purpose to her life in America, and she felt the warmth of a new family forming around her.
"I thought I would coach twice a week and on weekends — like coaching other kids," Luma said. "It's 40 or 60 hours a week — coaching, finding jobs, taking people to the hospital. You start off on your own, and you suddenly have a family of 120."
The family would continue to grow, because whether Clarkston was ready or not, the refugees kept coming.
Excerpted from Outcasts United: A Refugee Team, an American Town, by Warren St. John. Copyright (c) 2009 by Warren St. John. Reprinted by arrangement with the Random House Publishing Group.