Cover Story
Attorney General Eric H. Holder Jr. '73, '76L Stresses the Rule of Law
Respected lawyer works to strengthen the integrity of the U.S. Justice Department
By David McKay Wilson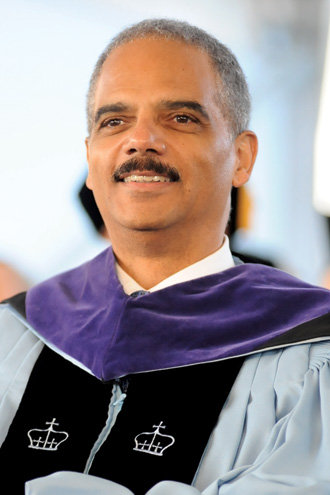 "Set your sights beyond the career that will offer the greatest financial reward to the one that will reward your soul," Eric H. Holder Jr. '73, '76L told members of the Class of 2009 as the keynote speaker at Class Day.Photo: Eileen BarrosoOn Eric H. Holder Jr. '73, '76L's first day as the 82nd attorney general of the United States, he bypassed the elevator and took the broad, granite stairs to his fifth-floor office, with its vaulted ceiling and portraits of his predecessors peering intently from the walls to remind him of the U.S. Justice Department's storied past.
As Holder walked the halls and climbed the stairs, career employees poured from their offices to applaud an old friend and welcome home the nation's first African-American to hold the post. Holder was no stranger at the Robert F. Kennedy Department of Justice Building, known as "Main Justice," where he had served as deputy attorney general under Janet Reno during the Clinton administration. Now as the U.S. Justice Department's top gun, he returned to the sprawling Constitution Avenue complex after eight years in the private sector, pledging to restore integrity to an agency tarnished by scandals over politically motivated personnel actions and questions about its backing of harsh interrogation techniques in the war on terror.
The homecoming brought Holder back into public service, where he had risen to become one of the nation's most respected lawyers. That dedication to working for the common good was rooted in his upbringing in New York City and at Columbia, where, as children of the 1960s, young people like him felt that anything was possible, that they could, in fact, change the world.
"I came of age when John F. Kennedy was President ...
You had the notion there were things an individual
could do to make the world better, that government
could be a positive force."
Holder's public service career comprises 21 years in the Justice Department, including four years as Washington, D.C.'s first African-American federal prosecutor and five years as a judge in the District of Columbia's Superior Court.
"The idealistic part of me is a function of my times," Holder says one day in April in an interview in the conference room of his office. "I came of age when John F. Kennedy was President for that brief period of time. There was the ferment of the '60s, Martin Luther King, even Lyndon Johnson. You had the notion there were things an individual could do to make the world better, that government could be a positive force."
Holder, a senior legal adviser and co-chairman of Barack Obama '83's Presidential campaign, has emerged as one of the most high-profile Cabinet members in the administration's first year, making headlines with comments on race relations and then on the Bush administration's policies regarding harsh interrogation techniques that he called torture.
As the year progressed, Holder remained a central figure in the debate over whether the administration would investigate Bush-era security programs in the war on terror. He ordered the closure of the Guantanamo Bay Detention Facility in Cuba and traveled the globe to find nations that would accept the detainees who would be released. The department stepped up efforts to combat Mexican drug cartels, prosecuted mortgage fraud and won a guilty plea from financier Bernard Madoff in one of the nation's biggest financial fraud schemes.
In June, Holder was before the U.S. Congress, seeking support for an expanded hate crimes bill that would allow federal prosecution for crimes of violence based on disability, gender or sexual orientation. The bill has languished in Congress since it was introduced in 1998.
Columbia Law Professor Daniel Richman says Holder arrived with a mandate to show that the office was operating independently from the White House political operation. Among Holder's first major actions was to dismiss the indictment of former U.S. Senator Ted Stevens, a Republican from Alaska who had been found guilty of lying about gifts and home renovations. Holder cited prosecutorial misconduct by lawyers in the Justice Department's Office of Public Integrity, the bureau that hired him in 1976 as one of its attorneys when he graduated from the Law School.
Holder's intervention in the Stevens case, says Richman, signaled that the Justice Department was changing.
"He's the former head of Public Integrity. It's almost a standard trope that those who come out of the office are among the harshest judges, the most careful scrutinizers," says Richman. "Walking away from the case was really intended by Holder and his advisers to get headlines for how things needed to be different. This made it a pure signal."
By July, pressure was building on Holder to investigate officials in the Bush administration over their national security programs. Despite pressure from the C.I.A. and the stated desire of the White House not to dwell on the past, Holder announced in August the appointment of a prosecutor to investigate detainee abuses at Guantanamo Bay and possible violations of the law.
"We examine the evidence, we apply the law and that dictates our course of action," Holder says. "No one is above the law, and no one gets a pass because of a particular position they hold or have held. It's hard to say where it ultimately ends. It's a dynamic process as information comes out from a variety of sources every day."
Holder, a tall, trim man with short-cropped, graying hair and a mustache, wears a dark blue, pin-striped suit, a red tie highlighted with gold triangles and a crisp white shirt to work this April morning. When delivering speeches, he does so in a steady, measured cadence, without bombast. Soft-spoken and affable, he seemed to enjoy posing for dozens of pictures with Army cadets and dignitaries this spring following a speech he gave at West Point.
Twenty years ago, Holder met Dr. Sharon Malone '88 P&S at a reception of Concerned Black Men and 100 Black Women. They were married in 1990 and live in Washington, D.C., with their children, Maya (16), Brooke (14) and Buddy (11). Malone, an obstetrician, is in private practice in Washington.
At 58, Holder has slowed a step or two from his basketball-playing days in high school and at Columbia during his freshman year, when he played in 10 games, scoring 3 points and pulling down 12 rebounds. Holder says a bad back has kept him from joining pick-up basketball games with President Obama at the Department of the Interior gymnasium. But Holder and Obama still trade jibes like a couple of boys playing hoops at the city playground.
"I told him once that he couldn't handle my New York game," recalls Holder with a grin. "He hasn't let me forget it. He kids me about it all the time. He says, 'Holder, don't you keep talking trash to me.' "
Holder learned his basketball on the playgrounds of East Elmhurst, Queens, where his family moved from the Bronx when he was 10. His father, Eric Holder Sr., who emigrated from Barbados, was the night manager of a hotel and owned some residential rental units that he managed. His mother was a secretary. Neither attended college.
At the time, East Elmhurst was a changing neighborhood, as the largely Italian population moved out and blacks moved in. Their home was close enough to Shea Stadium that Holder played hooky to see one of the first games played there by the New York Mets.
"There was no sense that we were poor, but when I look back, we weren't solidly middle-class," he recalls. "I had a bicycle and a baseball glove. There wasn't much that I needed."
Holder showed promise as a student, and after passing an entrance exam in ninth grade, was accep- ted to Stuyvesant, one of the city's elite public high schools, which specialized in math and science and has four Nobel Laureates among its alumni.
For the next three years, Holder commuted by subway to Stuyvesant, then located at East 15th Street in Manhattan, becoming captain of its basketball team. His success at Stuyvesant earned him acceptance to Columbia in 1969. He came to Morningside Heights during the heyday of student activism, at a time when the black consciousness movement was on the rise, opposition to the Vietnam War was roiling the campus, women's liberation was in the air and student protests were such a part of campus life that Holder recalls final exams being called off at the end of his first year because students were on strike.
It was a time when Holder came of age and found his voice. He recalled those moments on a crisp May morning, when he donned the gown of Columbia Blue to deliver the Class Day address before the Class of 2009. It had been 36 years since he'd sat before Low Library to receive his class pin at the end of four tumultuous years on campus, and he shared his experiences with the College's latest graduates.
Holder described himself as a New York City kid who went to college figuring he couldn't be surprised by anything Columbia had to offer. He was wrong. His first roommate in room 301A Carman was a classmate who was more interesting in altering his consciousness than applying himself to his studies. He dropped out. Then arrived his second roommate — a computer whiz who lacked social skills. He also left before year's end, leaving Holder with a much-cherished Carman single as a freshman.
It was at Columbia that Holder began his life of service, mentoring kids in a Saturday program. It was also where he majored in history and became politicized. As a member of the Student Afro-American Society, Holder was active in the campaign to establish a lounge in Hartley Hall where black students could gather. When the administration balked, he joined an occupation of Dean Henry Coleman '46's office.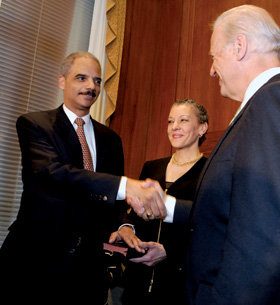 Holder shakes hands with Vice President Joe Biden on February 3 after being sworn in as attorney general. PHOTO: COURTESY OF THE DEPARTMENT OF JUSTICEDespite that action, when Holder subsequently needed a recommendation for the Law School, he asked Coleman. "This being Columbia, he agreed," Holder told the Class of 2009, drawing laughs from the seniors. "He was a great, generous man. The College allowed an impetuous, testosterone-laced youngster to express himself in ways that other institutions could have considered unacceptable. Not Columbia. This is why I love Columbia."
Holder's ties to Columbia have endured as he worked his way up through the Justice Department and went on to private practice with the prestigious Washington, D.C., firm Covington & Burling. He served on Columbia's Board of Trustees from March 2007 to February 2009, resigning after his confirmation as attorney general.
While on Columbia's board, Holder served on a subcommittee that looked at the University's disaster preparedness plans following a gunman's rampage at Virginia Tech that left 32 dead.
"The board's loss was our nation's gain," says Edward DiJoseph, associate secretary of the University.
Holder's involvement in race issues also has developed since his time as a student protestor in Coleman's office. Not long after winning confirmation from the Senate in February, Holder addressed the nation's racial divide in remarks at the Department of Justice's African-American History Month program. He noted that while our nation prides itself on being an ethnic melting pot, we remain "essentially a nation of cowards" because we don't talk to each other enough about race. He urged Americans to have frank conversations about race, which includes finding ways for people of many races to socialize with each other outside the workplace.
"There was an outpouring of emotion and affection
I've never seen in my 32 years at the firm," says Gregg Levy.
"People were in tears and they all wanted to get pictures
taken with him. Now when I walk the halls, I see
pictures of him as screen savers or on their desks."
"The whole idea of social segregation is disturbing," says Holder. "We've fought so long to remove the legal barriers, and those are now largely gone. Yet we have made a voluntary decision to keep ourselves apart. There is so much in a positive way that happens in that kind of social interaction. We do a pretty good job in the 9 to 5 world, but that's not as true as what the world looks like after 5 o'clock. I'm not pointing a finger at the white community. It's the communities of color as well."
When George W. Bush won the 2000 Presidential election, Holder knew his time was up at Justice. He'd had quite a run — from those early days in the Public Integrity section combating public corruption in the Abscam sting operation that netted Rep. John Jenrette to serving as acting attorney general under President Bush until John Ashcroft was confirmed in 2001.
The end of the Democratic reign in Washington, D.C., came at a price for Holder as well. He was involved in President Clinton's pardon of fugitive billionaire Marc Rich, whose wife made substantial campaign contributions to Clinton's campaign, and ended up explaining his recommendation — "neutral leaning to favorable." He subsequently said he would have liked more time to review Rich's application.
In the meantime, he'd found his first job in the private bar, joining the firm of Covington & Burling, where he carved out a practice that included clients such as the National Football League and Chiquita Brands.
"I had avoided law firms like the plague," says Holder. "At Covington, I saw the independence I wanted. I didn't have to toe the corporate line. I could do the political things I wanted to do and construct my life outside the job in a way I wanted to."
Representing clients under indictment by prosecutors like himself provided a real education. "I found people generally wanted to do the right thing, but sometimes there would be one or two people in a 20,000-person corporation who would do things for totally inappropriate reasons," he says.
As the NFL's counsel, Holder advised the league on its substance-abuse policy and personal behavior issues. That included how the league would discipline former Atlanta Falcons quarterback Michael Vick when he was under investigation, and later convicted, of charges relating to a dog-fighting ring.
Gregg Levy, who heads Covington & Burling's litigation group, says Holder developed a reputation as "a lawyer of unparalleled judgment and discretion who saw the picture in a way that others didn't."
He remembers the farewell party, held in late January.
"There was an outpouring of emotion and affection I've never seen in my 32 years at the firm," says Levy. "People were in tears and they all wanted to get pictures taken with him. Now when I walk the halls, I see pictures of him as screen savers or on their desks."
When Holder took office in February to head up an agency with more than 100,000 employees, he inherited a very different Justice Department from the one he had left eight years earlier.
The agency, which investigates, prosecutes and houses those convicted of federal crimes, became much more focused on national security and immigrant cases following the attacks of 9-11. The focus on international issues by the previous administration, however, brought less emphasis on civil rights, anti-trust issues and environmental crime. Holder says he wants to restore leadership in those areas that received less attention under the previous administration.
These increased responsibilities are carried about by the Justice Department's staff of about 5,000 federal prosecutors — just three times the number of local prosecutors in New York City's five boroughs.
Holder believes that the department, with the right focus, can handle national security as well as domestic issues.
"I think we can do both," says Holder, who in April was just back from a European trip to talk with justice officials in Rome, Paris and Berlin. "We can be vigilant and aggressive as we need to be on national security and still do the traditional parts of the department. They haven't gotten the attention and the resources they've needed."
Holder's role as a globe-trotting justice advocate brought him to his father's birthplace in Barbados. There, he met with justice ministers from several Caribbean nations, focusing on issues involving the trafficking of drugs from the region to the United States and Europe. Then he traveled to the St. Joseph's Parish, his father's hometown, which remains relatively undeveloped. The parish's municipal complex — with its post office, court, library and after-school recreation center — was renamed in Holder's honor.
"It was very sweet because it was the parish where my father was born," says Holder. "It was a bit of a homecoming. They had a big reception, and everyone with the last name of Holder claimed to be my cousin."
In his suite at the Justice Department, the portraits Holder selected to hang on his office walls relate to the political environment he encountered when he took over. On one wall of his conference room hangs the portrait of former Attorney General and Supreme Court Justice Robert Jackson, whose landmark opinion in the Youngstown Steel case set the limits for Presidential powers. On the facing wall looms former Attorney General Eliot Richardson, who resigned in the midst of the Watergate scandal instead of obeying President Nixon's order to fire the special prosecutor investigating the President.
"Richardson's story is a constant reminder that for the rule of law to mean anything, for it to be more than a hollow refrain bellowed before the microphones but quietly subverted in the muffled corridors of power, it must be upheld by men and women of firm character who are committed to its faithful application," says Holder.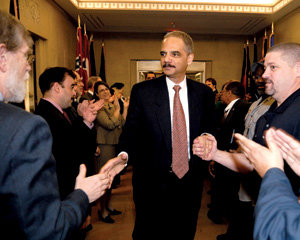 Holder was warmly greeted by Justice Department staff members as he arrived for his first day of work. PHOTO: COURTESY OF THE DEPARTMENT OF JUSTICEDuring his confirmation hearings, and soon after taking office, Holder showed his character and commitment to the rule of law on several high-profile issues. He unequivocally told the Senate Judiciary Committee that waterboarding — the interrogation technique used by the C.I.A. that simulates drowning — constituted torture and was prohibited under U.S. and international law.
At the United States Military Academy in mid-April, when he came to the inaugural conference of the West Point Rule of Law Center, Holder reiterated his message. He spoke at the center's opening dinner, held in the Thayer Hotel's Crest Room, where flags from the 13 original colonies hung from the walls and five chandeliers lit the room.
He reminded the military attorneys, national security experts and cadets that the United States was founded as a nation of laws, not men. Holder argued against the position voiced by some in the Bush administration that obeying certain international laws, such as the Geneva Convention, would hinder U.S. efforts and endanger our nation's strength.
"I reject the very premise of that argument," said Holder that night. "Even before the first Geneva conventions were signed, the United States long advocated for international laws and organizations to govern the conduct of all nations, recognizing that our strength as a country is amplified — not diminished — when we expand the sphere of law across the globe."
Among those sitting at Holder's table that evening was Rule of Law Center Director Sali Rakower, who says his appearance at the opening conference signaled important support from the Obama administration.
"It was heartening to have Mr. Holder stress the importance of the rule of law," says Rakower. "We can't abdicate that in a time of fear and insecurity. That's what distinguishes us from our enemy."
David McKay Wilson, a New York-based freelance journalist, writes for university magazines across the country.