Features
Dean of American Science Writing
David Perlman '39, '40J, San Francisco Chronicle science editor, is still going strong at 90
By Kate Linthicum '08 Barnard
When David Perlman '39, '40J was 12, he told his father, "I want to be a newspaperman." Perlman's career aspirations, he now concedes, were not altogether altruistic. A reporter-friend of his mother's recently had given the family free passes to see the Ringling Brothers circus under the big top in Brooklyn, and Perlman made a connection that would set his course for life.
"I thought, 'How glamorous,'" he says. " 'If you're a reporter, you get tickets to things.' "
Journalism has been Perlman's ticket ever since.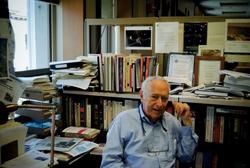 David Perlman '39, '40J may have found science "boring" as a student, but he has covered every major science story of the past half-century in his remarkable journalism career. Photo: Brant WardIt took him to Columbia, which he chose because of its well-regarded student newspaper, the Columbia Daily Spectator, and to the San Francisco Chronicle, where he began as a copy boy in 1940 and rose to become one of the most respected science writers in the country. It took him to Columbia, which he chose because of its well-regarded student newspaper, the Columbia Daily Spectator, and to the San Francisco Chronicle, where he began as a copy boy in 1940 and rose to become one of the most respected science writers in the country.
It took him to Antarctica, the Galapagos Islands and a remote corner of Ethiopia, where he wrote award-winning stories about the latest advancements in science.
And now, at 90, it's what takes him to work every day. After more than 70 years in the business, Perlman still works full-time at the Chronicle as its science editor.
His health is good — he beat prostate cancer several years back — and he has no plans to quit.
"He hasn't really changed," says Charles Petit, a fellow science writer who worked with Perlman at the Chronicle for 25 years. "He's a little smaller, he walks a little slower, but he's the same old Dave. He gets up in the morning and all he wants to do is go in and be a newspaperman."
Perlman works in a large, cluttered cubicle in one corner of the Chronicle's newsroom in downtown San Francisco. His desk is stacked with books and scientific articles, most cloaked in a fine layer of dust.
The phone rings frequently, and he answers in a deep, cheerful tone, "This is David Perlman." It's been more than half a century since he left New York City, but his voice still has the ring of the Upper West Side, where he grew up.
He entered Columbia in 1935 at 16 and spent most of his four years of college huddled at Spectator's office, which was then on the fourth floor of John Jay Hall.
Perlman graduated with a degree in government, but when you ask him what he studied, he smiles and gives the same answer many Columbia-graduated journalists do:
"I majored in the Spectator."
He skipped many classes and rarely went to the library, he says, but luckily for Perlman, his roommate took many of the same courses. "He was a pre-law student," Perlman recalls. "He had great handwriting and took great notes, and I would cram from them."
Perlman cut his teeth covering the lead-up to WWII. He covered many protests, like a mock book burning that students held in 1936 after Columbia President Nicholas Murray Butler (Class of 1882) announced that he would send a delegate to Nazi Germany to take part in the 550th anniversary celebration of the University of Heidelberg. He also covered "real news," like a murder at the medical school and a janitors strike at Teachers College.
"That was Columbia in the 1930s, lots of tumult," says Perlman, who edited Spectator his senior year. "The campus was kind of in a ferment at the time."
He has less turbulent memories, too. He fondly recalls one Christmas when Butler gathered students and read the famous New York Sun editorial, "Yes, Virginia, There Is a Santa Claus."
One summer, Perlman got a job as a reporter at a paper in Schenectady, N.Y. He made $15 a week, which he says he supplemented with winnings from the Saratoga racetrack. The paper was understaffed, so he wrote under two bylines — he was the news writer, David Perlman, and also the fashion editor, Wanda Gray.
After finishing college, Perlman went to the Journalism School. When he graduated a year later, he landed a job at a newspaper in Bismarck, N.D.
He hated it.
"I found I didn't particularly care for North Dakota," Perlman says. "For a city boy, it was not a very good fit."
Perlman didn't have to stay long. A few friends from journalism school had made their way to San Francisco and were copy boys at the Chronicle. One of them asked the newspaper's editor, Paul C. Smith, if Perlman could have a job.
Soon a Western Union telegram arrived for Perlman. "It said, 'Paul says come on,' " Perlman remembers. "So I got in my 1935 Chevy coupe and went."
When he arrived, he immediately fell for San Francisco. "It was heaven. It was the promised land," he says. "The city was great, and the living was easy."
He also fell for a young woman, Anne Salz, an aspiring reporter he met at a party. "She had a flame-red dress on that I'll never forget," he says. "Oh, she was a looker."
They married in October 1941, but their honeymoon was cut short when Japanese military forces attacked Pearl Harbor on December 7.
Many worried that the Japanese would strike the West Coast of the United States, so that evening, when darkness fell, Perlman's bosses at the Chronicle sent him up to the building's clock tower to keep a lookout for enemy planes. He sat there all night with a pair of binoculars and a telephone line snaking down to the city desk.
Many would have been afraid, but not a newspaperman.
"It was so exciting," he says. "What reporter wouldn't want to be covering the start of a war?"
Soon after Pearl Harbor, Perlman joined the Army Air Corps. "I wanted to be a flyboy," he says, "but I flunked the tests because I couldn't do math."
A territorial bull sea lion chases away Perlman, who had been snorkeling in a bay off Fernandina Island, Galapagos, in 1964. Photo: Courtesy David Perlman '39Perlman spent most of the war working in England, using his journalism background as a public relations spokesman. Although eventually he was trained for the infantry, he did not see combat. "I didn't win the war, I'll tell you that," he says, laughing.
After the war ended, Perlman waited in France to be shipped home. One day he was sitting in a café, reading the Paris Herald (which would become the International Herald Tribune), when he had an idea.
"I called up the editor of the paper," he says, "and got a job. They must have been pretty desperate."
Perlman's wife came to France, and she got a reporting job, too. "Those were our carefree days in Paris," he says somewhat longingly. "It was a very glamorous life. It was an ideal life."
In 1951, the couple — who by then had three children — returned to San Francisco to raise their kids stateside. Perlman returned to the Chronicle, where he's been ever since.
He wrote about many subjects, but in 1957 he began to focus on science. He had broken his leg skiing, and while he was recovering a friend gave him a copy of Fred Hoyle's pioneering book, The Nature of the Universe. Perlman was hooked.
This was ironic, he says, as he had been a terrible science student while at Columbia. "I didn't care about it at all," he says. "I mean, it was really a bore."
One of his classes was taught by John Dunning, the famed physicist who built the particle accelerator that was used in some of the experiments that led to the development of the atomic bomb. "I didn't realize until later what an important scientist Dunning was," Perlman says. "To me he was just another professor I had to listen to."
"Science is a part of our culture.
It's vital, and we should study it just like
we study Greek tragedies."
But as he got older, Perlman began to see science as integral to understanding life.
Perlman files a story by radio from the NASA observatory Galileo I, over the Pacific at 39,000 feet, during a 1965 solar eclipse expedition. Photo: Courtesy David Perlman '39"Science is a part of our culture. It's vital, and we should study it just like we study Greek tragedies," he says. "What attracted me in the beginning was the fact that it was all so new; everything that I wrote about was so new and interesting."
It took considerable on-the-job learning for Perlman to become fluent in science-speak. Research became easier with the advent of computers and the Internet.
"Now, you just Google it," he says.
Perlman has covered every major science story of the last 50 years, from the introduction of computers to the AIDS crisis. He has written about earthquakes, the Apollo moon landing and DNA sequencing.
His favorite stories, he says, are "the ones where you are somewhere watching science happening."
At 87, Perlman accompanied a team of evolutionary biologists to the Ethiopian desert for a fossil dig. It was one of many places around the world to which his job has taken him.
"What a great guy he was to have along," says Tim White, a UC Berkeley paleoanthropologist who led the trip. "Where we were was a two-day drive from the capital. There are no roads out there, and no hotels. We just camp. And he was right there, ready to go every morning."
White, who is one of Perlman's frequent subjects, says Perlman's long career makes him unique in his field. "He is persistent and attentive for the long haul because he just keeps building his knowledge of a subject in a way that you can only do if you've got a kind of stability," says White. "He has this tremendous network of contacts and knowledge to draw on."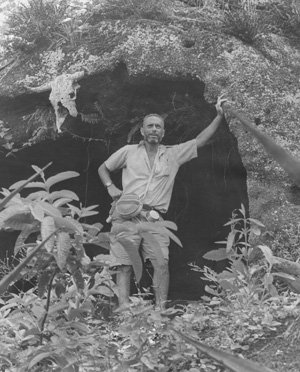 Perlman stands at the entrance to a cave at a remote salt lagoon on Floreana Island, Galapagos, during a two-month expedition in 1964. Photo: Roger Tory PetersonPerlman began covering science at a time when few newspapers were dealing with the subject.
"He really deserves the title 'dean of American science writing,'" Petit says.
Petit joined Perlman on the Chronicle's science desk in 1972. "He was the best mentor and teacher you could ever imagine," says Petit, who now writes for the Knight Science Journalism Tracker blog, which aggregates science writing. "I had sort of a cowboy attitude to writing, and here's Dave, who said to me, 'The important thing is to be responsible and to think about the impact that your stories will have.' That stuck with me all my life."
Petit says Perlman still has an old-school approach to journalism. "I'd be stuck trying to get a phrase right and he'd say, 'Dammit it, kid, if you can't get it right, just get it written!'
"He still has the manner of a wise guy from New York," Petit says, "but he's about the sweetest-hearted man I've ever met."
Perlman's wife passed away several years ago. He lives alone not far from the newspaper, and sees his three children and three grandchildren frequently.
His memory isn't great — but it never was.
"He's always been forgetful," Petit says. "Some days he'd just tear out of the city room saying, 'I'm late for a meeting!' And then he'd come back a little later and say, 'Oh, the meeting is tomorrow.' "
Newspapers have changed a lot since the 1930s — many people now get their news from television, and some of those who prefer reading do so on the Web. Perlman doesn't want to quit working, but he worries about the health of the Chronicle, which, like many newspapers across the country, is suffering from a plunge in readership and advertising revenues. The Hearst Corp., which owns the Chronicle, has threatened to close the paper or sell it if it does not start making a profit.
"We all wondered when Dave was going to retire from the Chronicle," Petit says, "but it's starting to look like the Chronicle's going to retire from him."
This newspaperman, it seems, might outlast his newspaper.
Kate Linthicum '08 Barnard is a reporter at the Los Angeles Times.