Obituaries
1935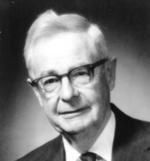 John W. Thomson Jr. '35 John W. Thomson Jr., retired botanist, lichenologist, conservationist and professor, Mount Horeb, Wis., on February 20, 2009. Born July 9, 1913, in Cockenzie, Scotland, Thomson furthered his education at the University of Wisconsin – Madison, and, after teaching at Superior State Teachers College, in 1944 returned to Wisconsin to join the Department of Botany. He retired from Wisconsin after four decades there. Referred to as the "Dean of North American Lichens," Thomson's Arctic explorations, research, papers and five books led the science for more than 60 years. His last two-volume set on Arctic lichens was completed after he retired in 1984. Thomson is survived by his wife of nearly 72 years, Olive (née Sherman); sons, Dennis and his wife, Joan Schurch, Norman and his wife, Rose Jepkorir Chepyator, Roderic and his wife, Linda Heine; daughter, Elizabeth, and her husband, Dean Danielson; and seven grandchildren. Thomson was predeceased by a son, Douglas, and two sisters, Shiela Feustal and E. Jean. Memorial contributions may be made to an organization dedicated to wildlife or environmental protection.
1937
Edwin F. Wilson, retired surgeon, Fair Lawn, N.J., on September 6, 2008. Born and raised in New York City, Wilson resided in Greenville, Maine, before moving to Fair Lawn to be closer to his family. An Army Air Corps veteran of WWII, he served in the European theater. Wilson enjoyed the outdoors and photography and was an accomplished woodworker. Prior to retiring, Wilson was chief of surgery at Central Suffolk Hospital in Riverhead, Long Island, N.Y., for 35 years, and was an on-call physician at Madison Square Garden, attending to hockey players. Wilson was predeceased by his wife, Marjorie (Bergen) Wilson, and is survived by his sons, Edwin Jr., and William and his wife, Lorraine; and three grandchildren. Memorial contributions may be made to the Disabled American Veterans National Service Foundation, PO Box 14301, Cincinnati, OH 45250.
1938
Herbert J. Carlin, professor emeritus, Walnut Creek, Calif., on February 9, 2009. Carlin was born in New York City and grew up in the Bronx. He entered with the Class of 1938 but earned a B.S. and M.S., both in electrical engineering, in 1939 and 1940, respectively, from the Engineering School. Carlin earned a doctorate from The Polytechnic Institute of Brooklyn, where he later chaired the Department of Electrophysics. In 1966, he joined Cornell and became director of the School of Electrical Engineering from 1966–75. Carlin remained at Cornell, where he was the J. Preston Levis Professor of Electrical Engineering Emeritus, for the duration of his career. Carlin was an authority in wideband circuit design and network theory. He chaired the IEEE Professional Group on Circuit Theory and received the IEEE Centennial Medal in 1984. Carlin published numerous articles and authored Network Theory and Wideband Circuit Design. He played the piano and flute and enjoyed baseball and politics. Carlin is survived by his wife of 35 years, Mariann; her daughters, Andrea Szentirmai, and Susan Oliker and her husband, Scott; sons from his first marriage to Esther Beth, Elliot and Seth; daughters-in-law, Maryse and Marianne; and four grandchildren.
1939
Bernard Kaback, retired NYC principal, Riverdale, N.Y., on June 17, 2009. Kaback was a graduate of DeWitt Clinton H.S. At the College, he played the violin in the orchestra. His classmate Howard Shanet '39, who played the cello, later became its conductor and taught Kaback's son, Hoffer '69, in Music Human­ities. Kaback earned a degree in 1940 from Teachers College. He volunteered during WWII and in the Army Air Forces qualified as an aerial navigator, bombardier, aerial gunner, radar observer, and radio operator and mechanic. He held the rank of 2nd Lieutenant. Kaback was a principal in the New York City public school system, chiefly at P.S. 140 on Eagle Avenue in the East Bronx, for many years. Upon his initial appointment, he was one of the youngest principals in the city. At retirement, he was the senior principal in the City of New York in terms of length of service. Married for 53 years to the late Florence Kaback, also a NYC school principal, Kaback is survived by his son; daughter; and two grandchildren.
Philip L. Wintner, retired executive, Whittier, Calif., on April 20, 2009. Wintner was born in New York City on March 21, 1917, and served in the Army during WWII. In 1946, he was employed by Eastman Kodak in Los Angeles and later transferred to the Whittier office, from which he retired in 1983. Wintner was active in Whittier historical and preservation activities as well as railroad preservation groups around the country.
1941
Harold Rogers, teacher, Tokyo, on July 12, 2009. Born in New York City, Rogers taught Japanese-American internees in Manzanar, Calif., and lived and worked in Japan from 1946–2009. He is survived by his wife, Sophie Fumie; brother, George; daughter, Paula Radetzky '91; and son-in-law, William.
1945
Harry Boardman, retired, University assistant provost emeritus, Marlboro, Vt., on April 15, 2009. Boardman was born on October 14, 1920, in Denver. He attended Riverdale Country Day School in the Bronx and graduated first in his Black-Foxe Military Institute high school class in Los Angeles. WWII interrupted Boardman's studies. He served in Europe until late 1946 as an Army typist and graduated from the College in 1949. Boardman spent the next five years as a waiter, typist and clerk. In 1954, he became the east coast director for the American Foundation for Political Education, where he worked for seven years before becoming Columbia's assistant provost under Provost Jacques Barzun '27. From 1963–69, Boardman was director of meetings at the Council on Foreign Relations, followed by a year at the Overseas Development Council before becoming secretary general of the Council on Biology in Human Affairs. In 1979, Boardman and his second wife, Jean, purchased the Whetstone Inn in Marlboro, Vt., and became innkeepers. He is survived by his wife; their sons, Hamilton '97, '05 SIPA and Brook; two of his three daughters from his first marriage to Joy Lange, Wendy and Robyn; son from an earlier relationship, Dieter Rauch; and four grandchildren.
1946
Shepard Conn, retired head of promotions department for The New York Times, Tallahassee, Fla., and New York City, on January 11, 2008. Conn is survived by his longtime friend and companion, Paula Gerson; daughters, Victoria, Liz, Jr. Kowalsky and Kate Bergeron; three grandchildren; and two sons-in-law.
1950
Donald E. Ross, chemical engineer, Washington Township, N.J., on February 20, 2008. Ross was a Marine veteran who served in the Korean War. He attained the rank of captain. Ross worked for Ebasco. He is survived by his wife, Virginia E. Ross; son; daughter-in-law; three grandchildren; brother, Kenneth, and his wife, Ellen; nephews and nieces, Glenn Ross, Ellen Zigler and her husband, Robert, Jeffrey Ross and his wife, Sheryl, Holly Bosley and her husband, Donald, Pamela Butler and Jay Merkle; and brother-in-law, Gerald Merkle, and his wife, Irma. Memorial contributions may be made to the American Cancer Association.
Other Deaths Reported
Columbia College Today also has learned of the deaths of the following alumni. Complete obituaries will be published in an upcoming issue, pending receipt of information and space considerations.
| | |
| --- | --- |
| 1932 | Gene F. Kuster, Slingerlands, N.Y., on September 20, 2008. Kuster earned a degree in 1933 from the Business School. |
| 1937 | George E. Saffa, teacher and school administrator, Green Valley, Ariz., on September 8, 2009. |
| 1938 | George H. Brown, Anaheim, Calif., on September 24, 2009. Brown also earned a B.S. and a Ph.D. in chemical engineering, both in 1941, from the Engineering School. |
|   | Richard L. Hammel, accountant, Laurel, N.Y., on August 9, 2009. |
|   | Bernard Jaffe, New York City, on August 31, 2009. Jaffe entered with the Class of 1938 but earned a B.S. and a Ph.D., both in mechanical engineering, in 1938 and 1939, respectively, from the Engineering School. |
| 1940 | Gordon T. Wallis, retired executive, Chicago, on October 23, 2008. |
| 1942 | Allan L. Goulding Jr., physician, Billings, Mont., on September 8, 2009. |
| 1943 | George H. Bissell, retired architect, Putney, Vt., on June 18, 2009. Bissell entered with the Class of 1943 but earned a degree in 1951 from the Architecture School. |
|   | Harry F. Klemfuss, publicist, founder of National Secretarys Day, Ringwood, N.J., on July 27, 2009. |
| 1944 | Clement C. Curd Jr., physician, Lenox, Mass., on August 28, 2009. Curd earned a degree in 1946 from P&S. |
| 1945 | Harold Samelson, research scientist, Berkeley Heights, N.J., on September 15, 2009. Samelson was awarded his College degree in 1947, then earned an M.A. and Ph.D., both in chemistry, in 1948 and 1952, respectively, from GSAS. |
| 1946 | Albert G. Prodell, physicist and professor, Burlington, Vt., on September 22, 2009. Prodell earned a Ph.D. in physics in 1954 from GSAS. |
| 1951 | Ernest J. Dupuy, editor, New York City, on September 2, 2009. |
| 1952 | Donald J. Engel, retired controller, Hopewell, N.J., on September 11, 2009. |
| 1960 | Stephen J. Waldman, San Francisco, on November 13, 2008. |
| 1965 | Roger V. Wetherington Jr., journalism professor, Jamaica, N.Y., on July 25, 2009. |
| 1967 | John A. Shayner, college v.p., Hackettstown, N.J., on September 23, 2009. |
| 1968 | Michael S. Lipari, business executive, Oneonta, N.Y., on August 9, 2009. |
| 1971 | Robert E. Wheeler, Livingston Manor, N.Y., on September 29, 2009. |
| 1977 | Bruce W. Flannery, director of fund development and marketing, activist, Exton, Pa., on August 14, 2009. |
| 1986 | Marshall B. Wright, finance executive, Williamsburg, Va., on September 10, 2009. |
1953
Richard N. Rosett, economist and university administrator, Pittsford, N.Y., on April 4, 2009. Rosett was born on February 29, 1928. A passionate advocate of free markets, property rights and limited government, he received numerous awards and honorary degrees, among them the Wilbur Lucius Cross Medal, presented annually to a small number of outstanding alumni by the Yale Graduate School. Rosett was chair of the economics department at the University of Rochester, dean of the University of Chicago's Graduate School of Business, vice-chancellor of Washington University and dean of the College of Business at the Rochester Institute of Technology. He also was a director of the National Bureau of Economic Research, a board member of several industrial and financial firms, chairman of the Keuka College Board of Trustees and founder and president of the U.S. Business School in Prague. Rosett is survived by his wife of 57 years, Madelon; children, Claudia, Martha, Joshua, Sarah and Charles; 15 grandchildren; and sister, Rose. Memorial contributions may be made to the Madelon & Richard Rosett College of Business Chair in Quality at the Rochester Institute of Technology; contact Karen Cegelski, 585-475-4189 or Karen.Cegelski@rit.edu.
Allan E. Thaler, architect, West Haven, Conn., on April 27, 2009. Thaler was born on September 9, 1931. He served in the Army from 1957–59 and was stationed in Verona, Italy. He received a master's from the Architecture School in 1960 and was principal of his own firm, Allan Thaler, RA. Thaler is survived by his wife of more than 44 years, Susan; sons, Sebastian '90, Alex and his wife, Valerie, and Cole; brother, Jerome; nephews, Daniel and Jonathan; niece, Naomi; and one granddaughter. Memorial contributions may be made to the charity of the donor's choice.
1962
Joseph C. Bass, retired ob/gyn, Jupiter, Fla., on July 10, 2009. Bass was born on May 28, 1940, in Claremont, N.H. He received his M.D. from the University of Vermont College of Medicine in 1966 and was a solo practitioner, first in Framingham, Mass., until 1986 and then at Baptist Hospital and South Miami Hospital, in Florida. In 1995, after retiring, Bass and his wife, the former Barbara Brandstatter, relocated to Jupiter. He enjoyed spending time with his family and friends, and playing golf at Admirals Cove and at his summer home in Quechee, Vt. Bass is survived by his wife of almost 42 years; daughters, Elisa Bass Bauman '93 SW and Robyn Bass Lavender '92 Barnard, '99 Business; sons-in-law, David and Brad; four grandsons; sister, Barbara Sacks; cousins, nieces and nephews. Memorial contributions may be made to the March of the Living, c/o Temple Beth David, 4657 Hood Rd., Palm Beach Gardens, FL 33418.
1963
Stephen F. Caldwell, editor, Tucson, Ariz., on March 18, 2009. Born September 10, 1941, in Hackensack, N.J., Caldwell was paralyzed due to a car accident three months after his College graduation. He lived independently for the next 46 years as a high-functioning quadriplegic. Caldwell worked most of his life as an editor at the Bergen (N.J.) Record. In 1970, he founded an intentional living community, Better Farm, in Redwood and was a freelance writer for the Bergen Record and The New York Times, among others. Caldwell completed two novels and several series of short stories and poetry, including Instead of Shooting Reagan: love poems to the whirled, published in 1985. He enjoyed bird-watching and the outdoors, often traveling 15 miles a day to track species and spending winters in Tucson on and off since 1973. Caldwell is survived by his mother; two nieces; and three nephews. Two brothers, Robert and Daniel, and a sister, Catherine Brown, predeceased him.
1969
David C. MacKenzie '69 PHOTO: TULSA WORLDDavid C. MacKenzie, arts critic, Tulsa, Okla., on October 31, 2008. MacKenzie was born on October 9, 1946, and grew up in Tulsa, where his father was renowned for his treatment of polio victims, one of whom was John Gold, who would later become Tulsa World's city editor and a friend of the family. MacKenzie graduated magna cum laude from the College and earned a master's in 1970 from GSAS in comparative literature. He was an intern for a newspaper in the South, where he got caught up in the civil rights movement of the 1960s. MacKenzie landed a job at the World, where from 1977–97 he was its entertainment writer. He is survived by his sisters, Jill and Ann Merrill; and brother, Malcolm.
1990
Kenneth E. Galluccio, lacrosse coach and referee, Hamburg, Germany, formerly of Lindenhurst, N.Y., on February 21, 2009. Galluccio was a proud Eagle Scout. He is survived by his mother, Erna; brother, Douglas; sister, Karen; aunts, uncles, cousins and one godchild. He was predeceased by his father, Richard.
Lisa Palladino