Obituaries
Carl F. Hovde '50, College Dean and Professor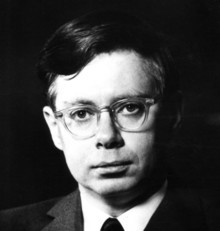 Carl F. Hovde '50, dean of Columbia College from 1968–72 and a longtime professor of English, died of cancer on September 5, 2009, in New Canaan, Conn. He was 82.
Born on October 11, 1926, in Meadville, Pa., Hovde enlisted in the Army after graduating from high school in 1944 in Pittsburgh. He served in France and Germany during WWII, and later graduated from the College with a degree in philosophy. Hovde earned a Ph.D. in American literature in 1955 from Princeton and taught at Ohio State  before returning to Columbia in 1960 to be a professor of English.
Hovde was appointed Dean of Columbia College in July 1968 in an unusual manner. Traditionally, deans had been nominated by the University president and approved by the board. But in part to meet student demands for greater faculty and student participation in the University's decision-making, Hovde, according to The New York Times, was subject to a revised selection process in which he was nominated by a committee of three faculty members and six administrators, then approved by then-University president Grayson L. Kirk.
Even before he was appointed dean, Hovde responded to the 1968 student protests by taking part in a three-member faculty committee to create a joint disciplinary committee to draft guidelines for disciplining student demonstrators. As dean, Hovde walked a fine line in dealing with the protest fallout and patching relations between students and administrators. "It is clear that things at Columbia need changing, and the sit-ins and the demonstrations were not without cause," he said at the time of his appointment, according to the Times. Hovde requested that the University drop criminal trespassing charges against students and told Newsweek that it was "a difference between me and the administration and the trustees." He also said the protestors "were not acting without cause, but they were acting with insufficient cause."
Hovde was able to help restore peace on campus in his years as dean. When he stepped down to return to teaching in 1972, a Spectator editorial said he had "sought to quietly guide the College, not to rule it; to use the force of persuasion and reason, not the blunt power of authority."
"[Hovde] earned the admiration of students and faculty alike. He had the capacity to exude the rationality of things and negotiate between different views," said Michael Rosenthal '67 GSAS, the Roberta and William Campbell Professor in the Teaching of Literature Humanities, in Spectator. "He had a sort of inner dignity about him which was able to make things happen."
Hovde taught English at the College until 1995 and then continued his Columbia career as director of the Friends of the Heyman Center for the Humanities. A strong defender of the Core, he received the Award for Distinguished Service to the Core Curriculum in 1997. He also was presented a Great Teacher Award in 1975 from the Society of Columbia Graduates.
Former Hovde student Dan Baker '76, now executive director of University donor relations and stewardship, said, "My lifelong connection to Melville and Moby-Dick began in Professor Hovde's American literature class. His passion and clear analysis were infectious. Recently he wrote a foreword to a new edition of Moby-Dick, which he signed for me. It has a special place on my bookshelf."
Hovde is survived by his wife, Bertha Betts; daughters, Katherine '89 SIPA and Sarah '95 Arch.; son, Peter '93; sister, Ellen; and four grandchildren.
Lisa Palladino and
Jesse Thiessen '11 Arts