Alumni Corner
College without Pizza: Life at Columbia with Celiac Disease
By Arianne Richard '10 and Jeffrey Spear '10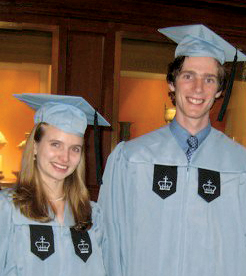 Arianne Richard '10 and Jeffrey Spear '10 at graduation.If you were asked how much of your day involves food, you might think about a couple of hours spent preparing and eating meals. Think again. Think about your coffee breaks; the odd candy and baked goods found in colleagues' offices; free food at an event, meeting or information session; and snacks or drinks with friends after dinner. How many of these instances involved food that you prepared and how many food that a restaurant, co-worker, friend or processed food company prepared? You probably have not seen the raw ingredients and preparation process for the grand majority of your food for the day. Now, imagine that an ingredient common to most kitchens, dishes and processed foods will induce a massive autoimmune reaction in your body. What in your daily life would you have to change?
Such is the situation of a person with celiac disease. Gluten, a protein found in wheat, barley and rye, induces an autoimmune reaction in the small intestine of the celiac patient that leads to nutrient deficiency, weight loss, fatigue, numbness and, often, autoimmune reactions in other parts of the body. Undiagnosed, the disease can become deadly. Jeff was more than 50 lbs. underweight before he was successfully diagnosed at 16. He says, "My condition became so bad that at one point doctors told me that, if I survived my then-unknown illness, I would have to cope with permanent mental and physical disability."
Fortunately, a gluten-free diet prevents these effects and recovery is usually quick to follow its implementation. Studies estimate that one in every 100 Americans has celiac disease. This is approximately three million people, or about the population of Manhattan and the Bronx combined. Each Columbia College class, therefore, likely includes 10–12 celiac students. We write as two from the Class of 2010 in the hope that our stories will add to a growing awareness of celiac disease by providing information to both celiacs living in the Columbia community and non-celiacs who interact daily with the celiac population.
Thus we return to the question: What would change in your daily life? Perhaps first would be your perspective on free food. To the average college student, free food is a staple of sustenance. Whether used as enticement to lunchtime review sessions, bribery to share your thoughts with the student council or excuses for dinnertime conferences, students respond. As celiacs, however, we generally experience such events without food. This is often just a minor annoyance, but during all-day events or travel, externally provided food becomes essential. Jeff recalls attempting to live on salad while traveling to fencing meets, while Arianne, who was diagnosed at 18, remembers subsisting on corn chips during the 28-hour Dance Marathon her freshman year. Our reaction to the statement "Food will be provided" is not relief or enthusiasm but concern.
The second change to your daily habits may occur in more casual communal eating settings: dinner at a classmate's suite, your roommate's homemade guacamole, the outrageous cocktail your friend just dreamed up. Sharing food provides a bonding opportunity in social gatherings but often the celiac must refuse and risk offending the host. Arianne remembers one archetypal interaction: "My host was so excited about a freshly baked apple pie, she could not fathom my refusal to try a slice. When I explained having celiac disease, she quickly reassured me that she had used white flour, and when I said that this was still a problem, she suggested I eat only the filling. Unfortunately, this was not a safe solution, either, and as I turned down the offer again, I was met with a scowl."
In addition to social discomfort, this conversation highlights two common misconceptions. The first is that only whole-wheat flour contains wheat. In fact, all common flours, pastas, breads and pastries as well as many marinades, soy sauces and liquors contain wheat. The second is that celiacs can pick around the flour, that a little cross-contamination won't hurt. Although celiac patients don't have the immediately life-threatening reactions associated with some allergies, many are sensitive enough that even the small amount of gluten spread from a shared stirring spoon can initiate an autoimmune attack. It's better to think of gluten like raw chicken — afterward, you must wash your countertops and utensils to avoid salmonella.
Still, being a celiac is not all about walking a tightrope around socially obligated eating. During our time at Columbia, we were lucky to find support in the local community and at the University. The Celiac Disease Center at P&S, established in 2001, hosts benefit events and free roundtable discussions and is diagnosing and treating more than 2,000 patients annually from around the world. The Morningside Heights deli Nussbaum & Wu now serves gluten-free pizza, allowing us, in our senior year, to laugh at the absurdity of finally being able to order our first dorm pizza. John Jay dining hall has made an effort to support gluten-free students by labeling dishes in the cafeteria and stocking a gluten-free refrigerator. Unfortunately, cross-contamination remains a concern in both the kitchen and serving trays; one such incident left Arianne dizzy and numb during her freshman year. We recommend better control over the gluten-free food and better advertising of the gluten-free refrigerator.
The greatest encouragement, however, came from our friends. Arianne recalls her suitemates surprising her with cupcakes from Babycakes, a gluten-free bakery on the Lower East Side, or excitedly reporting a new gluten-free product at Westside Market. Some friends were daring enough to try gluten-free baking themselves. Jeff fondly remembers the attempts of a few friends to make celebratory brownies, cupcakes and cookies. In perhaps the most ambitious and impressive of these projects, a friend baked a cake for the graduation party for his major. "My friend decided that for such a special event, she wanted to make a cake that everyone could eat," Jeff says. "The result, after a bit of research, was a gluten-free, dairy-free, egg-free and sugar-free cake that actually tasted good." But you don't have to be a magnificent pastry chef to support a celiac friend. We were able to enjoy countless dinners because people simply asked questions about what food was safe for us.
So, what is Columbia without gluten? Without beer, pizza and Chinese take-out? In the end, not all that different. You find alternative drinks and foods, plan for meal-less emergencies and make understanding friends. While a gluten-free diet is certainly not an unsurpassable obstacle, our point is that it need not be an obstacle at all. The only thing truly daunting about celiac disease and a gluten-free diet is the barrier of unfamiliarity. We thrived at Columbia because we were able to break down this barrier within a small group of friends. But if celiacs are willing to speak up, to not be apologetic about their condition, and the rest of the community is a little more conscientious, the barrier needn't exist. We hope that the Columbia community will continue to rise to the challenge of being aware and supportive of its celiacs, taking a lead in helping three million Americans lead normal lives.
For more about celiac disease, see the article in the Winter 2009–10 issue of Columbia magazine.
Arianne Richard '10 works in an autoimmunity research lab at the National Institutes of Health and intends to enter graduate school in fall 2011. Jeffrey Spear '10 works for the Center for the Core Curriculum and is trying to earn a place on the U.S. 2012 Olympic fencing team before applying to graduate school in fall 2012.