Alumni Profiles
Dr. Francis Collini '78 Leads Surgical Teams to Ecuador
By Casey Plett
Two years ago, in Ecuador, a 9-year-old boy who had stepped on a nail came to Dr. Francis Collini '78. The neglected wound had become chronically infected, and the only cure was a below-the-knee amputation.
"He had a small tear in his eye," Collini says, "but he brightened up and said 'That's OK, doc. I know I'm gonna be successful even with one leg. Be-cause my pediatrician has one leg and he's a doctor like you. So if he can do it, so can I.' For a 9-year-old to have that kind of fortitude!" Eighteen months later, the boy sent Collini photographs. "He's healed and doing great," Collini says.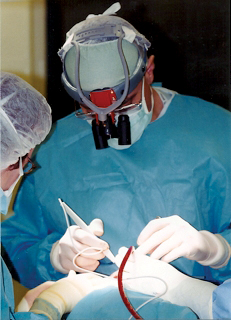 Dr. Francis Collini '78 operates on a child with a cleft palate.Starting in 1994, Collini has made it his mission to lead a group of volunteer surgeons from America to Ecuador one week every summer to do reconstructive plastic surgery for patients in need. He currently takes anywhere from 24–30 people with him, and the brave, one-legged boy is one of more than 1,000 people treated by Collini or his team.
Collini initially traveled to Ecuador with Hands Healing Hearts, an organization he co-founded with a surgical colleague. After nine years, the colleague opted not to continue and the organization disbanded. A couple of years later, Collini's wife, Susan, urged him to return to Ecuador. Collini agreed "on one condition," he says: that she organize the trips.
She accepted, and in 2006, the couple founded Community Cares for Kids, the current vehicle for Collini's team.
Cleft lip/palate repair, ear and burn reconstruction, and club foot repair are some of the surgeries Community Cares for Kids performs. Ecuadorians are informed through television and newspaper advertisements about the team's arrival and the surgical services offered.
Much of the organization's work concerns transporting equipment to the operating theater, a naval hospital in the city of Guayaquil. (The team stays in a nearby hotel.) "Anything in an operative field you will need you have to bring with you," Collini says. This year he and his team flew down 2,300 lbs. of equipment, from maxillofacial plates to nasal implants to sterile supplies. The mammoth inventory is overseen by Collini's mother, Cynthia, a nurse.
Though volunteers constitute the entire team, the annual trip costs approximately $25,000. Funds come from a mixture of a small group of regular donors, an annual fundraiser and a grant from the charitable organization SmileTrain.
"Frank's a gifted surgeon," says Dr. Jaime Morhaim '78, '82 P&S, a bilingual doctor — and Collini's College roommate — who accompanies Collini to Ecuador as a translator. "There aren't many people in the world who can do the reconstructive stuff he does. To see him go from sitting across the room from me studying organic chemistry, to this … it's pretty impressive." He and Collini speak several times a week.
As a high school senior in Bay Ridge, Brooklyn, Collini debated between Columbia and Fordham. "I was very naïve," he says. "I probably asked 50 people which college I should go to. All 50 said Columbia."
And Columbia has followed him to Ecuador. Dr. Dave Levens '82 P&S is part of the surgical team, and Dr. Roy Sheinbaum '82 P&S, an anesthesiologist, has helped in the past. Collini met both in his time at the College. Dr. Ray Ortega, a surgeon on the team whom Collini knows from high school, is an attending at P&S now, and Dr. John Andrews '89 Dental, who traveled with the team two years ago, met Collini when he moved to Pennyslvania.
Collini says he did not seek out Columbia people, but colleagues he knew from Columbia asked to be included as the Ecuadorian team grew. "It's really been quite amazing how Columbia gets involved," he says.
Collini majored in psychology, then attended SUNY Downstate Medical School in Brooklyn. He began his residency at Johns Hopkins but left because his pursuit of plastic surgery had earned scorn from some of the other doctors.
"In those days, [it] was a very young field … looked at as quasi-surgical," he explains. "I was strongly considering going into surgical infections and diseases, but at the crucial moment I dug deep into my guts." He transferred and finished residency at the University of Medicine and Dentistry of New Jersey.
After three years with the Mayo Clinic followed by six months with Hollywood surgeon Richard Ellenbogen, Collini opened a practice in Shavertown, Pa., in 1990, where he and his wife raised their children, Lauren, 23, and Joey, 20. He continues to live and run a practice there.
According to Collini, Ecuador has the highest rate of microtia (underdevelopment of the ear) in the world, along with staggering rates of cleft lip/palate and burn injuries. While his team is in Ecuador, they will triage 250–300 patients and treat about 65 of them.
"You make the decision that moment whether they get the surgery," Morhaim says. "And a lot of them can't." Not every kind of specialist can go down every year, and some patients have multiple syndromes that make treatment beyond the organization's capacity. Also, the hosting hospital does not have an ICU, prohibiting extended treatment beyond one overnight stay. "It's just tragic, it's beyond anything you've ever seen," Morhaim says. "But you keep going down. Once you go, you can't stop."
Collini echoes his longtime friend. "I'm going to do it until I can't do it anymore. I really enjoy it that much."
Casey Plett is a freelance writer based in the New York area.