Alumni Profiles
Steve Perlman '83 Enhances Communication Through Technology
By Nancy Christie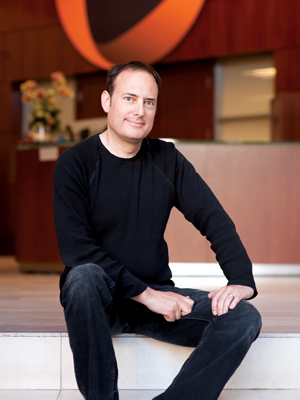 Steve Perlman '83, founder and CEO of Rearden, OnLive and MOVA, at the company's San Francisco headquarters. PHOTO: Jaymer DelapenaFounder and CEO of San Francisco-based Rearden, an incubator for companies developing new ways to combine art and technology, Steve Perlman '83 has spent his life building pioneering Internet, entertainment, multimedia, consumer electronics and communications technologies and services.
But he's always been more intrigued by what technology can accomplish than in how it works, viewing computers "just as tools, not an end in and of themselves." This attitude was apparent in his 1978 Columbia admissions essay, which he feels was "pretty unusual:" how to build a system that would understand human speech.
"I don't know why they accepted me but they did," he says with a laugh. "For some reason or another, they thought that would be a useful contribution to the campus."
Although Perlman's major was computing science, where he worked most closely with Yechiam Yemini, his professor and informal adviser, Perlman said that the classes he enjoyed most were those associated with the liberal arts.
"I really liked the Core Curriculum: Contemporary Civilization and Literature Humanities [and] the subject matter in Art and Music Humanities. I also took several classes on the novel and English literature with Barnard professor Maire Jaanus."
It was this interest in communicating thoughts and ideas through various media that indirectly led to one of Perlman's computer projects at Columbia. After an article he had written for Sundial, a campus magazine, on the usefulness of small computers for students didn't get a positive response from the IT department, he took his idea to the masses — in this case, the students.
"I had a computer I designed and a printer and terminal in my dorm room," Perlman says, "and I wrote software so a person without any technical knowledge could do word processing. I know that sounds pretty mundane these days, but in 1979 and 1980, that was a big deal. I had students lined up outside my dorm room to get onto the one word processor on campus!"
Perlman says that experience had a huge impact on him. "In every era, there always are people who are stuck in existing ways of thinking, and you need to just find ways around them," he says. "My way, of course, was to turn my dorm room into the word processing room that I thought the campus should have."
Since graduating from Columbia, the 49-year-old Perlman, who now lives in Silicon Valley with his wife, has continued to successfully "find ways around" existing conditions and circumstances, as evidenced by his more than 100 U.S. patents, with more than 100 pending.
But he also has found a great deal of satisfaction in "developing people" — a talent for which Perlman also credits Columbia, where he had the opportunity to recognize the vast diversity of journeys there are and how to synchronize his efforts with others in a way that would be mutually beneficial. It's a valuable skill that has enabled him to mentor the Rearden team of engineers, artists and scientists.
Cindy Ivers, senior director of accounting and finance for Rearden and OnLive, a Rearden-incubated company, has witnessed Perlman's approach in action. When his engineers come to Perlman with what they consider an insurmountable problem, she says he encourages them to think "outside the box." "He'll ask, 'Did you think about it this way? Or how about this way?' He just keeps plugging away until he finds something they haven't tested yet. He's told me, 'I am not the best engineer in the company. I just help people get over their issues and get them to be the best they can be.' "
But while Perlman has been successful in his endeavors — his recently patented facial motion capture technology, MOVA Contour, was used in the films The Curious Case of Benjamin Button and The Incredible Hulk — Perlman notes, "You never get exactly what you want out of the system. There always are impediments or things you learn along the way. What you need to do is learn while you are trying to reach your goal, and then reformulate that goal so you end up with some good outcomes … where something is useful to people and people see some benefit in it."
For example, when he was principal scientist of Apple Computer, Perlman led the team that developed the QuickTime technology, which "Apple management thought … was the dumbest idea in the world," says Perlman. But after Mac developers "went crazy over it," in Perlman's words, management allowed them to ship it as a product. "Now," he says, "more than 20 years later, it's built into every Mac, iPhone, iPod and iPad, and every PC running iTunes."
One of Perlman's goals is to develop a platform for creating interactive experience with the depth and realism of movies that average people can enjoy.
As he explains, while movies and television shows are passive forms of entertainment, "We stand on the threshold of a major cultural transition, where … we can step into a world and become immersed within it, either passively, or actively as a player. In time, perhaps not in my lifetime, the simulation of reality will be utterly complete. You will see, hear, smell and feel a completely artificially created world around you. You'll experience the terror of landing at Omaha Beach, or the joy of cradling a newborn baby. Fantasy will become indistinguishable from reality and will open huge opportunities for expression and communication."
How does Perlman define career success? He says it's when "you set out to change the world and make things better in one way or another, and have gotten reasonably close to the mark. It's being able to go and move things, move the ball just a bit further."
Nancy Christie is a freelance writer and author of The Gifts of Change. A member of the American Society of Journalists and Authors, she lives in Ohio.