Alumni Profiles
Emily Landsburg '01 Makes Sewage Part of the Solution
By Grace Laidlaw '11
For most environmental activists, sewage water represents a biohazard — part of a growing waste disposal problem that threatens to upset the planet's ecological balance. For Emily Landsburg '01, it's part of the solution.
Landsburg's company, BlackGold, has created the FOG-to-Fuel system, a device that converts sewer water into renewable energy. "FOG" stands for "fats, oils and greases," three components of wastewater that can be chemically altered to produce biodiesel and other eco-friendly byproducts using the technology developed and sold by BlackGold. Until now, the filtering of FOG has presented a budget concern as well as a health hazard for sewage treatment facilities. By turning the waste into sellable fuel, BlackGold's invention transforms a liability into a revenue source.
The company's motto — "Converting our crudest wastes into our cleanest fuels" — emphasizes the environmental and economic implications of its flagship product. Landsburg further points out that the system has benefits from a national security perspective. If used widely enough, the technology has the potential to improve the U.S. economy by limiting American dependence on foreign oil and making the country less vulnerable to energy shortages as a result of natural disaster.
"It's a pretty simple proposition," says Landsburg. "The more energy independent a nation is, the more secure it can be."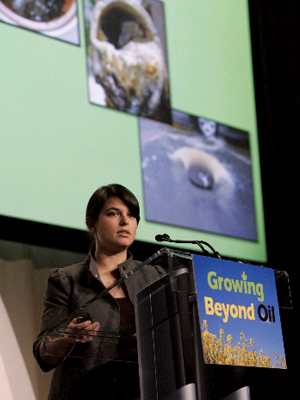 BlackGold founder Emily Landsburg '01 speaks at the 5th Annual Canadian Renewable Fuels Summit in 2008. BlackGold converts sewer water into renewable energy. PHOTO: National Biodiesel BoardBlackGold began as a subsidiary of The Energy Cooperative, a utility provider based in Philadelphia. The original venture, co-founded by Landsburg in 2004, was a green energy initiative on the part of the cooperative. The project was aimed at encouraging government agencies and commercial businesses to use biodiesel by making both the fuel and its delivery as affordable as possible. The search for a cost-effective way of generating green energy from otherwise useless materials led the company to focus on the wastewater industry and, ultimately, drove the invention of the FOG-to-Fuel technology. As interest in biodiesel grew, the project gained momentum, and BlackGold officially split off from The Energy Cooperative in 2008.
What started as a regional effort has since gone national. BlackGold already has begun receiving widespread acknowledgment for its environmental conservation efforts, including a Renewable Energy Leadership Award from the governor of Pennsylvania. The company ranks third on Bloomberg Businessweek's list of America's Most Promising Social Entrepreneurs of 2010. Its client list includes the city of San Francisco, which purchased the first commercial FOG-to-Fuel system in 2009.
BlackGold owes much of its success to the expertise and enthusiasm of Landsburg, who was named CEO shortly before BlackGold separated from The Energy Cooperative. Before she arrived in Philadelphia, the young entrepreneur already had built and sold her first company, a seasonal business that maintained boats. Water was familiar territory for Landsburg, who spent four years on the sailing team while at Columbia. Before long, however, she decided to branch out. "I really loved building businesses, but I wanted to be in a field that had more of an impact," Landsburg says.
Though BlackGold occupies a very different niche than her first company, Landsburg believes that her previous experience as an entrepreneur was good preparation for her current work. "There's a certain scrappy resourcefulness common to all start-ups," she says. There are common challenges as well, such as the pre-revenue phase that all new businesses must deal with while facing deadlines and satisfying investors without the benefit of independent cash flow. By the time she started BlackGold, Landsburg had already become an expert at saving time while cutting costs.
She is quick to distinguish, however, between financial and human resources. Landsburg believes that even in an economic downturn, it is possible for start-up companies with limited means to attract talented workers. In fact, she thinks that the recession may have given BlackGold an edge in the hiring process. "In an environment like this," she says, "people are more willing to take risks, and in that sense, it's a great time to be a start-up. We have some fabulous employees."
Those who knew Landsburg during college are not surprised that she has made a career as an entrepreneur. Carina Schoenberger '02, who sailed with Landsburg at Columbia, says that her friend has never been afraid to disregard convention. During a team trip to Miami, Schoenberger remembers Landsburg wandering off after practice to chat with local fishermen about the equipment they were using.
"She's definitely a perpetual student," Schoenberger says. "She learns from everything she does."
While at Columbia, Landsburg majored in applied math — a program usually reserved for SEAS students. Her decision required a special waiver from the Office of Academic Affairs. "I wanted to focus on applied math, but I loved the Core," she explains. "It offered a little bit of everything, a great overview."
This enthusiasm for tackling a wide range of subjects may explain Landsburg's willingness to take on the hectic schedule and broad-ranging responsibilities of a small business owner. "I've always liked having my hands in a lot of different projects at once," she says.
Landsburg is confident that there will be more entrepreneurial undertakings in her future, but not for a while. "At some point, much further down the road, I'd like to start more businesses," she says, "but for the foreseeable future, this is my sole and total focus."
Grace Laidlaw '11 is majoring in creative writing and psychology. She is director of Columbia's peer counseling hotline and contributes regularly to CCT.