Around the Quads
Class of 2014 Welcomed at Convocation
The sun was hot, the skies were clear and the members of the Class of 2014 and their families were busy on August 30 as they were welcomed at Convocation into the Columbia family. Under a large tent on South Field that provided shade but not much relief from the heat, President Lee C. Bollinger, Dean Michele Moody-Adams and SEAS Dean Feniosky A. Peña-Mora, among others, addressed the students and their families.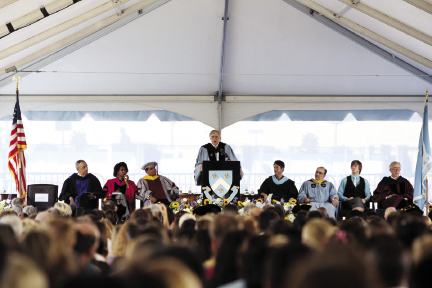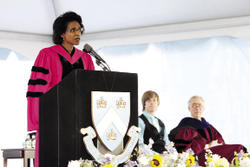 President Lee C. Bollinger (top) and Dean Michele Moody-Adams were among the speakers who welcomed members of the Class of 2014, their families and guests at Convocation.After the traditional, colorful parade of students carrying the 159 flags that represented every home state and country of the student body, Dean of Student Affairs and a.v.p. for undergraduate life Kevin Shollenberger welcomed the guests by noting that Convocation is "a celebration of the Class of 2014 as well as transfer students, and a day to honor new students and their families." New Student Orientation Program coordinator Kevin Magus '12, who was joined in the audience by many of the NSOP students who ably facilitated the move-in process, made the point that that being at Columbia teaches students how to think, not what to think.
PHOTOS: DANIELLA ZALCMAN '09Moody-Adams took the podium at her second Convocation as dean of the College and v.p. for undergraduate education. She addressed the students as "a select group" and congratulated them "on the accomplishments that brought you here today." She also addressed the parents and families, saying that their "nurture and support have been essential" and added that "Student Affairs professionals are committed to the success of your daughter or son."
Moody-Adams stressed to the students that the Core Curriculum offers the best of the liberal arts tradition. She said that while they may at times feel stressed by their many choices and responsibilities, she urged them to "embrace uncertainty, and you will be on the path to taming it … you should find wonder in everyday surroundings and remain open to the possibility of being surprised."
The ceremony concluded with the singing of "Roar, Lion, Roar," Columbia's fight song, written by Corey Ford '23.
Lisa Palladino