Bookshelf
Danielle Evans '04 Sees the Past in the Present
By Grace Laidlaw '11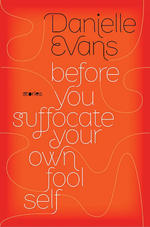 In her new collection of short stories, Danielle Evans '04 challenges both social boundaries and stylistic conventions. The author's first full-length work, Before You Suffocate Your Own Fool Self (Riverhead Books, $25.95), is set in modern-day America. Evans' characters live in a world of uncertainty and contradiction. In "Robert E. Lee Is Dead," a teenager rises to the top of her high school class only to jeopardize her graduation by pulling a dangerous prank. In "Snakes," a biracial girl is tormented by her white grandmother. Children are expected to make adult choices, and prejudice persists even as the lines between ethnic groups grow fuzzy.
Photo: Courtesy Penguin At the same time, Evans' narrative style departs from traditional literary conventions. She mixes informal vernacular with elegant prose, creating characters whose most poignant remarks are hidden in their most casual comments. Evans also collapses time and space in her narration; though none of the stories in her debut collection is longer than 40 pages, many of them span several years and a wide range of geographic locations. In "The King of a Vast Empire," a brother and sister travel from Massachusetts to Maryland to Washington, D.C., all in the course of a single night. "Jellyfish" reveals an entire family history by telling the story of one father-daughter lunch.
Evans' treatment of time has thematic implications for her work. In the minds of her characters, the line between the present and the past often is blurred. "I think readers will notice how present the past is in the book," says Evans. "Again and again, characters find that they can never fully escape their histories."
One boundary that Evans sees as sacred is the line between truth and fiction. Though she has undergraduate degrees in anthropology and African American studies, Evans chose to become a fiction writer because, as she explains it, she has too much respect for the truth.
"I loved studying anthropology because it opened up the way I think about people and the world," she says. When reading interviews and historical documents, however, she found herself frustrated. "As an anthropologist, I had to observe and report events exactly as they happened, but I often thought that I could tell a better story."
Rather than risk embellishing the truth, Evans turned to fiction. Of course, her stories are not pure invention. Bits and pieces of the author's own life have found their way into her writing. Asked whether she is afraid that people she knows will recognize themselves in her characters, however, Evans laughs.
"People are only right about 50 percent of the time, and as long as you don't tell them which 50 percent, they'll never know."

While her anthropology studies led Evans to think about the divide between truth and fiction, other classes shaped the way she thought about writing. Columbia marked Evans' first real exposure to contemporary literature, and she recalls being particularly inspired by Junot Díaz's use of vernacular and Toni Morrison's complex narrative structure. Evans also credits Morrison with proving to her that the topics she was most interested in writing about — including African-American culture and female relationships — were worthy subjects for literary exploration. "I think I needed to read her before I could give myself permission to write," Evans says.
Evans' father is a College alumnus and her mother a Barnard alumna, and Evans initially was reluctant to follow them to Morningside Heights. "There was just so much history there," Evans says. "I didn't want to feel like I was copying their example." Her parents had to bully her into visiting the campus; once she did, she was enamored.
Evans made the most of her Columbia experience, becoming head of the Pan African House and political secretary of the Black Students' Organization, among other activities. She also wrote a weekly opinion column, "(Re)-Education," for Spectator. Along with her two majors, Evans pursued a creative writing track. She says she especially enjoyed classes with Colin Harrison and Victor LaValle. In fact, several of the stories in Evans' book began as assignments for undergraduate writing courses.
Given that she's been revising some of her stories since college, it is perhaps not surprising that Evans feels more than ready to move on to her next project. "It's like I just got engaged, and everyone keeps talking about my ex-boyfriend," she says. She is working on a novel, tentatively titled The Empire Has No Clothes, about a young woman who is asked to rewrite a history textbook for a progressive charter school.
Though many of the stylistic elements that define her first book will reappear in this next work, Evans says the project will be something of a departure for her. "Writing a novel forced me to think about structure in a new way," she says. The story has been especially challenging to construct, Evans says, because large chunks of it are set in the past. Beyond these details, she refuses to reveal too much about her latest work, but she does promise an engaging read.
"It's been a lot of fun to write," Evans says. "The characters get up to all sorts of shenanigans."
Grace Laidlaw '11 is majoring in creative writing and psychology. She is director of Columbia's peer counseling hotline and contributes regularly to CCT.