Cover Story
Kyle Smith Takes the Reins
Columbia's new men's head basketball coach hopes to lead Lions to the next level
By Alex Sachare '71
In a league historically dominated by the Killer Ps, Penn and Princeton, Kyle Smith wants to turn Columbia into the next Cornell.
Last spring, Cornell compiled a 29–5 record and won its third consecutive Ivy League championship. It advanced to the Sweet Sixteen, the third round of the NCAA Division I Men's Basketball Championship, something no Ivy team had achieved since Penn reached the Final Four in 1979.
"Cornell had a great team," says Smith, who was named Columbia's 22nd head coach on May 2. "It obviously can be done. You could say they got a 7-footer who transferred in and he ended up being really good, and they got a kid from somewhere down south and you could say he just stumbled onto campus. Well, I think Steve Donahue built a pretty good program over 10 years that gave them an opportunity to really blossom and develop and turn into what they did."
Smith can relate. Another team in that Sweet Sixteen was St. Mary's, a little-known school in California that had a 2–27 record in 2000, the year before Smith signed on as an assistant to his longtime friend, Randy Bennett. "They were kicking dirt on the place, talking about dropping down to Division III," says Smith. Last year, it was St. Mary's that did the kicking, all the way to a 28–6 record, its second consecutive season with more than 25 wins.
"Every job has hurdles you have to get past," says Smith. "It's not different at Cornell, but they did it. Let's not let the hobgoblins and excuses get in the way. We're going to keep motoring and get through it."
Smith, 41, was not yet born when Columbia beat Princeton 92–74 in a one-game playoff in 1968 to win its only Ivy League men's basketball crown. The 1950–51 Columbia team that went undefeated in the regular season won the championship of the Eastern Intercollegiate Basketball Conference, the forerunner to the Ivy League that also included Army and Navy. Since the Ivy League was created in 1954, Penn and Princeton have combined to win 48 of the 56 men's basketball championships.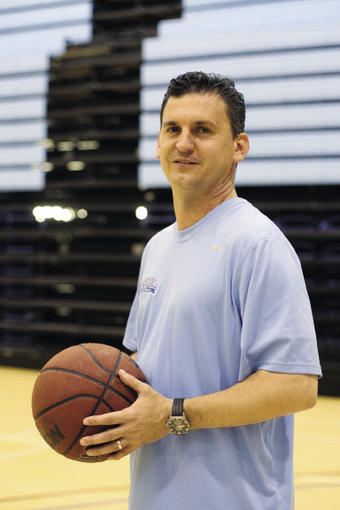 After 18 years as an assistant, Kyle Smith assumes his first head coaching position at Columbia.PHOTO: DANIELLA ZALCMAN '09Seven coaches have come and gone since Columbia last wore the Ivy crown, and the Lions have enjoyed just three winning seasons in the last 30 years. Columbia was 86–108 in the last seven years under coach Joe Jones and had three 7–7 Ivy seasons before dipping to 5–9 in the league and 11–17 overall last winter. So what makes Smith, a head coach for the first time after 18 years as an assistant at San Diego, Air Force and St. Mary's, believe he can do what so many others have failed to accomplish?
"The experiences I've had," responds Smith unhesitatingly. "Where other people see a dead end, I see a tremendous opportunity. It was that way at St. Mary's, and it's the same thing at Columbia. St. Mary's was not exactly a juggernaut when I got there.
"Don't get me wrong, this place is not 2–27. It's not," adds Smith, speaking in his third-floor office in the Dodge Physical Fitness Center prior to the start of the fall semester. "When Joe got here, he inherited the same situation we had at St. Mary's. I know how hard he worked. It's hard to get over the hump. Joe put in a lot of work here, and I'm hoping to pick up on that."
But why does Smith think he can take the Lions to the next level? "I guess it's because I've been in similar situations," he replies. "I've done it. It comes down to basketball and team, the things we emphasize. I've been in situations where you have to look at things differently and we've been able to overcome the issues we were facing. It's a matter of instilling a belief that it can be done, talking about it and then going out and doing it.
"Penn and Princeton have had great teams. Cornell showed it can be done. Columbia has had great teams, too. So it's been done in the Ivy League, and now we're going to try to do it in New York City. Can you imagine if that happened?"
The Columbia program bottomed out in 2002–03, when the team was winless in the Ivy League and 2–25 overall. Jones came in and laid a foundation. A campus presence, he boosted team morale, reignited spirit among students and alumni, recruited some good players and got the Lions to the middle of the Ivy League.
But last spring, when Donahue cashed in on Cornell's success and moved on to become head coach at Boston College of the Atlantic Coast Conference, Jones resigned to become Donahue's top assistant.
Athletics Director M. Dianne Mur­phy said more than 150 applications were reviewed before her search team selected Smith as Jones' successor. "He's exactly what we're looking for as our head basketball coach," Murphy said when Smith was introduced to the Columbia community on May 5, citing Smith's "strong leadership skills, excellent basketball knowledge and successful recruiting experience."
For Smith, the opportunity was "too good to pass up," he says, even though it meant uprooting his family from a comfort zone on the West Coast. "Head coaching jobs are hard to get, period, and everybody knows the Ivy League and its schools. For certain kids, for certain families, there's a feeling of awe when you say Columbia. Now I want to get the basketball to match that, which Columbia deserves."
Smith had no qualms about moving from a school, albeit a relatively lesser-known one, that was able to offer athletics scholarships to one where all financial aid is need-based.
"I like the non-scholarship piece," he says. "I was a Division III player at Hamilton College, and there was an investment on our part as players. We were there for the love of the game. I've been on the other side of that for a long time, where you're offering scholarships that are worth $50,000 a year. There's somewhat of a lack of appreciation. I don't know of many 17-year-olds who are ready to take on a $50,000-a-year job, which essentially is what it becomes. There's a sense of entitlement, and they tend not to want to give back, whereas people at Columbia, or where I went at Hamilton, tend to give back."
Smith says he was pleasantly surprised by the interest in the basketball program among alumni. "I think the piece that really sells Columbia is that people who have gone through here have had a wonderful experience and they care so much about it. I wasn't expecting that. There hasn't been great recent success in the program, and usually when that happens people kind of drift off, but that hasn't happened."
While he can't offer an athletic scholarship as an enticement, Smith believes he has a simple recruiting tool that could be just as effective.
"Get 'em on campus," he says. "There are so many people who are willing to come and tell them, 'This is what it's like to go to Columbia, this it what it was like when I was here.' There's excitement in their voices. They're emotionally attached.
"Where other people see a dead end, I see a tremendous opportunity."
"From my perspective, as an outsider coming from the West Coast, what makes Columbia different from the other Ivy League schools is New York City. The kid who wants the bright lights, the big city, the culture here … it's advantageous for a certain kind of kid. For some it's not. But those other seven campuses are different; this one's unique, it's New York.
"In another sense, Columbia beats expectations. People think of New York, it's going to be all hustle and bustle, but that's not it at all — especially when you get through the gates and see the green space, the lawns. It's what you want it to be. Coming to the Dodge Fitness Center through the campus is my favorite walk. It's peaceful and calm. It's really beautiful and not what you might expect."
Kyle Smith: Off the Court
For a man with a vanilla last name, Kyle Smith has a rocky road background.
"I'm kind of a product of the American tapestry," he says. "My last name is Smith, but my mother is Italian and my dad is Polish, Czech, Eastern European. My parents split and my mother remarried a man who is Jewish and from New York and Philly. I have family in California, Seattle, Texas, Michigan, North Carolina, Ohio. My ancestors came through Ellis Island, and now that I'm in New York, it's kind of circled back.
"We have a rich, deep history of people from all around this country."
Smith was born in El Paso, Texas, and raised on the nearby Fort Bliss Army base. He played basketball for Rick Sherley, a prominent Texas schoolboy coach, at Alief Hastings H.S. in Houston. He is married and lives in Morningside Heights with his wife, Katie, and sons, Rocco (2) and Bo, who was born on August 26 at NewYork Presbyterian/Columbia University Medical Center — "a true New Yorker," Smith says.
Smith spent a year at Deerfield Academy and graduated from Hamilton College in 1992 with a degree in English literature. Despite that major, Smith is at a loss when asked the last book he has read.
"Anything of weight … it's been awhile," he admits. "It's hard to turn off the coaching thing. The Kite Runner — I was about five years late to that one, but it was a book of substance that I enjoyed. Right now, with a 2-year-old and a newborn, I'm not sure how much reading I'll be doing. Actually, I've been reading Five Silly Monkeys just about every night for the past six months."
Smith played basketball at Hamilton and helped the team to a 26–1 record and a No. 1 ranking in Division III in 1991. He holds a master's in educational leadership from the University of San Diego, where he began his coaching career in 1992.
A.S.
Smith is hopeful of attracting prospects who will see it the same way.
"For a recruit, I want Columbia to be his destiny. This is where he wanted to go, this is his first option, boom, I want to make this happen here. If a guy thinks he's settling by going to Columbia, he's not going to be as invested in the program. He's thinking, 'I could have gone somewhere else, I could have gotten a scholarship.' Well, we need to change that, we don't want that mentality. We want guys who wants to be here, who will say, 'This is awesome!' "
What does Smith, who coordinated recruiting for St. Mary's, look for when he evaluates prospects?
"Feel," he responds. "When I say feel, I mean an understanding of the game. I like to find guys who can pass. They see things happen before they happen, offensively as well as defensively. They understand where the other four guys on the team are at all times.
"In more general terms, I look for guys who can dribble, pass and shoot. You want those qualities. And really, that's harder to find than you might think. That's the definition of a guard, and we'd like to have five of them out there. Now, you're not going to win with five 5-11 guys. But can you find a 6-8 forward who can do those things? Can you find a center who can pass the ball? That's a gift."
Smith adds, "Sometimes there's too much of an emphasis on recruiting. It's what the fans and the alums like to talk about — who's coming in, who's going to do what. The big thing we'll do here is worry about the ones we have and not so much about the ones we don't. The guys we have now, those are guys we were excited about three years ago, so let's see if we can get them to reach their full potential. That was our blueprint at St. Mary's. We weren't signing McDonald's All-Americans, but we got guys with great attitudes, guys who really wanted to be there. That's important. We've got guys who really want to be at Columbia."
Smith has definite ideas about the kind of program he wants to run at Columbia. "Our thing is going to be selling team," he says. "That's where my confidence comes from. Fans and the media are going to gravitate to star players; fine, that's how you market the program. But there's an underlying integrity to the team, the program, certain expectations that everybody's meeting that make it really good. So at St. Mary's, when we lost five seniors from our 26–8 NIT team, including one NBA player and the second-best player in school history, we came back and went 28–6 last year and to the Sweet Sixteen. It was a confirmation that team matters, that doing the little things to support each other is important. If you do things right, if you support each other, you'll succeed.
"The coaching philosophy we had at St. Mary's and that I've carried with me through high school and college is suited for the Ivy League, for guys who are willing to put the team first."
Like Jones before him, Smith wants his team and his players to be fully integrated into campus life.
"I don't want our shirts to say Columbia basketball, I just want them to say Columbia," he declares. "We can be a great vehicle for promoting what Columbia can be, what Columbia is about. Now, I want guys who are committed to basketball and being part of a team, because those relationships are going to last forever. The alumni who played here have that, and a lot of them are very close.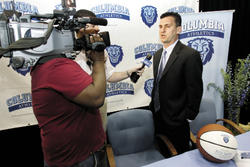 At his introductory news conference in May, Smith spoke of trying to install an up-tempo style of play that takes advantage of fundamental skills.PHOTO: GENE BOYARS"But we're Columbia. Our guys will be part of the community. They're students, there's no doubt about it. They're not separate. People see them, they go to class like everyone else, they're regular Joes. And we do have the best arena for bringing the community together. We're on campus. It's where people can meet. I don't know what it's been like, but I'm hoping that no matter what your thing is, you'll come over here for a two-hour break and support us."
As Smith speaks, Columbia's 2010–11 season opener at LaSalle on November 12 is more than two months away, so it is understandable that he is reluctant to get into specifics about this year's team. The top returning player is guard Noruwa Agho '12, a second team All-Ivy selection who led the Lions with 16.3 points per game and 58 three-point field goals last season. Others who saw significant action a year ago include Brian Grimes '11, Asenso Ampim '11, Mark Cisco '13, Brian Barbour '13, John Daniels '13, Steve Egee '12, Matt Johnson '12 and a pair of 7-footers, Max Craig '11 and Zack Crimmins '11.
Kyle Smith: Coaching Mentors
When asked what coaches have influenced him and shaped his coaching philosophy, Kyle Smith says, "One of my biggest influences is my high school coach, Rick Sherley. He was the executive director of the Texas Association of Basketball Coaches and has about 800 wins. Beyond the coaching frame, he was a really good mentor as a human being. His influence on me, at an age like 14 or 15, was tremendous because kids can go in all directions at that age. He really developed my work ethic, kept me on a schedule and then helped me to see the hard work pay off with some successful teams.
"When I first started coaching in Division I, I expected the guys to be vastly superior to me because I was a Division III player. I thought their attitudes were going to be better, they're going to be better athletes, better players, they're going to know more about basketball. Well, I found out that's not the case. My foundation was this high school coach who emphasized the fundamental skills, shooting, defense, doing the little things. He really gave me a good blueprint in what it takes to win.
"Like the saying, 'Everything I need to know I learned in kindergarten,' just about everything I need to know I learned in high school, from Rick Sherley.
"Then, obviously, there's (St. Mary's coach) Randy Bennett. I worked with him the last nine years and have known him for 18 years. He's the guy who got me in this business, and he always believed in me. We worked together for four years and then went our separate ways, but it was one of those deals where if he ever got a job as a head coach he said he was going to bring me back, and so he brought me to a 2–27 situation at St. Mary's. And we made it work. It was his first head coaching job and I got to sit next to him, and that was a valuable experience. We were a really good team."
"Moving some 13 inches over to your left (from assistant coach to head coach) is a big move. You make all the decisions, have all the responsibility and get all the criticism, too. I always knew what he was doing (as the head coach), but now that I'll be sitting in the same seat, I'll get it that much more, of course. So he's obviously a huge influence.
"And [Denver coach] Joe Scott, he was an Ivy League guy [Princeton], I was with him for one year at Air Force. I sat with him in his first job, so I know how crazy those first-year head coaches can be. I'll try to keep it under control and make sure I don't embarrass myself too much."
A.S.
"I've watched video of our team," he says, "but I don't want to get too much of a preconceived notion of what guys can and can't do. I think they hired me because in a sense they wanted a clean slate, where each guy has an equal opportunity to produce and earn a place in the rotation.
"Obviously, the goal is to win the league, but we want to see improvement. We want to improve each year. We were an 11-win team and we lost three seniors, but we have some good talent coming back. We want to make sure our attitude is right and our work ethic is right, and let's see if we can improve from there. We'll set team goals, and we'll reevaluate them periodically."
Asked about his coaching philosophy, Smith said, "I come from a history of playing up-tempo and I prefer to play that way. Now, are you going to go from A to Z in four months, when that has not been Columbia's style? I don't know. And there are some speed bumps in trying to play up-tempo. It's going to be hard to change the way Princeton plays, especially on their court. Are we going to be able to speed them up? I don't know. But that's what I would like."
Smith says there are common misconceptions with regard to his chosen style of play.
"Skill is what enables teams to play up-tempo and score more points," he explains. "The general perception is that you need to be athletic, quick, fast to play up-tempo. Well, our St. Mary's team was 20th in the country in scoring last year and had to be the slowest team in Division I. Our two big men were 6-11, 265 and believe me, not fleet of foot. We might have had four dunks all last year. We were a Sweet Sixteen team that couldn't dunk. But our skill level was tremendous. In assist-to-turnover ratio, we were near the top in the country. Our three-point field goal percentage was fourth in the country.
"Our emphasis will be on skill — the ability to make shots, take care of the ball."
Smith also pays close attention to off-court attributes.
"I really want guys with great attitudes and great work ethics," he says. "All things being equal, I want the great attitude guy. You ask him to do something, he's going to go above and beyond to do it and that's the foundation of our culture. We'll reward guys who do the little things. I've been preaching that.
"Team matters; doing the little things to support each other is important."
"Now, how do we put a team together, get the chemistry right, get the egos right? That remains to be seen. I'm sure there'll be some bumps in the road. But these are Columbia kids. They're sharp cookies, it's as simple as that, and it's refreshing that way. You can raise the bar for them, as far as the work level that is expected of them. So I'm going to gauge them based on their work ethic and their level of commitment to the team. Those guys will do well in our program. They might not all play a lot. Obviously, only five guys are going to start and only eight or nine are going to play regularly. But I want guys on the team who will have a sense of pride and for whom it will mean something to wear the Columbia uniform."
Next March, when his first season is in the books, how will Smith measure success?
"Obviously, results are how you evaluate your performance in this business and measure whether you've reached your goals. An Ivy championship and a berth in the NCAA Tournament, we'd be walking on clouds around here. That would be terrific. But in more general terms, I want us to be a better team in March that we were in November. I want to see us improve each day.
"We're going to give each player tangible things to work on and get better at each day," says Smith. "We'll do a lot of measurement every day in practice — we'll film it, evaluate it and give the guys feedback the next day so they can measure how they're progressing, areas they need to get better at as well as areas in which they are doing well."
Smith cites three metrics as especially important: assist-to turnover ratio, rebounding margin and defensive field goal percentage. "These are the things that come to mind that we can measure. We're probably not going to be able to get all three things, but we'll try. If we can improve in all three of those areas, we will give ourselves a chance to have a great season."
Watch the press conference introducing Kyle Smith as the new men's head basketball coach.
Alex Sachare '71, the editor of CCT, has written, edited or contributed to more than 20 books on basketball, including The Official NBA Basketball Encyclopedia, America's Dream Team (with Chuck Daly) and The Complete Idiot's Guide to Basketball (with Walt Frazier).