Features
Dr. John Clarke '93 Raps for the Health of It
By Kim Martineau '97J
Dr. John Clarke '93 has rapped about asthma and allergies, but none of his songs have caught on quite like the one about H1N1 flu. A medical director for the Long Island Rail Road (LIRR), Clarke spends his free time spreading public health messages through hip-hop. As swine flu hysteria swept the nation last year, Clarke coolly dished out prevention tips in an award-winning rap video.
I'm recommending washing hands for protection
Front and back real thorough while you count 20 seconds.
Hand sanitizer, I advise you get it, why?
It makes germs die, when you rub and let it dry.
Shot mostly at Columbia, the video was submitted to the U.S. Health and Human Services' national flu.gov PSA contest, where it beat out more than 200 other entries to win $2,500, a spot on national TV and enough attention to garner 240,000 hits on YouTube. The publicity has allowed Clarke to take his career in new directions. The National Psoriasis Foundation and LIRR have since commissioned the rapping doc to write songs for them, and most recently, he has entered an original song to promote condom use in a contest sponsored by Trojan and hosted by rapper Ludacris.
Dr. John Clarke '93's songs often are a family affair. His son, John Jr., provides vocals, as do his wife and daughter.
On camera, Clarke, a specialist in occupational medicine, waves his hands and leans into the lens as if ready to brag and boast. Off-stage, he is polite and unassuming, leading a quiet life on suburban Long Island with his wife, Elizabeth, a nurse, and their two children. Though Clarke has been writing rap lyrics for three decades (since he was 8) and recording songs for others since college, it was H1N1 that gave him national exposure. He regularly speaks at churches and schools about public health, but lately the requests for his speeches and performances have been rolling in more often.
On a Sunday this past spring, Clarke guided his minivan through Long Island's sleepy suburban streets to Grace Cathedral International, an African-American congregation, where a group of teenagers and their parents awaited. While some artists rap about flashy cars and sexual conquests, Clarke is a self-described "physician musician" whose material consists of medical case histories and textbook terminology. Through hip-hop and plain language, his goal is to reach those who normally tune out authority figures. The health topics for teens include suicide, HIV and the dangers of smoking, subject matter serious enough that Clarke is dressed in a suit and tie, which he wears to all performances.
As Clarke drove, his latest song played from the car stereo:
Yes, Dr. Clarke is back
I came to drop a rap
Cause everybody needs to watch the gap.
The gap, for those who do not regularly ride commuter rail, is that treacherous few inches of space separating a train car from the platform, made famous by several serious injuries and lawsuits in recent years. The LIRR shot video of Clarke performing the rap, for use as a public service piece on train platforms.
Clarke has been medical director for LIRR for four years, supervising its drug testing program and determining whether employees are medically fit to work. But it wasn't until Newsday profiled him on September 2, 2009, after the H1N1 video hit, that people at work learned he could rap. In its ongoing campaign to remind the public about the gap (and avoid more lawsuits), LIRR asked Clarke if he would write for them.
Until that point, Clarke's hip-hop career had been on hold. His last album, Children's Health Songs, teaching kids about dental hygiene and healthy eating, came out in 2005. But after the birth of his son, John Jr., now almost 5, followed by a daughter, Sandra, 2, he found his creative energy sapped by the demands of work and parenting.
One morning in May 2009, swine flu was mentioned on the news. "Hey John, look!" Clarke remembers his wife saying. "Might be good to write a song."
Over the next few days, Clarke started gathering information and writing lyrics, and a month later he recorded the song. In August 2009, while searching for a government agency that might like to use the piece, Clarke stumbled across the video contest on flu.gov. With four days to go till deadline, he dusted off his video camera, called his cousin, a photographer, and traveled to Columbia to shoot the piece on the walkway over Amsterdam Avenue.
By the end of August, the video had climbed to the Top 10 on YouTube, and the talk shows began calling. Clarke appeared on The Wendy Williams Show and then flew to Los Angeles to appear on The Doctors. The night before the taping, he was stopped on Hollywood Boulevard for an autograph. "We just laughed," his wife says. A few days later, Secretary of Health and Human Services Kathleen Sebelius called to congratulate Clarke, and he traveled to Washington, D.C., to accept his prize.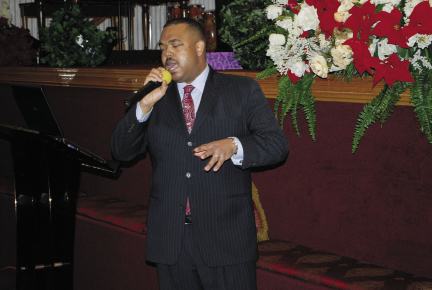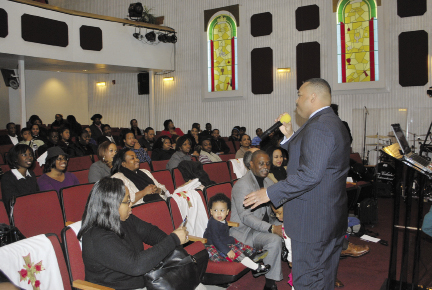 Clarke spends many weekends touring Long Island in his minivan, performing at churches and other venues.PHOTOS: Kim Martineau '97JClarke was a member of the first generation to grow up with hip-hop and spent most of his formative years in Queens, where LL Cool J and Run DMC were becoming household names. He tried to emulate the complex rhymes of Big Daddy Kane and Rakim, and in high school often memorized vocabulary words by setting them to rap. Still, his parents viewed his hobby nervously. "They didn't like it," he says. "I had to assure them I wouldn't allow it to jeopardize medical school."
At Columbia, Clarke was pre-med and did a double concentration in music and sociology. But he also found time to rap at talent shows, cut hair for classmates and neighborhood pals, and bring activists to campus to speak, including Rev. Al Sharpton, Ralph Nader and Dr. Ruth. "He was the only other person I knew at school who really appreciated early '80s Jamaican dancehall," says his friend Michael Goldwasser '93, a Grammy Award-winning reggae producer. "While I could not have predicted that he would later rap about medical issues, it definitely makes sense that he would rap about issues that are important to society."
Clarke recorded his first demos from Goldwasser's dorm room and his first songs in Professor Brad Garton's "MIDI Music Production Techniques" class, where they experimented with the synthesizers and sequencers used by hip-hop artists at the time. "We encouraged everyone to really explore their creative side," says Garton. "I guess it paid off for John."
Clarke took Music Humanities with Kitty Brazelton, and for his final project, he transposed a piece of classical music that would later help him compose musical tracks. He aced the class, and Brazelton wrote him a recommendation for medical school.
During his 1997 residency at Mount Sinai School of Medicine, from where he also earned his M.D., Clarke composed his first medical-rap, "Asthma Stuff":
Two puffs of the asthma stuff,
Twice a day,
Stops the wheeze and helps you to breathe!
Asthma sufferer LL Cool J introduced the song in what became an internal hospital video. Since then, Clarke has self-produced six albums about diabetes, sickle cell anemia and even allergies (one song is playfully titled "So Many Tissues") that he sells mostly to school nurses and other health professionals. His wife and son often contribute vocals while Clarke puts down the layers of synthesizer and drum machines himself. He plays the clarinet, piano, bass guitar and recorder, but says it's faster and easier to rely on synthesizers.
Clarke's most ambitious album, Health Hop Music, is geared toward teenagers. On that Sunday at Grace Cathedral, he interspersed songs from the album with statistics and the occasional scripture. The big risk in rapping about medicine, he says, is coming off as preachy or worse, corny. To avoid that, he tells stories. In "Playaz Klub," a young woman infected with HIV hides her status from her sexual partners, a true story Clarke learned about from a school social worker. Part of the song is told from the guy's point of view, and as Clarke rapped, several teenagers smiled at the words.
He took her back to the crib to hit a homerun,
In his mind he said, 'This ho's dumb.
I didn't buy her drinks or take her to a movie,
didn't spend a cent and still I got the booty!'
But getting lucky leads to a life-changing mistake; the song ends after the guy tests positive for crabs, gonorrhea and HIV.
After the lecture, the crowd stood to applaud. The teenagers mingled in the lobby on their way out and gave Clarke positive reviews. "He had a nice flow," says Jelissa Dacosta, a student at Nassau Community College who is studying to become a nurse. "We hear about this stuff all the time, but hip-hop is a good way to get the message out."
Dr. John Clarke '93 entertains in two of his most popular music videos.
Kim Martineau '97J is communications manager at Transportation Alternatives, a walking, bicycling and public transit advocacy group in New York City. She is a former science writer at Lamont-Doherty.