Obituaries
1933
John R. Phelps, music teacher, Sun City Center, Fla., on March 4, 2010. Phelps was born on May 2, 1909. At Columbia, he was a member of the Iota Chapter of the Phi Kappa Sigma Fraternity. Phelps earned an M.A. from Teachers College in 1936 and a Ph.D. in musical composition from the Institute of Musical Art, a branch of Wayne State in Detroit. During WWII, he served as an anti-aircraft officer, as an instructor in the Officer Candidate School at Camp Davis, N.C., and in the Philippine Islands. Phelps was the organist and choir director at Trinity Methodist Church in Highland Park, Mich., and Nardin Park Methodist Church in Farmington Hills, Mich.; and organist at the United Methodist Church in Sun City Center. He composed many works, including Piano Concerto in D Minor for Piano and Orchestra, the third movement of which was performed by the Florida Orchestra on May 28, 2009, in celebration of his 100th birthday. Phelps was predeceased by his wife of 56 years, Dorothy Schultz Phelps, and a daughter, Janis Benner. He is survived by a daughter, Nancy; four grandchildren; and six great-grandchildren. Memorial contributions may be sent to the Emergency Squad or the Security Patrol, both of Sun City Center, Fla.
1942
David P. Harrison, retired market analyst, Madison, Wis., on February 3, 2010. Born in Liverpool, England, on March 3, 1922, Harrison moved with his family to Brooklyn at 11. He lived most of his life in New York City and moved to Madison with his wife, Shirley, in 2003. Harrison served in the Army from November 1942 to November 1945, including service in Europe in the Battle of the Bulge. He earned an M.A. in economics in 1949 from GSAS. Harrison was a market analyst in the textile industry in New York and traveled widely for work and in retirement. He maintained close friendships with classmates from both Erasmus Hall H.S. and the College, going on cruises with high school friends and attending College reunions. He is survived by his children, Tom and his wife, Carolynn, Joan Provencher and her husband, Bill, and Roger; four grandchildren; and two great-grandchildren. Harrison was preceded in death by his wife of 58 years and by his brother, John '38, '52 GSAS. Memorial contributions may be made to The Capitol Lakes Foundation, 333 W. Main St., Madison, WI 53703.
1943
Henry Corey, attorney, Falmouth, Mass., on February 27, 2010. Born in Oak Bluffs, Mass., Corey was an Army veteran, serving as a medic with the 47th Field Hospital during WWII. He was in Normandy, France, in 1944, taking part in the Battle of the Bulge, and was honorably discharged in 1945. Corey graduated from Fordham Law in 1949 and was admitted to the Massachusetts Bar the same year. He conducted a private practice on Martha's Vineyard for more than 50 years. In 1955, Corey and the late John W. Osborne co-founded the Dukes County Savings Bank, now Martha's Vineyard Savings Bank, and the Bank of Woods Hole, where he was a trustee/officer until his death. A lifelong member of the VFW, DAV and the American Legion, Corey was dedicated to the recognition of service people in the local community. An avid jogger, he won several Martha's Vineyard Road Races into his late 70s. Corey volunteered at the Woods Hole Oceanographic Institution. He is survived by his wife of 57 years, Patricia (Kiley) Corey; son, Sean J. and his wife, Kristin; daughter, Kathleen Lynch and her husband, William; and six grandchildren. Memorial contributions may be made to VFW, MV Post 9261, PO Box, 1437 Vineyard Haven, MA 02568.
1944
John J. Donohue Jr., retired market research manager, Hamden, Conn., on February 4, 2010. Donohue was born on June 24, 1923, in the Bronx, N.Y. He served in the Army Signal Corps and participated in the Battle of the Bulge. Donohue earned an M.A. at Teachers College. He taught junior high school, worked for the federal government in Washington, D.C.; the New York State Labor Department; Republic Aircraft on Long Island; and was the market research manager for U.S. Motors, a division of Emerson Electric, for many years before his retirement. He also was a Justice of the Peace. Donohue received the National AARP Award in 1992, the Distinguished Service Award from the Caucus of Connecticut Democrats in 1991, the 1997 Certificate of Merit from the Connecticut Association of Boards of Education and the Secretary of State's Public Service Award in 2002. In addition to his wife of 60 years, Mildred Sileo Donohue, survivors include his children, Jeanne D. Miner and her husband, Bruce, and John J. III and his wife, Maureen; six grandchildren; a great-grandson; and five nieces and nephews. Memorial contributions may be made to Holy Infant Church, 450 Racebrook Rd., Orange, CT 06477 or American Legion Post #127, 630 Grassy Hill Rd., Orange, CT 06477.
1949
Clyde R. Hampton, environmental attorney, Aurora, Colo., on February 14, 2010. Hampton was born on May 10, 1926, in Worland, Wyo. At the College, he played four years of varsity football and was on the team that beat Army in 1947. Hampton was a captain in the Navy Reserve and a commanding officer of the Naval Intelligence Unit at NORAD in Colorado Springs. He graduated from the University of Colorado Law School and was active in the Colorado Bar Association, the American Bar Association, the Rocky Mountain Mineral Law Institute and the American Petroleum Institute. As a pioneering environmental attorney, Hampton was known nationally for special contributions to environmental law and was employed for 33 years as a general attorney for Conoco. Hampton also was a founding officer for the Association for Retarded Citizens and was a deacon at Cherry Creek Presbyterian Church as well as an avid golfer and skier. He is survived by his wife, Dorothy L.; daughter, Dorothy N.; a sister; and numerous in-laws, nieces and nephews. Memorial contributions may be made to Cherry Creek Presbyterian Church, 10150 E. Belleview Ave., Englewood, CO 80111.
1950
Frank P. McDermott, retired deputy assistant treasurer, Agawam, Mass., on December 11, 2009. McDermott was born on December 22, 1926, in New York City and was a graduate of the Mamaroneck H.S. Class of 1944. After serving with the Navy during WWII, he earned a bachelor's in business from Columbia. McDermott worked for Hartford Life Insurance and later was deputy assistant treasurer for the State of Connecticut, retiring in 1994 after 12 years. McDermott enjoyed gardening, bird watching, reading and UCONN sports. He was predeceased by his wife, Margaret (Doody) McDermott, a brother, Jim, and a sister, Jean Brennan. McDermott is survived by his daughters, Anne, Elizabeth and her husband, Martin Bak, and Clare O'Malley and her husband, John; and six grandchildren. Memorial contributions may be made to the American Heart Association, 2550 U.S. Highway 1, North Brunswick, NJ 08902-4301.
1954
Thomas J. O'Grady, thoracic and cardiovascular surgeon, Toledo, Ohio, on February 28, 2010. O'Grady was born September 21, 1933, in Jersey City, N.J. After medical school at Cornell, from where he graduated in 1958, he served as a captain in the Air Force Medical Corps and was stationed in Thule, Greenland. O'Grady moved to Toledo upon completion of his training at Boston City Hospital, Case Western Reserve University and the Cleveland Clinic. He was on the staff at Flower Hospital, The Toledo Hospital, St. Charles Hospital, Mercy Hospital and The Medical College of Ohio. O'Grady retired from surgical practice with the Toledo Clinic on December 31, 1999, and continued his involvement in quality assurance programs. He was an avid fisherman and enjoyed gardening with his wife of 47 years, Inez, as well as family vacations. In addition to his wife, he is survived by his daughters, Naomi and Claudia; sons, Justin '89, and Matthew and his wife, Sarah; and sister, Jane. Memorial contributions may be made to the Flower Hospital Foundation or the Toledo Botanical Gardens.
1956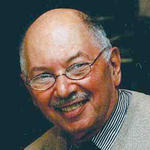 Alan N. Miller '56 Alan N. Miller, retired nephrologist, New York City, on August 20, 2010. Miller earned a B.S in 1957 from the Engineering School and an M.S. in finance in 1958 from the Business School. Prior to becoming a nephrologist, he was an engineer. Miller served as a captain in the Special Forces training Green Berets. An avid learner, he took classes at Columbia all his life. President of his College class as well as his class' CCT Class Notes correspondent for many years, Miller worked tirelessly to keep his classmates connected. He attended many Columbia events and was deeply involved in class activities and lunches. Some fellow Columbians referred to him as "The Class Act." An advocate of the 3 x 5 index card form of organization, he also was a proud cigar smoker, stock watcher and wine collector. Miller was widowed after 37 years of marriage to Libby Shana Halpern Miller Ph.D. He is survived by his partner, Helene Ruddy; mother, Iris; daughter and son-in-law, Elisa Miller and Greg Griffin; daughter, Jennifer van Voorst van Beest; sisters, Barbara and her husband, Maurice Kupritz, and Mona and her husband, Lee Berg; and four grandchildren. Memorial contributions may be made to the Columbia College Class of '56 Scholarship Fund.
1957
Albert J. Anton Jr., oil analyst, Louisville, Ky., on April 10, 2010. Anton was a graduate of Chaminade H.S. on Long Island and the Wharton School. At Columbia, he was president of Delta Upsilon Fraternity and was a member of the Newman Club. Anton had a long career as an oil analyst and was for more than 30 years a partner and director of research with Carl H. Pforzheimer & Co. in New York. He was a chartered financial analyst and a past president and honorary life member of the National Association of Petroleum Investment Analysts. Anton was a featured guest on the popular television show Wall Street Week. A former New Jersey resident, Anton served on the Board of Trustees of South Orange, was chairman of the board of the YMCA of the Oranges and was a member of the Advisory Board of St. Benedict's Prep in Newark. He was recently an instructor with the Veritas Society at Bellarmine University in Louisville. Anton is survived by his wife of 51 years, Sara (Lembcke) '58 Barnard; daughter, Claire; and sons, Christopher and Thomas. Memorial contributions may be made to Food for the Poor at foodforthepoor.org.
Other Deaths Reported
Columbia College Today also has learned of the following deaths. Complete obituaries will be published in an upcoming issue, pending receipt of information. Due to the volume of obituaries that CCT receives, it may take several issues for the complete obituary to appear.
| | |
| --- | --- |
| 1933 | Clarence Barasch, New York City, on August 31, 2010. |
| 1935 | William C. Oberkirk, retired engineer, Old Lyme, Conn., on June 6, 2010. |
| 1936 | Herbert M. Olnick, retired radiologist, Blue Ridge, Ga., on July 25, 2010. |
| 1940 | Robert Benjamin, retired textile executive, New Rochelle, N.Y. on August 27, 2010. |
| 1941 | Cecil H. London, magazine executive, Greenbrae, Calif., on August 21, 2010. |
| 1943 | Edward M. Marwell, Mount Kisco, N.Y., on September 7, 2010. |
| 1947 | Edward B. Gold, retired writer and editor, New York City, on September 9, 2010. |
| | Ellis Levine, Bronx, N.Y., on September 5, 2010. |
| | Robert H. Marshall, business executive, El Paso, Texas, on August 20, 2010. |
| 1948 | Marvin A. Schlaff, UN official, New York City, on August 18, 2010. |
| | Irwin F. "Woody" Woodland, retired attorney, Seattle, on August 25, 2010. |
| 1949 | David N. Ilchert, retired INS executive, Novato, Calif., on August 9, 2010. |
| | Francois D. Vaillant, teacher, Pensacola, Fla., on September 14, 2010. |
| 1950 | William J. Hill, quality control expert, Weston, Conn., on September 20, 2010. |
| 1952 | Donald J. Bainton, business executive, Boca Raton, Fla., on June 13, 2010. |
| | Thomas E. Murray Sr., retired advertising executive, Venice, Fla., on August 5, 2010. |
| | Eugene C. Thomas, attorney, Boise, Idaho, on September 13, 2010. |
| | Harold H. "Hal" Wanamaker, retired otolaryngologist, Syracuse, on August 29, 2010. |
| | Vernon C. Wynott Jr., sales executive, referee, Belmont, Mass., on April 17, 2010. |
| 1953 | William M. Bason, physician, Chesapeake, Va., on September 18, 2010. |
| | Erik D. Wensberg, writer and editor, New York City, on June 5, 2010. |
| 1954 | Daniel R. Thompson Jr., retired insurance executive, Queensbury, N.Y., on June 17, 2010. |
| 1956 | Seymour Wallace, anesthesiologist, Los Altos, Calif., on August 25, 2010. |
| 1960 | John M. Radbill, Albuquerque, N.M., on August 7, 2010. |
| 1962 | David M. Lowrey, economics professor, Paris, France, on February 27, 2010. |
| | Ovadya Yesodi, Laguna Woods, Calif., on August 22, 2010. |
| 1964 | Leslie M. "Les" Pockell, publishing executive, literary anthologist, White Plains, N.Y., on July 26, 2010. |
1961
Robert L. Trelstad, physician, Prince­ton, N.J., on February 15, 2010. Trelstad was born in Redding, Calif., and raised in Salem, Ore. He graduated from Harvard Medical School in 1966, where he worked with the pioneers of cell biology. Trelstad was a resident at Massachusetts General Hospital and in 1972 became an assistant professor at Harvard Medical School. From 1975–81, he was chief of pathology at the Shriners Burns Institute in Boston. In 1981, Trelstad became chair of pathology at Robert Wood Johnson Medical School in Piscataway, N.J., and in 1998 founded the Child Health Institute of New Jersey. He also founded Keyboard Publishing, which developed computer-based learning products, and chaired the Health Professions Advising Committee at Princeton. Trelstad is survived by his wife of 48 years, Barbara; brothers, John and Donald '69, '73 P&S; sons, Derek '91 Arch., Graham '89, Brian and Jeremy '97; and five granddaughters.
1970
Robert W. Butterfield, sexton, Bethlehem, Pa., on January 5, 2010. Butterfield was born on November 7, 1948. A lifelong resident of Bethlehem, he was a graduate of Moravian Preparatory School and the inaugural session of the Citizens Academy of Bethlehem. After a career in home renovation, he served as sexton for Central Moravian Church for 24 years, turning his role as curator of historic properties into a unique ministry to the church and congregation. As a member of the Bethlehem Area Moravian Trombone Choir, Butterfield took part in its mission trip to Jamaica in 2005. He also was a board member of the South Bethlehem Neighborhood Center, secretary/treasurer of the Sacristans Corp at Central Moravian, treasurer of the Wednesday Men's Bible Study and treasurer of the Bethlehem Area Moravian Trombone Choir. Butterfield is survived by his wife of 14 years, Helenann Celecz Butterfield; son, Joseph Florio; brothers, Nicholas and his wife, Rachel Osborn, and Jonathan and his wife, Sally Lifland; sister, Janice Ostock and her husband, David; in-laws, Pam and Louis Celecz Jr.; and several nephews and nieces.
1987
Albert J. Weisel, freelance writer, New York City, on February 27, 2010. Weisel was born on July 18, 1963. He wrote for publications such as Rolling Stone, The Washington Post, New York Newsday, Us, Premiere, Spin, Tracks, George, Travel & Leisure, Out, Time Out New York and The Bulletin (Australia). From 1999–2002, Weisel was the movies editor at CDNow, where he launched the video/DVD section. In October 2005, Live Fast, Die Young: The Wild Ride of Making Rebel Without a Cause, a book co-authored with Larry Frascella, was published, which explores the making of the film Rebel Without a Cause and in particular the relationships between director Nicholas Ray and leading actors James Dean and Natalie Wood. Weisel was known as Jon Swift in the blogosphere, where he wrote a satirical political blog.
Lisa Palladino