Alumni Corner
Orientation: A Look Back by a Parent Alumnus
An alumnus and parent reflects on moving his daughter into Carman, his own days on campus and what has — and hasn't — changed at Columbia.
By Dr. Jonathan D. Kaunitz '72, '76 P&S
In 1968, I was not of sufficient maturity to have been able to imagine that nearly 40 years hence I would be helping my daughter move into nearly the same dormitory room that I occupied during my freshman year.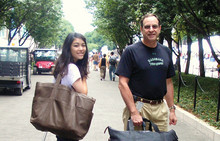 Dr. Jonathan D. Kaunitz '72, '76 P&S and his daughter, Genevieve '11, on College Walk during Orientation 2007. My daughter Genevieve '11's acceptance to Columbia began my family's fourth generation of Columbia students, which started with my grandmother, Ruth Moss '02 Barnard. My father, Paul '33, often told us of his being thrown into a mud puddle in South Field by a gang of upperclassmen who apparently objected to his young age (then 14) and then-diminutive stature.
My freshman week experience was marked by a different type of assault. My early impressions of Columbia were of a genteel existence, characterized by blue beanies, tweed jackets, pipe smoking and leather armchairs. These notions radically changed as Convocation approached, with the New Yorker running a cartoon in spring 1968 depicting dismayed parents holding up a college acceptance letter over the caption "Columbia — what will the neighbors think?" That year was the most tumultuous in the second half of the 20th century, marked by the assassinations of Martin Luther King Jr. and Robert F. Kennedy, widespread rioting and social upheaval. Columbia played a prominent part with its protests, sit-ins and mass arrests in the spring.
Coming from a small Vermont boarding school, Columbia, in the wake of such unrest, and the deteriorated state of Morningside Heights, presented a huge challenge, mitigated largely by the considerable wisdom and patience of my roommate, Shepard Hurwitz '72. As entering students, we were immediately confronted by leaders of the past spring's protests, urging us to forget about everything that we had ever learned about the social order, our upbringing and Columbia, and having us question all forms of authority. Leaflets were everywhere and demonstrations were commonplace, with the "radicals" in their work shirts, bandannas and torn jeans the new campus anti-heroes. The Vietnam War had many years left; the draft, once instituted, inspired massive student protests.
This profound cultural shift was reflected in every aspect of our lives, from our dress, to our peer interactions, to our relationship with authorities, which shifted fundamentally within months. The preceding disturbance also seemed to disrupt the organization of freshman week. I recall the Convocation in Low Library and a variety show in Ferris Booth, but not much else. Little formal guidance was offered regarding choosing classes; registration consisted of waiting in long lines in the basement of Butler Library for the privilege of providing the bursar with a large check.
The spirit of rebellion pervaded in Carman, with near-constant bull sessions, little apparent structure or organization and more attention apparently devoted to protesting the Vietnam War and Columbia's purported policy of "urban removal" than attention to one's studies. Yelling epithets across 114th street nightly at "Beta" (βθπ) was a popular sport, which devolved at times into the dangerous and illegal practice of defenestrating large glass objects. Walking down the hallways was marked by the pungent-sweet smell of burning marijuana wafting under the doors and the loud playing of then-current rock, such as Janis Joplin, The Doors and Jefferson Airplane. In the words of Timothy Leary, "dropping out" became fashionable, with some students allegedly not making it much past freshman week, with further attrition by graduation.
Women were a rare species that existed somewhere across Broadway, were scarcely present in our classes and seemed to conveniently disappear on weekends and at the "mixers" aimed at underclassmen. The meal plan was unpopular due to its relatively high price and limited options. We rather invaded the neighborhood, concentrating on such establishments that catered to budget-minded college students, notably Ta-Kome and Mama Joy's, with feisty deli-men asking "Vaht kind bread you vant?" in thick Eastern European accents. Meals were generally taken in dorm rooms or restaurants with eat-in options, usually limited to Duke's or The West End.
New York, though always a city of unmatched energy and vibrancy, was going though its own set of difficulties, including a declining business base as companies abandoned the inner city and wealthier citizens escaped to the suburbs, in addition to rising crime and poor morale. We were limited to a rectangle bordered by 110th Street, Morningside Park, Riverside Drive and 122nd Street, being repeatedly warned to be vigilant and suspicious. Certainly, many areas, such as Times Square, the Lower East Side and Hell's Kitchen, were best avoided. Taking the subway back to Morningside Heights at night often was tense in the face of itinerant buskers, panhandlers and elements with less savory intentions.
Despite these considerable challenges and tribulations, Columbia was and will always be a first-rate educational institution. The quality of the classes, the professors and my fellow students could not be matched anywhere, as was apparent then and has been borne out by our considerable later career and personal success.
Returning to Manhattan in 2007 with my wife, Christine, and daughter, Genevieve '11, let me experience just how much strong and wise leadership can accomplish. In New York, prosperity is apparent everywhere in the crowds thronging the streets day and night, in the renovated museums and hundreds of new hotels, restaurants, bars and clubs. Morningside Heights has reattained most of its former glory present in my grandparents' era; Broadway is lined with outdoor cafés, upscale grocery stores and restaurants, with nary a trace of the staple delis or restaurants save V&T, the Hungarian Pastry Shop and Symposium.
At orientation, the campus was festooned with banners, balloons and tents, with constant music and swarms of yellow-shirted students attending to the incoming students' every need. Freshman week was organized into a series of hikes, trips, meals, parties and meetings, even with sensitivity training aimed at alleviating parental separation anxiety. Although we are yet again involved in an unpopular foreign war, protests were not seen, and were only in evidence in a few thumbnail pictures in Spectator depicting a local rally.
Initial registration was over in a manner of seconds, and with keys in hand, we headed toward Carman, past the glass-enclosed Lerner Hall. Walking in Carman, I was overwhelmed with a sense of purpose, drive, efficiency and energy rare in the late 1960s.
More women were in evidence in my first minute in Carman than I had seen in my two years living there, with the promise of achieving a harmonious and naturalistic coexistence with their male classmates unheard of in 1968. The student body also is far more diverse, with perhaps the greatest change in the number of Asians and Asian-Americans, formerly scarcely in evidence. In particular, Korean and Korean-American students, almost nonexistent in the late 1960s, seemed particularly abundant, of particular significance given my wife's Korean heritage. Indeed, the unusually muted reception that my wife received at a local Korean restaurant confirms the considerable Korean and Korean-American presence on campus.
We moved Genevieve into her room, with the same southern view and Beta across the street, that I had viewed as a freshman. Computers, formerly IBM mainframes buried in the bowels of the Engineering School, were in every backpack. A "legacy lunch" and outdoor convocation punctuated by eloquent speeches cemented my impressions that Columbia is now the finest college in the greatest city in the country.
Returning the next day, we breakfasted at another legacy, Tom's, preserved perhaps due to its Seinfeld fame. When asked what I would like to accompany my eggs, the waitress, apparently on cue, asked, "Vaht kind bread you vant?" with intonation and accent so uncanny as to make my daughter blush. The baton had been passed; it was now up to Genevieve to continue the tradition.
Dr. Jonathan D. Kaunitz '72, '76 P&S is a professor of medicine at the UCLA David Geffen School of Medicine and divides his time between clinical activities at the VA hospital and running a basic research laboratory. He is married to Christine Lee Kaunitz, RN, and has two children, Justin and Genevieve '11.