Alumni Profiles
Rabbi Harold Kushner '55 Reaches a Larger Congregation as a Writer
By Laura Butchy '04 Arts
Few books have touched as many lives as When Bad Things Happen to Good People. Originally published in 1981, the book by Conservative Rabbi Harold Kushner '55 was not only a bestseller in the United States but also has been translated into at least a dozen languages.
"He has a rather unique gift," says Joel Meyers, e.v.p. of the Rabbinical Assembly and a friend of Kushner for more than 40 years. "Like wisdom teachers in the Bible, the authors of Proverbs, Ecclesiastes and so forth, Rabbi Kushner takes religious teachings and complex religious ideas and puts them in language that is understandable and uplifting at the same time."
While Kushner may not have anticipated a writing career, Jewish theology has been his interest since attending the College. Growing up in Crown Heights, Brooklyn, he decided to attend Columbia because it was the "best school I could imagine, with a wonderful reputation, and a short subway ride home."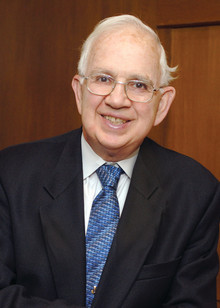 Rabbi Harold Kushner '55's bestselling book, When Bad Things Happen to Good People, touched readers worldwide. He has since written nine more books. PHOTO: Lewis Glass, Paradise PhotoWhen he started at the College, Kushner planned to focus on psychology. After the basic course, he decided the experimental focus wasn't for him and switched to literature. "I was fortunate enough to take Mark Van Doren's last English class my senior year, which was extraordinary," he recalls, also citing the influence of Andrew Chiappe '33 (Shakespeare), Julian Franklin (Contemporary Civilization) and James Shenton '49 (history). Outside of class, Kushner worked for Jester and WKCR, where he became director of sports broadcasting. He also was president of the student Zionist organization.
While at Columbia, Kushner enrolled in the Jewish Theological Seminary evening program, initially just for fun. He admired his rabbi in Brooklyn, and his parents had provided him with a strong religious background. By his junior year, Kushner had determined the rabbinate would be his career. After graduation, he enrolled full time and was ordained at JTS.
Kushner volunteered for two years for the Army chaplaincy core in Fort Sill, Okla., then returned to New York to serve as assistant rabbi in Great Neck, Long Island. During his four years there, he completed graduate work for his doctorate at JTS, which he earned in 1972. With one child and a second on the way, Kushner and his wife, Suzette, moved to Massachusetts, where he became rabbi of Temple Israel in Natick in 1966.
Their proximity to the excellent medical care in Boston was important for caring for their son, who was diagnosed with a degenerative disease. "When our son was dying, he was not quite 14," says Kushner. "Like a lot of children who feel they're going to die soon, he was afraid he would be forgotten because he didn't live long enough, not knowing parents never forget. I promised I'd tell his story."
After struggling to understand his son's death, Kushner thought others might be comforted by his personal theological resolution. He captured the story in When Bad Things Happen to Good People, an honest attempt to understanding tragedy and evil in the world.
"All religions have an aspect to them that is universal in the values they teach. He has taken the message of Judaism and presented it in a way that makes it accessible and understandable," Meyers says. "He has taught us that when life is seen through the eyes of faith, then the way we see life and the things that happen to us in life changes. And he has been able to communicate that in a way that is meaningful and uplifting to people."
Kushner's message resonated with people all over the world, catapulting him to fame and making the book a bestseller in many languages. Suddenly Kushner found himself in demand as a speaker, and his new career as a writer would lead to countless awards. In 1995, his book When All You've Ever Wanted Isn't Enough, won a Christopher Medal, and Kushner was honored by the Roman Catholic organization the Christophers as one of 50 people who have made the world a better place in the last 50 years. He was named clergyman of the year by the national organization Religion in American Life in 1999, and in 2007, the Jewish Book Council gave him a Lifetime Achievement Award.
Kushner continued as rabbi of Temple Israel full time until 1983, when he began to serve the synagogue half time and write more. In 1990, he began writing and lecturing full time, still filling in at the synagogue as rabbi laureate. Last year, Temple Israel held a celebration honoring his 40 years with the congregation. In addition to publishing a collection of his sermons, the congregation arranged for him to throw out the first pitch at a Red Sox game this spring.
Kushner still calls Natick home, where he enjoys spending time with his daughter and two grandchildren. Among his many speaking appearances, he has remained devoted to the Rabbinical Assembly, offering teaching sessions and addresses at conventions and seminars. But his primary work is writing, having authored several best-selling and award-winning books, and he hopes to finish his 10th book for publication next year.
Despite his success, Kushner is humbled by his unexpected career turn. "The book was turned down by two publishers before a small publisher accepted it," he says. "I am still surprised by the response."
Laura Butchy '04 Arts is a writer, dramaturg and theater educator in New York City.