Alumni Profiles
Robert Bradley '85 Artfully Introduces TV Shows
By Justin Clark '04J
If you're like most television viewers, you get up or flip the channel during the show's opening title sequence. If you're Robert Bradley '85, that's when you start paying close attention.
"Main titles are like little self-contained movies," he explains. "They are short dramas that share a common structure with all good storytelling."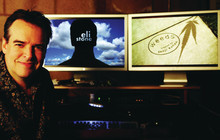 Robert Bradley '85 and shots from two of the title sequences he created with fellow title designer Thomas Cobb. PHOTO: courtesy ROBERT BRADLEY '85Bradley should know. He and his collaborator, Thomas Cobb, have received multiple Emmy nominations for designing the main title sequences of TV shows such as Weeds and The Lost Room. Checking out their work is as easy as doing a little channel surfing during primetime. Bradley and Cobb's work is the Pavlovian dinner bell that makes fans salivate for Alias, Friday Night Lights, Lipstick Jungle, Eli Stone and a dozen other shows. Yet few outside Hollywood realize how challenging and labor-intensive title design is.
"A successful main title establishes the mood and tone of the world that follows as well as its basic themes," explains Bradley. "A major challenge is addressing all of these requirements in such a short period of time."
In only 51 seconds, the Emmy-nominated Weeds sequence introduces viewers to the fictional affluent gated community of Agrestic, where the show's widowed main character sells marijuana to pay the bills. To the backdrop of the '60s folk song "Little Boxes," shots of cloned houses and people cleverly parody the squeaky-clean homogeneity of suburbia. The show's premise is subtly reserved for the final shot: a marijuana leaf casts its ominous shadow over one of Agrestic's pristine sidewalks.
"We gave Robert a feeling for what we wanted, and he came back with this whole vision," says Jenji Kohan '91, the show's creator, who was pleasantly surprised to learn that the force behind this vision was a fellow alum. "It was incredible; it was just right."
Getting it just right isn't as easy as you might expect. Much like architects competing to build a municipal project, Bradley and his partner need to make sure their animatics (the shot-by-shot proposals for the sequence) look better than those of their rivals, working for months without guarantee of winning the job. In some cases, such as with Lipstick Jungle, Bradley and Cobb don't just edit together pre-existing footage, but direct and produce their own using the show's cast and locations.
"Title design is a little of everything," says Bradley, a Michigan native who has done a little of everything himself. After graduating from the art prep school Interlochen, Bradley aspired to the more grounded education offered by the Core Curriculum. Initially devoted to reading obscure classics, the former English student remembers how professors Ann Douglas and Michael Denning opened his eyes to the social relevance of popular art. Theory became practice when Bradley discovered the Thalia, a revival house on 95th Street.
"I remember seeing Blow-Up, Badlands, Sunset Boulevard and The Manchurian Candidate all in one weekend," says Bradley. "I was naÏve enough to think that the supply of such quality films would never run out. I was wrong." Bradley set out for Hollywood, attending Southern Cal's film school and finding work as a freelance writer, where he learned the art of the pitch. His favorite assignment was attending a bull-fighting school for the magazine Details. "Good preparation for Hollywood," jokes Bradley, who pitched episodes for various "bad sitcoms" he prefers not to name. Indeed, he got into title design partly because of his pitching experience. In 2004, his friend Cobb, a title designer, asked him to help pitch a title sequence for NBC's defunct Medical Investigation — and the two discovered they enjoyed working together.
These days, Bradley lives with his long-term girlfriend in Venice, Calif., and ultimately aspires to direct. "If I can make a minute-long film, there's no reason I can't make a half-hour," he says. With all his title design jobs, though, he'll first need to learn how to spare some time for himself.
Justin Clark '04J writes for numerous publications, including LA Weekly and Nerve, and is a frequent contributor to CCT.