Around the Quads
Homecoming 2008: Fun for the Whole Family
By Lisa Palladino; photos by Eileen Barroso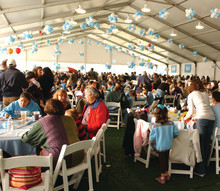 Everyone flocks to the gourmet picnic under the Big Tent to eat, meet and mingle. Get ready to cheer on the Lions as they take on the Princeton Tigers at Homecoming on Saturday, October 4, at Baker Athletics Complex. Come early for the gourmet picnic, games and amusements for fans of all ages and mingling with classmates, friends and students.
The Pregame Picnic under the Big Tent, open from 11 a.m.–1:30 p.m., offers a hearty lunch as well as soft drinks and sweets. There also will be limited cash-and-carry items. Tickets are $20 for adults and $10 for children under 12, which include the barbecue buffet and soft drinks. Beer, wine and cocktails are available at an additional cost. To purchase Homecoming 2008 picnic tickets, which also cover admittance to the Homecoming Carnival, visit www.college.columbia.edu/alumni/homecoming.
The Homecoming Carnival, adjacent to the tent, is open from 11 a.m.– 3 p.m. This family-friendly activity area features games and amusements and always attracts a huge crowd; kids can enjoy face painting, balloon making, magic, games, prizes and interactive activities. Parents are welcome too!
At 1:30 p.m. head over to Robert K. Kraft Field to support the Lions, now in their third season under coach Norries Wilson, as they battle the Tigers. Homecoming football game tickets, which must be purchased separately from picnic tickets, are $25 for premium chairback seats and $15 for reserved bench seats. To purchase football tickets, visit www.gocolumbialions.com/tickets or call 888-LIONS-11.
The Columbia Lions will take on the Princeton Tigers in their third game of the season. Columbia Athletics will again provide complimentary round-trip bus transportation from campus to Baker Athletics Complex, beginning at 11 a.m. and returning immediately following the game (go to www.gocolumbialions.com prior to the game for pickup and departure locations). Or, take the MTA subway 1 train to 215th Street (not handicapped-accessible), walk two blocks north and cross Broadway at West 218th Street; take the A train to 207th Street and walk north to West 218th Street; or take MTA buses M100, Bx20 or Bx7 to near West 217th Street and Broadway. Another option is Metro-North Railroad to the Marble Hill Station, which is located on the north shore of Spuyten Duyvil, just across the Broadway Bridge from the Baker Athletics Complex. Be sure to visit www.mta.info prior to the game to check for service advisories.
For more information about Baker Athletics Complex 2008 football game day policies and procedures, including the pre-game picnic area, public parking options, fans code of conduct and more, visit www.gocolumbialions.com/footballgameday.