Around the Quads
Alumni in the News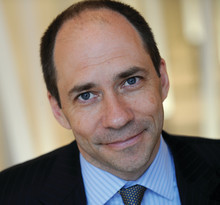 Marcus Brauchli '83 Photo: Katherine Frey/The Washington Post Marcus Brauchli '83 has been named executive editor of The Washington Post, succeeding Leonard Downie Jr. at the helm of the newspaper that Brauchli calls "a beacon of what is right in American journalism." Brauchli resigned as managing editor of the Wall Street Journal in April, four months after the Journal's parent company, Dow Jones & Co., was acquired by News Corp. He described his new position as "a great honor and possibly the most challenging thing I have ever done."
One of Brauchli's mandates is to merge the Post's online and print staffs, which operate in different buildings and in culturally distinct environments. "Marcus has the ability to think strategically about our newsroom, about how to realign our resources in a way that is consistent with what readers want and expect and maintain the Post's first-rate journalism," said publisher Katharine Weymouth.
Maggie Gyllenhaal '99 is the female lead in The Dark Knight, playing Rachel Dawes, Batman's girlfriend. The summer blockbuster has grossed more than $450 million and ranks as the second-highest grossing film of all time, behind only Titanic. A cover story in the August issue of Marie Claire described Gyllenhaal as "once the queen of quirky indie movies" such as Secretary and Sherrybaby who now "finds herself squarely in Hollywood blockbuster territory.
Meanwhile, another high-profile film featuring an alumna did not fare as well over the summer. Amanda Peet '94 plays agent Dakota Whitney in The X-Files: I Want to Believe, which opened to mixed reviews and failed to attract an audience beyond hard-core fans of the old TV series.
Ben Jealous '94 begins this month as president of the NAACP, at 35 the youngest person ever to head the 99-year-old civil rights organization. Jealous, who was a Rhodes Scholar at Oxford, was selected by the NAACP's 64-member board in May following a year-long search. He was managing editor of the Jackson Advocate, a black newspaper in Mississippi; executive director of the National Newspaper Publishers Association, which encompasses about 200 black newspapers; and president of the Rosenberg Foundation in San Francisco, which advocates for immigrants and working-class families. "Ben Jealous has spent his professional life working for and raising money for the very social justice concerns for which the NAACP advocates," NAACP Chairman Julian Bond said in a statement.
Philip Adkins '80 is the owner of Parkmore Ed, a horse on the British Equestrian team. They won a bronze medal in the Eventing Team competition at the Summer Olympics in August.
Bill Campbell '62, chair of the Board of Trustees and former Columbia football coach, was spotlighted in the July 21 issue of Fortune in an article titled "The Secret Coach." He was described as "a guru to Apple and Google," "the most confidential advisor in Silicon Valley" and a "cosmic mash-up of Oprah, Yoda and Joe Paterno" who is "consigliere to the likes of Google's Eric Schmidt, Apple's Steve Jobs, Kleiner Perkins' John Doerr and many other Silicon Valley titans."
"People flock to Campbell, whom everyone calls Coach, for advice," wrote Jennifer Reingold. "He deploys a unique blend of tough love, sweat equity, and a thick playbook culled from decades of hands-on experience both in the Valley and on the gridiron. His goal is to create companies that will be around for the ages, organizations in which all are freed to do their best work."
Reingold listed Campbell's five rules for success:
• think big with talent,
• be honest and accountable,
• skip the chief operating officer,
• invest in the future and
• empower the engineer.