Bookshelf
In Schooled, Students Buy Designer Clothes — and A's
Anisha Ahooja Lakhani '98 Photo: Jerry KeanEverything about Anisha Ahooja Lakhani '98's new novel, Schooled (Hyperion, $23.95), suggests upscale "chick lit." First, there's the cover: a simple photo of a classy shopping bag. Then there's the setting, New York's Upper East Side — already home to Gossip Girl, The Nanny Diaries, The Ivy Chronicles and the pale, styled locks of the Bergdorf blondes. And sprinkled through the narrative are the oft-dropped designer names — Chanel, Prada, Juicy — that can sometimes make a chick-lit reader feel as if she is sifting through the racks at a high-end boutique.
But Schooled is a book that's much more subversive than its best-selling predecessors — because, unusually, it has something serious to say. Lakhani's heroine, Anna Taggert, a girl as fresh-faced and unworldly as The Devil Wears Prada's Andrea Sachs, is a newly minted Columbia grad. While her fellow alum Bridgette is happy to pull down a big salary as a Morgan Stanley analyst, Anna dreams of inspiring students with her teaching. Her idealism lands her a job at the Upper East Side's prestigious Langdon School, but it can't long survive exposure to the realpolitik of an elite private academy. Surrounded by spoiled students, rich, anxious parents and corrupt administrators, Anna grows lonely and resentful.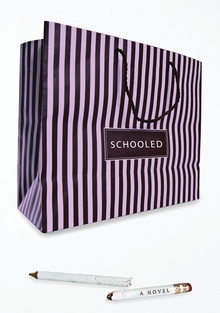 When she's offered the chance to tutor students at other schools privately, for $200 an hour, our heroine gives in. Then — oops! — she finds out what "tutoring" really means. The "eager Ivy graduates" who are moonlighting in this job are expected to do anything and everything to get their charges to turn in top-level work. This can range from gentle intellectual prodding, to "pre-reading" a wealthy student's reading assignment, to — wince — actually writing his or her papers. In one memorable scene, Anna is manipulated by a clever seventh grader into writing an overdue paper on Lord of the Flies. "Don't make it too good, okay? I usually get B's," her young boss commands. Her payoff: a check for $1,000 from the boss' Park Avenue mom.
Money may not change everything, but it certainly changes Anna. She's still teaching for slave wages at Langdon. But now she is able to buy the latest couture, and wearing the Upper East Siders' designer uniform helps to give her the social entrée she's been wanting. (So does the fact that she's becoming a less demanding teacher.) She's allowed to air-kiss the cheeks of her students' elite moms, like a well-heeled equal. Nonetheless, as the school year wears on, even the newest pricey Chanel tote — and her sudden sense of "belonging" at Langdon — can't make up for the corroded feeling she has inside.
It's a tribute to Lakhani's talent that Schooled works so well on two levels — both as a breezy beach read and also as an engrossing look at the ways in which private education, these days, sometimes fails its students. "Tutoring has gotten out of control," Lakhani says slowly in an in-person interview. Though her book's more or less a composite — and not all tutors will write papers — it is based largely on the war stories she's heard from other tutors. And the point she is making rings true. "That's why I have a Bendel's bag on my cover. It's become that … you can buy your homework, like you buy a Louboutin stiletto."
In the run-up to college, private-school children and parents feel the pressure to ensure that homework is turned in free of mistakes. Hence, the kind of aggressive over-tutoring described in Schooled. To Lakhani, that's wrong — and not just because a teacher can never really know how much a too-well tutored student has actually learned. Feeling able to fail, to make mistakes, is a crucial part of the learning process. "Why are we making it OK that the children never experience a road bump in their lives?" she asks. "That's not good."
After the College, Lakhani taught at Hunter H.S., then at Dalton, a prestigious Upper East Side school where she became head of the middle school's English department. She left to tutor full-time, though she quit when the book proposal she'd written was accepted by a major publisher. While she's happy that her novel came out this past summer, she misses teaching and is nostalgic about her College experience, especially the Lit Hum classes she took with Professors George Stade '58 GSAS, '65 GSAS and Edward Mendelson. "Those professors sealed the deal for me that I wanted to be a teacher," she says.
If all goes according to the fairy-tale laws of "chick lit" — a place in which wish-fulfillment reigns — Hyperion will have another Upper East Side bestseller on its hands this fall. Meantime, its author, who's already working on her next book, hopes that Schooled will be not just a fun read, but also an instrument for change. Her dream with this book, she says, is that teachers start what she calls "assessment in the school" — the kind of in-classroom homework or testing that can ensure that teachers know their students' real learning levels. If they get B's or C's, so what? It's a learning experience. "We need to bring that uncomfortable feeling back," she says.
Rose Kernochan '82 Barnard