Cover Story
True to the Core
Nearing 90, Columbia's Signature Core Curriculum Continues to Evolve
By Shira J. Boss-Bicak '93, '97J, '98 SIPA
Next year will be the 90th anniversary of the College's treasured Core Curriculum. Arguably the most ambitious and successful general education program of any school in the country, the Core remains the cornerstone of the undergraduate academic experience at Columbia.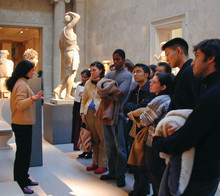 Students from an Art Humanities class tour the Metropolitan Museum of Art. It is a program that is both extensive and expensive, and as such, is dependent on the availability of resources. Spurred by a renewed emphasis by the University on undergraduate education that began in the 1990s, and fruitful fundraising efforts specific to supporting the teaching of the Core, the curriculum is flourishing.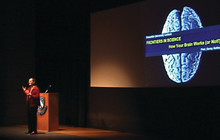 Professor of Biological Sciences Darcy Kelley, one of the driving forces behind Frontiers of Science, delivers one of the lectures in the newest component of the Core Curriculum. Photo: Columbia CollegeUnder the leadership of Austin Quigley, dean of the College since 1995, recent changes include the opening of a practical and inspirational Center for the Core Curriculum in the heart of the renovated Hamilton Hall, annual Core lectures by distinguished visiting scholars, significant incentives and recognition for faculty involved in the Core, an increased budget for student outings relevant to material studied in the Core and ongoing refinements to the requirements and courses of the curriculum itself, including a new Core course in science introduced in 2003.
"We're not changing the way the Core runs, but trying to upgrade the resources the Core Curriculum has to enable it to function better," explains Quigley, who has spearheaded the revitalization of the Core. "The new resources also are designed to recognize the extra responsibilities that every Core teacher takes on."
Teaching the Core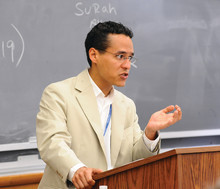 Roosevelt Montás '95, the new associate dean for the Core Curriculum, plans to introduce events that will address Core themes in a contemporary context. Photo: Eileen BarrosoThe Core Curriculum is unique not only in its breadth and depth, but in that it comprises a huge number of courses not housed in an independent department. Faculty come from many departments of the University; they incorporate teaching of Core courses into their schedules of departmental classes on the undergraduate and graduate levels.
Many faculty thrive on the experience of teaching in the Core. "While each faculty member belongs to a given department within the Arts and Sciences, I think it's important to undertand the shared, cross-departmental purpose of the Core, and so to take a broader view than that just of your own subject area," says Gareth Williams, chair of the classics department and chair of Literature Humanities. "The Core is intellectually ambitious, wide-ranging and stimulating, and also very functional; it gives students a great preparation for life. The caliber of student that Columbia College tends to admit nowadays is extraordinarily high, with the result that the Core academic experience is more enjoyable both for the student and for the faculty; hence teaching in the Core becomes more attractive, and greater faculty involvement in turn generates its own positive impetus."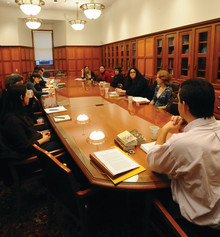 The conference room in the Witten Center for the Core Curriculum allows faculty from Contemporary Civilization, Literature Humanities and Frontiers of Science to gather weekly to discuss common issues. Photo: Eileen BarrosoFrom the faculty's perspective, teaching the Core Curriculum can be a challenging pedagogic experience. Not only are the Core courses — especially Contemporary Civilization and Literature Humanities — intensive and time-consuming, but no faculty member's expertise extends to the range of material covered, meaning he or she first needs to become familiar with many of the works themselves. With myriad departmental responsibilities already pulling at them, faculty can find that undertaking daunting.
"A faculty member's career these days pressures them to become more and more of a specialist and to go deeper into their area of expertise," Quigley says. "The Core asks faculty to step beyond their area of expertise and participate in thinking outside of the box. But they have to do it first to feel the benefit, and to learn that it also benefits the ways in which they think within their discipline."
Cathy Popkin, chair of the Department of Slavic Languages and past chair of Literature Humanities, says that until recently, when Dostoevky's Crime and Punishment was added, there hadn't been anything Russian on the Lit Hum syllabus for many years. "I like that, because the teaching is not predicated on the expertise you bring in but on what goes on in the classroom," she says.
"Virtually everyone says their own work is enriched by the experience, because you're exposed to and learn things you might not have otherwise," Popkin says. "When I was trying to turn my dissertation into a book, I wouldn't have picked up Montaigne. But when I did, it gave me an entirely new perspective on Chekhov."
Faculty Incentives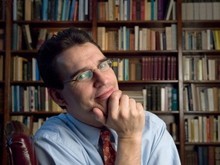 Violin Family Professor in the Core Curriculum and Department of Classics Chair Gareth Williams says the caliber of students attracted to the College makes teaching in the Core that much more exciting and rewarding for faculty. Photo: Alan S. OrlingTo recruit more faculty to the Core, and recognize and thank those who already are involved, incentive programs have been established, largely with funding from alumni donations.
"The idea is to reward the loyalty of those who've taught in the Core for a while, and attract the loyalty of those who haven't done it yet," Quigley says. "For many of them, it will be such a productive experience that they will stay in the Core and keep teaching it. Our alumni have been very supportive of the program."
One innovation has been the creation of endowed Core Curriculum chaired professorships, which are awarded by a faculty committee and held for five years. "The Core Curriculum is a very strong tie that the alumni have to the College and to the undergraduates now," says Bob Berne '60, one of the first alumni to endow a Core chair. "It's a common thread for all of us, regardless of our backgrounds." Donations totaling $16.5 million from alumni, parents and friends have endowed 13 Core Curriculum chairs during Quigley's 14-year tenure as dean.
"The Core chairs are a wonderful innovation, because they acknowledge what you've had to put into it to be deeply involved in the Core," says Popkin, who occupies one of these chairs as the Jesse and George Siegel Professor in the Humanities. "When I got the notification, I felt so appreciated and recognized. It is an honor and is read as a mark of a certain stature." This can be useful: "I think it makes a difference when you write letters of recommendation for students," she says.
Not only do the chairs provide a morale and career boost, but Quigley notes that they "increase the readiness of experienced faculty to mentor other faculty," thereby helping to pass on expertise from one generation to another. That tradition of faculty collaboration has long been essential to the success of the Core as a whole.
Tenured faculty also can receive a research stipend for the summer after teaching four semesters in the Core. Junior faculty who teach CC or Lit Hum for three years are awarded a semester of paid leave in the form of a Chamberlain fellowship — not a new program, but one that is funded through gifts to the Core. Graduate students teaching CC or Lit Hum receive two $3,000 summer research fellowships, designed to allow them to devote their summers toward making significant progress toward completing their dissertations.
"One thing that makes me crazy is the assumption that grad students are not as strong as regular faculty when it comes to teaching the Core," Popkin says. "It's very competitive to land these positions; these graduate students are the best in their departments, they get a lot of training and they typically teach one course, not two or three. By and large, they don't have families and advisees and don't sit on 100 committees. Most are extraordinary."
Post-doctoral students have been incorporated into the Core faculty as well, under a new program that hires post-docs specifically to teach in the Core for two years while they conduct their research.
"All of that serves to maintain an intergenerational, enthusiastic and committed Core faculty whose home is in the departments, but whose intellectual life reaches beyond departmental boundaries," Quigley says.
Center for the Core
The recently completed renovation of Hamilton Hall, the College's signature building, includes the new Witten Center for the Core Curriculum directly off the main lobby — a physical statement of the Core's importance in the life of the College made possible through the generosity of Trustee Richard E. Witten '75. The renovated Hamilton Hall lobby also incorporates a permanent display of documents illustrating the history of the Core.
Literature Humanities and Contemporary Civilization previously were housed in two rooms on the fourth floor of Hamilton Hall, and faculty meetings were held in various spaces across campus. "The whole operation was efficiently run, but cramped in space," says Williams, who also is the Violin Family Professor in the Core Curriculum. "Now that there is a new center on the main floor of Hamilton and the Core has a completely different physical complexion. That difference also has a symbolic edge, giving the Core a fitting appearance as a central and well-tended part of the College's mission."
The wood-paneled suite includes a library of Core texts and supporting material, a spacious conference room lined with book cabinets, and offices for the Core administrative staff. The conference room is used for weekly lunch gatherings for faculty of Contemporary Civilization, Literature Humanities and Frontiers of Science. The CC and Lit Hum luncheons feature guest speakers who often are experts on the author or work being taught that week. Separate, pedagogic seminars are held each week for graduate student preceptors teaching the courses for the first time; they also are open to faculty new to the Core. The Core library, cloaked with bookshelves, serves as an inviting place for informal meetings and discussion. "There's a fabric for the Core that wasn't in place ever before," says Williams. "There's wonderful esprit de corps that has an infectious element — you can so easily call on your colleagues for practical support."
The library holds secondary works relating to all of the texts taught in CC and Lit Hum, and resources for the other courses are being gathered. A resource center for teachers, scholars and administrators interested in the history of Core curricula and general education has also been established in the conference room, funded by an alumnus who prefers to remain anonymous. The school is in the process of digitizing the many resources and putting them online for public access, a project funded by a gift from the late Ralph Sheffer '34.
Popkin describes how Lit Hum faculty from her department have passed around, and added to over the years, a box of in-depth notes on the classroom readings. In addition, the Center for the Core maintains "tons of material: articles, books, handouts, sample tests and quizzes," she says. "Above all, there's a community among those teaching in the Core, who talk together and share ideas."
Last year, the newly appointed Core lecturers, who follow a national model in being post-docs hired to teach in the Core, organized a conference on the Core for faculty and administrators from Columbia and other schools such as the University of Chicago, NYU and Stanford. Because the College is a role model and intellectual leader in providing rigorous general education, the center also is working on reports and looking at holding a conference on general education curricula.
Programming
Columbia classes always have aimed to take advantage of the resources of New York City, but additional fundraising in recent years has increased the budget for more organized outings fourfold, to nearly $100,000 per year. By being able to take students on subsidized field trips to concerts, museums, theater and dinner outings, teachers can require attendance rather than making the outings optional. "In the last 10 years, it has grown into a considerable arts-related enhancement to the curriculum," notes Janine de Novais '99, associate director of the Center for the Core Curriculum.
The Core programming office often works in conjunction with the Columbia University Arts Initiative, which develops relationships with New York City cultural venues to create more free and discounted access for the Columbia community to museums, shows and other cultural events.
Literature Humanities Required Reading
Fall 2008
Homer, Iliad
Homeric Hymns
Homer, Odyssey
Herodotus, The Histories (selections)
Aeschylus, Oresteia
Sophocles, Oedipus the King
Euripides, Medea
Thucydides, History of the Peloponnesian War (selections)
Aristophanes, Lysistrata
Plato, Symposium
Bible (selections)
Spring 2009
Virgil, Aeneid
Ovid, Metamorphoses
Augustine, Confessions
Dante, Inferno, Purgatorio, Paradiso (selections)
Boccaccio, Decameron
Montaigne, Essays (selections)
Shakespeare, King Lear
Cervantes, Don Quixote (selections)
Austen, Pride and Prejudice
Dostoevsky, Crime and Punishment
Woolf, To the Lighthouse

What was required when you took Lit Hum?
See historical syllabi (through 2000) here.
Music Hum "has a huge live-performance component it didn't have before," de Novais says. A long-standing partnership with the New York City Opera brings singers to perform on campus. "It is compelling for our students to meet opera singers or actors and other artists up close," she says. "Often they are surprised to find they are close to them in age and share some of their interests."
Lit Hum organizes at least one major theater event, either taking the students to a performance off campus or arranging a performance on campus. This year, in a new collaboration between the Core and the School of the Arts, theatre division students from the School of the Arts will do staged readings of sections of Medea and Lysistrata for Lit Hum students in the fall 2008 and spring 2009 semesters. First-year students also attend a one-man performance of Plato's Apology during orientation, featuring Yannis Simonides of the Greek Theatre Foundation.
In addition, the Core office is planning events that will be open to all students enrolled in a Core class and will address Core themes in a contemporary context. The first such event will be "Three Faiths," a conversation by Christian, Jewish and Muslim scholars planned for the fall semester on how religious texts in these faiths address themes taught in the Core. Roosevelt Montás '95, '96 GSAS, '99 GSAS, '04 GSAS, associate dean for the Core Curriculum, describes this as the first in "a series of Core-wide events that bring Core themes into the conversation with pressing, contemporary issues."
Curricular Changes
The Core Curriculum always has been somewhat fluid, both in the required courses and their content. The major changes of the past decade include a revamped composition course, University Writing, which in 2003 replaced Logic & Rhetoric, a part of the Core since 1986; a semester-long science course, Frontiers of Science, required for all first-years; and an evolving Major Cultures requirement.
"There are two things happening simultaneously in the Core Curriculum," observes Montás. "At the same time that there is an institutional recommitment to the centrality and importance of the traditional Core, there is a broadening of it to incorporate a more global perspective."
Currently, first-year students arrive on campus pre-registered for Literature Humanities, University Writing and Frontiers of Science. They receive copies of The Iliad, their first Lit Hum reading assignment, during the summer prior to arrival on campus, courtesy of the Alumni Association.
Contemporary Civilization Required Reading

Fall 2008
Plato, Republic
Aristotle, Nicomachean Ethics and Politics
Hebrew Bible (selections)
Epicurus (selections)
Epictetus, Handbook or Marcus Aurelius, Meditations (selections)
The New Testament (selections)
Augustine, City of God
The Qur'an
Al-Ghazali, The Rescuer from Error and The Essential Kabbalah (selections)
(Mother) Julian of Norwich, Revelations of Divine Love (selections)
Averroes (Ibn Rushd), On the Harmony of Religion and Philosophy
Maimonides, The Guide for the Perplexed (selections)
Aquinas, Selected Writings (selections)
Machiavelli, The Prince and The Discourses
Hillerbrand Anthology
Descartes, Discourse on Method
Galileo, Letter to the Grand Duchess
Vitoria, On the American Indians (selections)
Jean de Léry, History of a Voyage to the Land of Brazil (selections)
Guamán Poma, Appeal Concerning the Priests (selections)
Hobbes, Leviathan
Locke, Second Treatise and Letter on Toleration
Spring 2009
Selection from one of the following: Kant, "What is Enlightenment?" (optional accompaniment: Foucault, "What is Enlightenment?"); Kant, Perpetual Peace; Montesquieu, Persian Letters (selections); Voltaire, Candide
Rousseau, Discourse on Inequality and Social Contract
Smith, Wealth of Nations (selections) and Theory of Moral Sentiments (selections)
Kant, Grounding for the Metaphysics of Morals
Declaration of Independence
Bill of Rights
Declaration of the Rights of Man and the Citizen
Preface to the Constitution of 1793
Haitian Constitution
Burke, Reflections on the Revolution in France (selections)
Olympe de Gouges, "Declaration of the Rights of Woman"
Frederick Douglass, "What to the Slave is the Fourth of July?"
Wollstonecraft, A Vindication of the Rights of Women
Tocqueville, Democracy in America
Hegel, Introduction to the Philosophy of History
Mill, On Liberty and Utilitarianism
Marx, selections from the Marx-Engels Reader
Darwin, Origin of Species (selections) and Descent of Man (selections)
Nietzsche, On the Genealogy of Morals
Du Bois, The Souls of Black Folk
Freud, "Formulations Regarding the Two Principles in Mental Functioning," "A Note on the Unconscious in Psychoanalysis," "On Narcissism," "Repression," "Metapsychological Supplement to the Theory of Dreams," and "The Libido Theory"
Simone de Beauvoir, The Second Sex
At least one text from the following: Arendt, The Human Condition; Fanon, The Wretched of the Earth; Foucault, Discipline and Punish; MacKinnon, Towards a Feminist Theory of the State; Rawls, A Theory of Justice; Kuhn, The Structure of Scientific Revolutions; Schmitt, The Crisis of Parliamentary Democracy
The Literature Humanities syllabus is reviewed every two years, and more than 120 works have gone on and off the reading list over time. "It's a lively and ongoing project, figuring out what's going to be on the syllabus," Popkin says. "It's the best-attended staff meeting of all time. Everyone is invested and committed."
As the requirements have changed, so has the student body. "Students have changed a lot over the years," says Popkin. "They're a lot more savvy and worldly now, and they come to Columbia already attuned to issues such as homophobia, racism, classism." She says that when she started teaching Plato's Symposium 22 years ago, "many students were made horribly uncomfortable by the discussion of love between men." Now the student body is not only more sensititve to diversity, it is far more diverse itself. Students entering the College have also been much farther afield; many already have studied or visited abroad.
Major Cultures
Major Cultures was introduced in the 1980s, and by 1990 required students to choose any two non-Western oriented courses from an approved list. It continues to evolve.
"The need for study of today's globalized world is even more pressing than in the 1990s," says Patricia Grieve, chair of the Committee on the Core and chair of the Committee on Major Cultures. "The requirement is essential; the components of the requirement might change."
Currently, students must choose one of six civilizations (African, East Asian, Latin American, Middle Eastern, Native American or South Asian) and take two introductory, multidisciplinary courses or one introductory course and another, more specialized course. "The faculty is discussing how to reshape Major Cultures so that it more resembles our other Core courses," says Kathryn Yatrakis, dean of academic affairs.
The College Bulletin explains about the requirement: "No part of the Core Curriculum assumes that boundaries between 'West' and 'non-West' have ever been clear, impermeable, or unchanging; or even that a distinction so rough and so simple is particularly useful for understanding the world. Nor does the Core assume that one civilization is 'ours' and the rest are 'others.' "
The College received a grant from the National Endowment for the Humanities in the 1990s to develop courses specifically for the Major Cultures requirement. Out of that came African Civilizations, which follows the model of CC, and Latin American Humanities I and II, 25-student seminars that follow the format of CC and Lit Hum.
"Both of these courses are models we want to use with other courses moving forward," says Montás. "The College is involved in an ongoing effort to bring the rigor and scope of Major Cultures into parity with that of Lit Hum and CC."
Two requirements for a course to be included are that the material covers a region rather than one country, and that primary texts are emphasized. "There is a small lecture component to the Major Cultures courses, an introduction by an expert," says Grieve, who also is the Nancy and Jeffrey Marcus Professor of the Humanities. "But they do maintain student engagement with the primary texts, for example, historical treatises and literary works from different centuries."
Frontiers of Science
Professor of Astronomy David Helfand believes that a foundation in science is part of the preparation needed to be an intelligent citizen of the 21st century. Photo: Alan S. OrlingThe most ambitious change to the curriculum has been the development of Frontiers of Science, which just completed a five-year pilot program and has been renewed for another three years.
"Too many of our students were graduating unprepared to deal with science in the 21st century," says Don Hood, the James F. Bender Professor in Psychology. "We are a private institution receiving public support in the form of tax dollars. It's our obligation to educate citizens to take their place in a democracy."
Discussions of including a formal science course in the Core extend back decades. The origin of Frontiers specifically dates to 25 years ago, when David Helfand, chair of the Department of Astronomy, chaired a committee on science in a liberal arts curriculum. "It troubled me that our Core Curriculum consisted of seven humanities courses and no science courses," Helfand says. "That was not adequate preparation to be an intelligent citizen of the 21st century."
The Core's science requirement had been two, then three, science or math courses from what faculty describe as "a grab bag." The philosophy of the Frontiers course, explains Ann McDermott, associate v.p. for academic planning and science initiatives, is to "try to bring the luminous quality of the Core into the pressing problem of national literacy in science. Even to read The New York Times, that's what you need: to understand the intersection of policy and basic research science. There's so much that comes up every week in that area, and it's a daunting combination."
It's one that most other schools have not attempted to wrap into a general required course in science. "It's a very unusual endeavor, aiming at science literacy for a very elite level of student," says McDermott, who is also the Esther Breslow Professor of Biological Chemistry. "It really does set us apart from our peers."
The Frontiers course was championed by Helfand and biology professor Darcy Kelley, who recruited the support of other faculty and administrators, secured funding and largely designed the course. "This has been led by senior faculty, mainly David and Darcy," Hood says. "It's almost unheard of, especially in a research institution, to find two outstanding scientists willing to devote so much time to changing the undergraduate curriculum."
Hood says he was initially skeptical of such a course. "What sold me was the following argument: Columbia prides itself on its Core, and the Core distinguishes us from our peers. So, why isn't science included in the Core?"
Helfand describes the goals of the course as twofold. The first is "to disabuse students so that science is facts and calculations," he says. "It's a dynamic, intellectual activity that's very, very different from other ways of looking at the world, and has tremendous power in the world today." The second, he says, is "to inculcate quantitative reasoning skills, which an enormous number of students lack. Teaching basic probability is pretty boring for most people; in the context of determining the date the dinosaurs died or to predict the future climate, it is more interesting."
Half of first-years take the Frontiers course in the fall semester and the other half take it in the spring. The organizers try to prevent boredom for more advanced science students by covering topics that are not covered in high school, and by arranging optional evening lectures that delve more deeply into the topics.
The text, "Scientific Habits of Mind," is Web-based (available at www.fos-online.org), and all of the lectures also are podcast (broadcast on the Web; only students have access) and archived. Students meet for one large lecture per week, and then in small seminar groups of 20 students each. The lectures are given in a series of three or four units, with the subject matter varying each semester depending on the expertise of the professors. The Fall 2008 syllabus includes a unit on the human genome and evolution taught by Robert Pollack '61, professor of biological sciences and former dean of the College; an astronomy unit focusing on the history of the universe and the discovery of extrasolar planets taught by Helfand; a unit on global climate change taught by Sidney Hemming, associate professor of earth and environmental sciences, and by Wallace Broecker, the Newberry Professor of Earth and Environmental Sciences and a winner of the National Medal of Science; and an examination of biodiversity and the impact of humans thereon taught by Don Melnick, the Thomas Hunt Morgan Professor of Conservation Biology.
University Writing

Sample Reading List 2008-09 by Columbia Faculty and Alumni
Akeel Bilgrami, Johnsonian Professor of Philosophy. "The Clash Within Civilizations," Daedalus 132 (2003); and "Notes Toward the Definition of Identity," Daedalus 135.4 (fall 2006)
Jonathan R. Cole '64, '69 GSAS, John Mitchell Mason Professor of the University, Provost Emeritus of the University. "Academic Freedom Under Fire," Daedalus 134.2 (spring 2005)
Arthur C. Danto '53 GSAS, Johnsonian Professor Emeritus of Philosophy. "Kalliphobia in Contemporary Art,"
Art Journal 63.2 (summer 2004)
Andrew Delbanco, Julian Clarence Levi Professor in the Humanities. "Colleges: An Endangered Species?" New York Review of Books (March 10, 2005), "The Endangered University," New York Review of Books (March 24, 2005) and "Scandals of Higher Education," New York Review of Books (March 29, 2007)
Peter DeMenocal '91 GSAS, '92 GSAS, associate professor, earth and environmental sciences.
"After Tomorrow: Climate Science and Political Reality," Orion (January/February 2005)
Herbert J. Gans, Robert S. Lynd Professor of Sociology. "Race as Class," Contexts 4 (2005)
Marianne Hirsch, professor of English and comparative literature; and Leo Spitzer, visiting professor, history. "We Would Not Have Come Without You: Generations of Nostalgia," American Imago (2002)
Richard Locke '62, professor of writing. "Globalization and Its Discontents," The American Scholar 76.2 (spring 2007)
Phillip Lopate '64, adjunct professor, School of the Arts. "Riverside Park and Manhattanville," Waterfront: A Walk Around Manhattan (2005)
Michael Pollan '81 GSAS. "An Animal's Place," The New York Times Magazine (November 10, 2002)
Bruce Robbins, professor of English and comparative literature. "The Sweatshop Sublime," PMLA 117 (2002)
Edward W. Said, University Professor (deceased). "Identity, Authority, and Freedom: The Potentate and the Traveler," Transition 54 (1991)
Richard P. Sloan, professor of behavioral medicine; and Emilia Bagiella '93 PH, '96 PH, '97 PH, assistant professor of clinical biostatistics. "Should Physicians Prescribe Religion?" New England Journal of Medicine 342.25 (June 22, 2000)
Joseph E. Stiglitz, University Professor, professor of finance and economics. "Evaluating Economic Change," Daedalus 133.3 (summer 2004)
Jorge Daniel Veneciano '99 GSAS, '06 GSAS. "Louis Armstrong, Bricolage, and the Aesthetics of Swing," Uptown Conversation: The New Jazz Studies (2004)
Melnick says he organizes his lecture units around three fundamental questions: What is the problem? Why does it matter? and How do we fix it? "Each lecture is organized in the context of what's happening locally and globally," he says. "In this way, the lectures have a very specific and accessible practical goal. Species are going extinct. Ecosystems are unraveling. Why? What processes have been disturbed? What forces are at play? This allows me to relate biological science back to what's happening on the ground in parts of the world."
Seminar sections are taught by senior faculty and by Columbia Science Fellows, Ph.D. scientists recruited to do three years of research and teaching at Columbia, and who have what Helfand describes as "an interest in, and demonstrated capacity for, communicating science to non-scientists."
Faculty teaching Frontiers of Science already have included one of Columbia's Nobel laureates, Horst Stormer, the I.I. Rabi Professor of Physics and Professor of Applied Physics.
As with teaching other Core courses, faculty end up extending their own education since they are working outside their own fields of expertise. "Many of the course subjects I haven't had since college," says Melnick, who has headed seminar groups as well as taught in the main lecture series. "There's been a great deal of reeducation. It's good mental exercise to learn new material and to learn it well enough to instruct students. I wish I'd had a course like Frontiers as an undergrad. I would have learned a lot more about other sciences, and it would have made those sciences a lot more real to me."
Faculty mentoring other faculty also has been adopted from the other courses in the Core. The professors giving the main lectures must first present them twice to 25 of their colleagues for critiques. "These are the most rehearsed lectures anywhere," Helfand says.
Music Humanities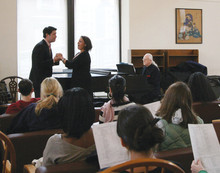 "Live music makes a quantum difference," says Walter Frisch, immediate past chair of Music Humanities and the H. Harold Gumm/Harry and Albert Von Tilzer Professor of Music. Photo: Daniella Zalcman '09What has changed most in Music Humanities in recent years is the students' exposure to live music performances. Until recently, instruction centered on recordings played in and out of the classroom. Time, budget and logistical constraints kept required attendance at live performances minimal.
Now the University has a partnership with the New York City Opera that allows instructors to take their classes to a selected opera each semester with deeply discounted tickets, subsidized by the Core Curriculum office. The company also sends young performers to campus to give a free performance of selected arias from the chosen opera — last spring it was Tosca — and to answer students' questions.
In addition, the University now maintains a quartet-in-residence, The Daedalus Quartet. The young performers give presentations in Music Hum classes that include performances with commentary and Q & A.
Student groups also contribute. "There's so much student music-making; it's really blossomed in the last 10 years, especially under the auspices of the Music Performance Program," says Walter Frisch, immediate past chair of Music Humanities and the H. Harold Gumm/Harry and Albert Von Tilzer Professor of Music. Members of a student jazz ensemble visit Music Hum sections to perform, at the instructor's request. Instructors also can arrange for graduate students to perform Schubert's song, Erlkönig, and for the student group Collegium Musicum to sing Josquin's Ave Maria a capella in the stairwell of Dodge Hall, where the acoustics roughly mimic a cathedral.
"When the music comes from a CD and speakers, it floats in the air in a disembodied way," Frisch says. "Live music makes a quantum difference. You can see where the music is coming from, see the beings producing it and appreciate the physicality of it. When we read evaluations, the things students like the most are the live performances, especially when performers come into the classroom. It's exciting and it enhances learning, there's no doubt about it."
The composers and works covered in the curriculum have remained largely the same, with the exception of jazz added officially in 2004 (many instructors had included jazz before that, at their discretion), and closer to 10 years ago, the addition of medieval poet and composer Hildegard of Bingen, the only woman on the syllabus. It is no concidence that Columbia's Music Performance Program, led by Deborah Bradley-Kramer, has grown rapidly in recent years, now enrolls almost 400 students a year and holds an annual recital in the Weill Auditorium of Carnegie Hall.
Art Humanities
Slide projects, and those boxed kits of images students used to study, are no longer used in Art Humanities. When the department went to digital projectors and an online image database several years ago, the old Art Hum slide kit was digitized and can now be used in PowerPoint presentations. The image library is gradually being updated, with lesser quality images being replaced by new, higher-quality digital photographs.
The online home of Art Hum, however, goes well beyond images. It now includes multimedia as well as readings, so students don't have to buy a primary source reader in printed form. "We use QuickTime virtual reality photography and video to teach architectural monuments such as the Parthenon and Amiens Cathedral," says Holger Klein, chair of Art Humanities. That means students can "get inside" and move around those famous places. "It is really quite wonderful to get a sense of the real space, rather than looking at those monuments through slides," he says. The technology even enables to look at buildings from perspectives not available to actual visitors. In addition, the Web site includes links to relevant online resources such as museums and PBS specials.
The syllabus that until a few years ago ended with a section on Frank Lloyd Wright and Le Corbusier now extends to a section on Andy Warhol and Jackson Pollock. And to experience the real thing, students can now use their Columbia ID cards to get into MoMA and the Met, among others, for free.
University Writing
What was Logic & Rhetoric until 2003, and was less formally known as freshman composition in earlier days, has become University Writing, a course that emphasizes neither grammar nor sentence structure but rather "writing in relation to reading," says Joe Bizup, director of the undergraduate writing program, who came to Columbia from Yale's English department to revamp the course. "I wanted to create a course that respected the intelligence of Columbia students," he says.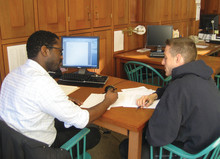 A student gets one-on-one tutoring at the new Writing Center. Photo: Eileen BarrosoBizup notes that Columbia students by nature are "contentious and argumentative" and there is "a need for the course to be in keeping with the traditions and culture of the institution, which is a culture of free speech, exploration and open debate."
The course emphasizes reading nonfiction essays from scholarly journals and the popular press and responding to arguments. Sections follow the same curriculum and outline but not the same syllabus. Teachers, mainly graduate students, select about 10 readings from an approved list of 40, more than a third written by Columbia faculty and alumni (see sidebar).
It's not intended to be a course on grammar or mechanical issues of composition. "The important thing is for students to write strong arguments," Bizup says. "We want students to think about their writing as something that matters within the larger intellectual life of the University, rather than just as practice." Students needing more specific guidance (often non-native English speakers) are referred to the Writing Center, a voluntary resource where they can get one-on-one tutoring.
Shira J. Boss-Bicak '93, '97J, '98 SIPA
is a contributing writer to
CCT
and other publications. She is the author of
Green with Envy: A Whole New Way to Look at Financial (Un)Happiness
(www.shiraboss.com).