Alumni Profiles
Jesse Imbriano '07 Raises an Extended Family of 50
By Laura Butchy '04 Arts
While Jesse Imbriano '07 felt drawn to nonprofit work during his time at the College, he could not have anticipated such work taking him to the outskirts of Tijuana, Mexico, where he has been CFO of the orphanage Hogar Infantil La Gloria for more than a year.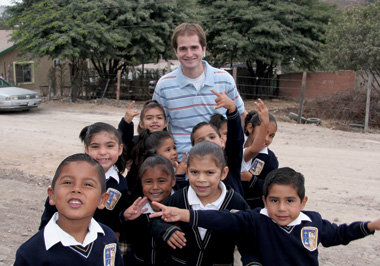 Jesse Imbriano '07 enjoys some "family time" last fall with the many children under his care at Hogar Infantil La Gloria in Mexico. "The kids have taught me a lot, and they are brutally honest," says Imbriano. "But when they say they are happy to see you, they really are."
Though the location may have been unexpected, Imbri­ano's work with marginalized communities is not. This path began at the College, which he chose for a classical liberal arts education and a like-minded community. "I wanted to attend a college where the students cared about making change in the world and were creative and bold in doing so," he says.
As a political science major, Imbriano focused on political theory and completed a concentration in Latin-American studies. This interest led him to spend a semester in Merida, Mexico, where he completed courses in Mexican language, history and politics, creating what he refers to as a "makeshift specialty in Mexico."
Imbriano was supported in this pursuit by Helene de Aguilar, a professor in the Spanish and Portuguese department, whom Imbriano calls, "a true student of the humanities and scholarship." He also was influenced by the John Mitchell Mason Professor Emeritus, Provost Emeritus and Special Service Professor in East Asian Language and Culture Wm. Theodore de Bary '41, whose seminar, "Nobility and Civility," helped convince Imbriano to commit to a life of service work. He began that work as a student with the Catholic Campus Ministry, where he volunteered each week at a soup kitchen in Harlem and eventually became chair of the organization's social service work.
Following his graduation in December 2006, Imbriano accepted a position at a Manhattan immigration consulting firm. He spent eight months there, but the job was temporary for him. "From the beginning, I knew that I would not stay in the for-profit world for very long," Imbriano explains. "I knew that I had to get back to working with marginalized communities."
After considering various organizations, Imbriano decided to apply for the Augustinian Volunteer Program, aiming to help Latin Americans needing immigration assistance. He applied for a position in Chicago, but instead was offered a position in San Diego and Tijuana.
A Long Island native, Imbriano packed his bags and moved out of the New York area for the first time in August 2007. Along with another volunteer, Dan Roderick, Imbriano spent the next 10 months splitting his time between the orphanage and a refugee center in San Diego.
"The work that Jesse and Dan have done at Hogar Infantil La Gloria is truly remarkable," says Guillermo MacFarland, the orphanage's co-founder. "They are wonderful role models for the children who come from very tragic situations."
Founded more than 30 years ago, Hogar Infantil La Gloria supports about 50 children (from infants to age 12) at a time with food, shelter and education. During his volunteer term, Imbriano took on increasing responsibilities for the children and daily operations of the orphanage. He approached the administration about staying full-time to help build and expand the orphanage's programming and operations. He has been CFO since May 2008.
"I don't want to sound overly dramatic, but I sincerely believe that if it weren't for Jesse and Dan, we would have had to close the orphanage. At the time, the donations to sustain the orphanage had dwindled, and we had been going into our reserves to keep the place open," says MacFarland. "They have spent an enormous amount of time and energy in all aspects of fundraising, and I am pleased to say that through their efforts, the orphanage has enough funds to keep operating."
Because the orphanage is not funded by the Mexican government, all financial and in-kind support for its operation is generated through Hogar Infantil, a U.S. nonprofit created to provide financial and administrative support for the orphanage. In addition to being one of the orphanage's top administrators, Imbriano is on the Hogar Infantil board of directors.
Day to day, however, he focuses on raising dozens of kids. While older children are in school, Imbriano spends time with the babies and toddlers, manages administrative tasks and runs errands for what has become his extended family. In the afternoons, he prepares returning children for lunch and helps them with their homework. After free time to play outside, Imbriano sees that the children have dinner, bathe and get to bed.
Weekend schedules often include volunteer groups visiting the orphanage to play games with the children. Otherwise, Imbriano organizes activities, such as baking cookies or visiting a local park. He is assisted by a staff of daytime and nighttime caregivers, cooks, tutors, administrators and maintenance workers as well as part-time volunteers.
The strength of this team will become even more important to Imbriano as he begins law school this fall. While studying in the public interest program at Villanova, Imbriano will continue in his administrative roles and work at the orphanage regularly. "I will be working with the other administrators weekly via conference calls and e-mail, and will be on-site every four to six weeks. I also will be on-site during all school breaks," he says. "It is painfully apparent to me how starved most of these children are for love and attention and a parent figure when they arrive," Imbriano says. "The fact that I give them some little piece of what they are so desperately lacking makes me want to keep coming and makes me know I will never really leave this place."
Laura Butchy '04 Arts is a freelance writer, teaching artist and dramaturg in New York City.