Bookshelf
Michael Schaffer '95 on The Sociology of the Pampered Pooch
By Shira Boss-Bicak '93, '97J, '98 SIPA
When journalist Michael Schaffer '95 and his wife were driving to pick up their new dog, Murphy, from an animal shelter in New Jersey, they talked about how they weren't going to become "those people — the ones who shell out for the spa days and agility training and homeopathic medicine for their animals," Schaffer writes in One Nation Under Dog: Adventures in the New World of Prozac-Popping Puppies, Dog-Park Politics, and Organic Pet Food (Henry Holt, $24).
That day, all they got at PetSmart for their Saint Bernard was "basic, ordinary stuff:" collars, a leash, chew toys and a doggie bed. Four years later, Murphy had gone through a series of different beds, collars, leashes and chew toys. He was microchipped, ate "superpremium" foods and had Halloween costumes and a photo with Santa. He had a professional trainer and dog walker — and was taking prescription antidepressants.
"We looked around at our neighbors and friends and did what they were doing," Schaffer says. "The definition of what was the normal way to have pets had changed pretty dramatically. As a historian, I knew any time the definition of normal changes quickly, something interesting is happening."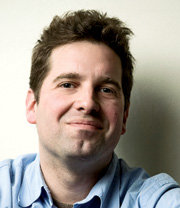 Schaffer, who was working at the Philadelphia Inquirer covering City Hall, quit his job to research a book about the phenomenon of pampered pets. Published in April, One Nation Under Dog now is in its second printing.
"I was trying to do journalistic sociology. I didn't come at it as 'I love doggies,' " Schaffer says. "The stuff I had the most fun with is looking at how the changes in the pet world reflect the really interesting changes in our society."
For example, the debate over whether dogs should be trained with "pack leader" techniques, as promoted by "Dog Whisperer" Cesar Millan, or with a "positive reinforcement" method relying on lots of treats, Schaffer says is "a microcosm of culture wars and politics. It's a polarized country. Even how you teach your dog not to bark at the mailman has become culturally politicized."
Publishers Weekly wrote about Schaffer's efforts in a starred review: "The total effect is reminiscent of Tom Wolfe's New Journalism essays on the sociology of pop culture."
Schaffer grew up in Washington, D.C., and was a history major and Fulbright Scholar. "I thought I would get a Ph.D. and become like all of my beloved history professors," he says. Instead, Schaffer says he was drawn to the immediacy and creativity of journalism, and that the Jacques Barzun Professor in History and the Social Sciences Ken Jackson's "History of the City of New York" class prepared him to cover a big city, first Washington, D.C., and then Philadelphia. Schaffer also has done stints of foreign correspondence in Iraq.
Schaffer hadn't had pets before but had been wanting to write a book. Getting Murphy and learning about the new style of having pets gave Schaffer the topic for One Nation Under Dog, which he says is about people rather than pets. He wanted to explore how changes in American culture during the past 20–30 years, with time-crunched, dual-career households and increasing social isolation, have led to the rise of an estimated $45 billion pet services industry that includes professional trainers, walkers and groomers, doggy day care facilities and premium kennels. Since the book was published, Pet Airways — the world's first pet-only airline — was launched.
Schaffer traveled the country talking to leash-law political activists, chew toy designers, raw food advocates, professional trainers, high-end veterinarians and pet social networkers to chronicle not how pets have changed, because they haven't, but how pet owners have changed. "A relatively simple thing, like letting the dog out for a pee — people couldn't do it themselves anymore," Schaffer says. People who hire dog walkers at $20 a visit are not, he says, "crazy, rich, obsessed dog people," but normal folk who work long hours and are finding a way to own a dog even when nobody is home all day to care for him or her.
Many pet owners, especially empty nesters and couples without children, also have elevated the status of their animals to members of the family. Gone are the outdoor dog houses for pups named Rover and Fido. More popular now are "fur babies" with trendy human names like Bella and Max who often sleep in their owners' beds. Pets can now receive cancer treatments and other procedures at state-of-the-art animal hospitals, and a growing pet health insurance industry helps owners pay for it.
When a beloved pet dies, owners might go to bereavement counseling. Epitaphs have gone from the likes of "A faithful and loving companion" and "My dear old pal," Schaffer reports, to the more anthropomorphic references to "Our baby girl" and "Mommy misses you."
Critics of these cultural changes lament a misallocation of resources. Schaffer, who has added a daughter to his family and claims Murphy is not overindulged, responds by calling spending on pets a consumer choice. Pet expenditures are more likely to compete in a household budget with other consumer luxuries, like electronics, he says, rather than to edge out charitable giving.
He also acknowledges the reality that not all pets in America are indulged, but says, "The trend is toward the pampered pet style. That's where things are going."
In addition to promoting One Nation Under Dog, Schaffer is a freelance journalist and is working on a proposal for a second book.
Shira Boss-Bicak '93, '97J, '98 SIPA,
an author and contributing writer to
CCT,
writes about her three whippets at Saving for Sesame.